xoxoxoBruce Sunday Oct 1 10:28 PM

Oct 2nd, 2017: Old Car City

50 miles north of Atlanta there's a sign that says, "The world's oldest junkyard jungle, here 80 years."
Over 4,000 cars mostly '72 or older, over 34 acres.


Quote:

The roots of Old Car City goes back to 1931 when the Lewis family opened a general store in a small town called White, formed only a few years earlier. They sold various items ranging from clothing to car parts, tires, and gasoline. When the United States entered World War II, and resources such as steel and tires became scarce, the Lewis family smartly added a scrapyard business. They bought junk cars, scrapped them and sold the parts. By the late 1940s, the general store had turned into a full fledged auto salvage yard. It was in this environment that Dean Lewis, the current owner of Old Car City, was born.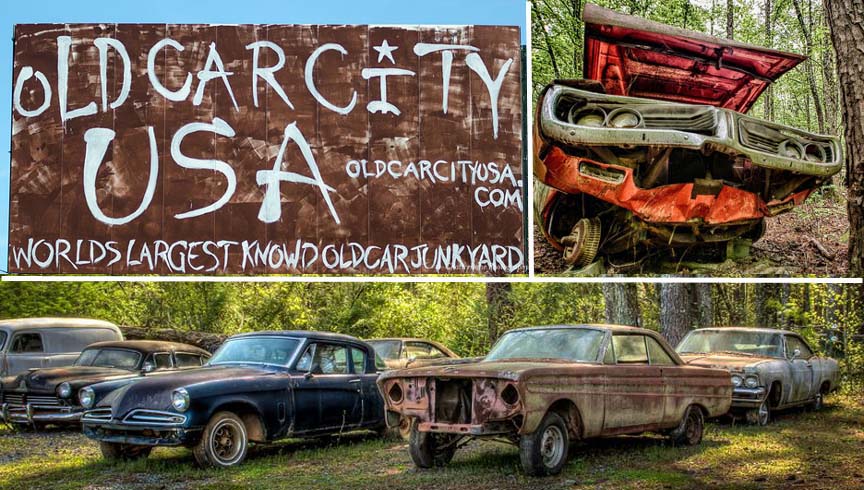 Quote:

Dean spent his entire childhood playing with the cars. One day he is on the racetrack, the next day he is a school bus driver. "I drove 'em a million miles. Never moved an inch!," he told CBS News. Cars and trucks was all he knew. So when Dean finally acquired the business from his parents, in 1970, he had an entirely different plan. Dean decided that he would preserve the cars rather than scrap it.

I don't see a lick of preservation going on.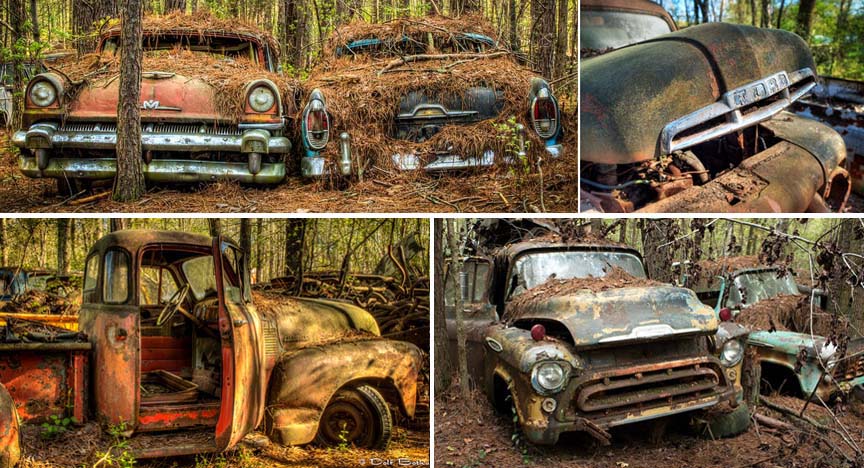 Quote:
For the next several decades, Dean spent thousands of dollars acquiring various junked and wrecked vehicles from auctions, private parties and recycling yards. One of Lewis' more popular vehicles is a 1946 Ford truck used in "Murder in Coweta County," a 1983 film starring Johnny Cash and Andy Griffith.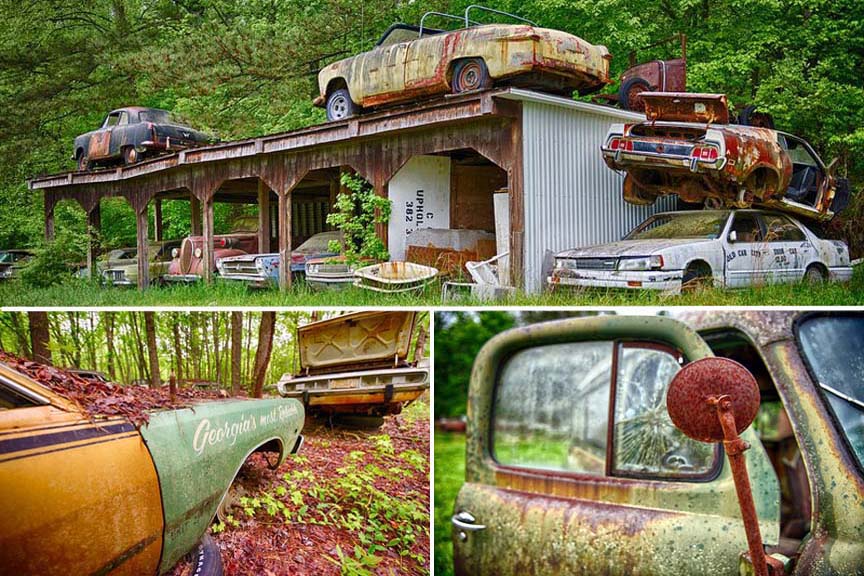 Quote:
In the following years, Old Car City grew so much that he had to buy more land to keep everything on. Initially, Dean sold some scraps, but it wasn't the place where collectors could score a bargain. Every car had a nostalgic value and Dean refused to let go until he felt the money was worth it. Many visitors looking for parts left the place grumbling and dissatisfied. But if you asked him, he would say "Everything is for sale."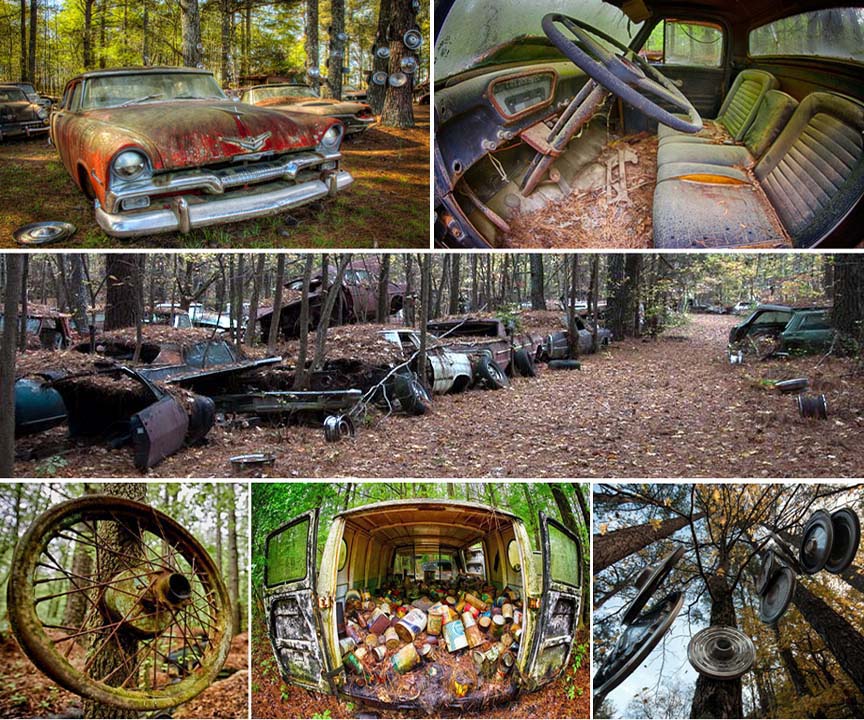 Quote:

Dean doesn't say that any more. He realized that he could make more money charging visitors for admission and for taking photographs than selling off the displays.
Today Old Car City is visited by hundreds of visitors each year who pay $15 to stroll around or $25 if they want to take photographs. Dean no longer sells parts. They are now part of this fantastic museum.

Looks to me like the Lewis family worked hard to succeed during the Great Depression, changing with the times to cover any
possible angle to make it. Dean takes over and spent everything the family accumulated to acquire more and more in a grandiose
scheme to profit in the growing old car parts market. But in truth he is a hoarder, not wanting to part with anything. When he
finally realized the truth, he changed course to give tours of his "museum", although he's done nothing to preserve a single piece.
Walk 6 miles to see them all, or sit quietly and listen to them rot.
I don't approve, but I understand.

link

---

Diaphone Jim Monday Oct 2 12:31 PM

There are scrapyards, auto dismantlers and then there are junk yards, with nearly every toxic substance known slowly seeping into an ever growing dead zone.

---

Gravdigr Monday Oct 2 02:05 PM

Used to be an old junkyard here that hosted Haunted Woods-type events around Halloween.

A drunk idiot, in a junkyard, in the woods...He fell onto something sharp and rusty, sued the guy, and now, no more haunted junkyard at Halloween.

---

xoxoxoBruce Monday Oct 2 11:42 PM

Yes, the liability is horrendous, and the insurance so expensive little guys can't even think about it.
My brother told me the small town all volunteer fire department bought a Bouncy Castle, one of the blow up things for kids to jump around in, to use at their annual fund raising carnival. The company that insures the town yelled whoa, full stop, if they used the Castle the company would cancel the towns policy.
A separate policy for the Castle would be $10k for the 10 days of the carnival.

---

glatt Tuesday Oct 3 08:21 AM

We have rented a bouncy castle for our somewhat annual block party. I'd guesstimate that out of the 6 or so times that we (as a neighborhood) have done this, there has been one injury that the parents deemed severe enough that they called an ambulance to come take the kid to the ER on a back board. I had to move the cones out of the street to let the ambulance pass.

He ended up being ok, and the kids (my kids) absolutely love the thing. But they are fairly dangerous, and no adults ever supervise what's going on in there. Freaking mosh pit.

---

Clodfobble Tuesday Oct 3 01:02 PM

Are trampoline parks a thing up north yet? Or do we just have them here?

---

Gravdigr Tuesday Oct 3 01:12 PM

Beech Bend Park in Bowling Green, Ky used to have a trampoline house. It was nine huge rectangular trampolines, iirc.

This was about thirty years ago.

---

Griff Sunday Oct 8 05:21 PM

Quote:

Originally Posted by

Clodfobble

Are trampoline parks a thing up north yet? Or do we just have them here?

Yeah, it's going on here.

---
Your reply here?

The Cellar Image of the Day is just a section of a larger web community: a bunch of interesting folks talking about everything. Add your two cents to IotD by joining the Cellar.