What's IotD?

The interesting, amazing, or mind-boggling images of our days.
xoxoxoBruce Thursday Sep 28 11:55 PM

Sept 29th, 2017: The Government Wall

This is what happens when the government gets stoned.


Quote:

The wall is approximately 12 m (39.4 ft) long, 4 m (13 ft) high, 0.6 m (2 ft) thick at the bottom, and 0.3 m (1 ft) at the top. The front face is oriented to the South and includes a granite base, limestone coping, marble quoins on the West end, and sandstone quoins on the East end.

It contains 2352 individual samples of stone, of which 2032 are domestic stone from 47 states, and 320 are stones from 16 foreign countries. Over 30 distinct types of stones are represented, some of which are not commonly used for building purposes. There are many varieties of the common types used in building, such as marble, limestone, sandstone, and granite.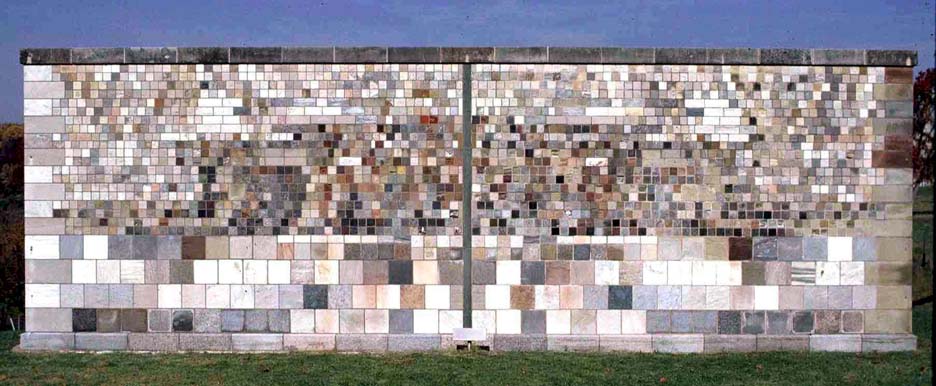 Quote:
In 1880 the Census Office and the National Museum in Washington, D.C. conducted a study of building stones of the United States and collected a set of reference specimens from working quarries. This collection was first displayed at the centennial exposition in Philadelphia in 1876 and was subsequently known as the Centennial Collection of U.S. Building Stones. Descriptions of producing quarries and commercial building uses in construction across the country were compiled for the report of the 10th Census of the United States in 1880. This collection of stones, augmented with building stones from other countries, was then placed on display in the Smithsonian Institution.
In 1942, a committee was appointed to consider whether any worthwhile use could be made of the collection. It was decided that a study of actual weathering on such a great variety of stone would give valuable information… In 1948, a test wall was constructed at the NBS [National Bureau of Standards, now the National Institute of Standards and Technology] site in Washington D.C…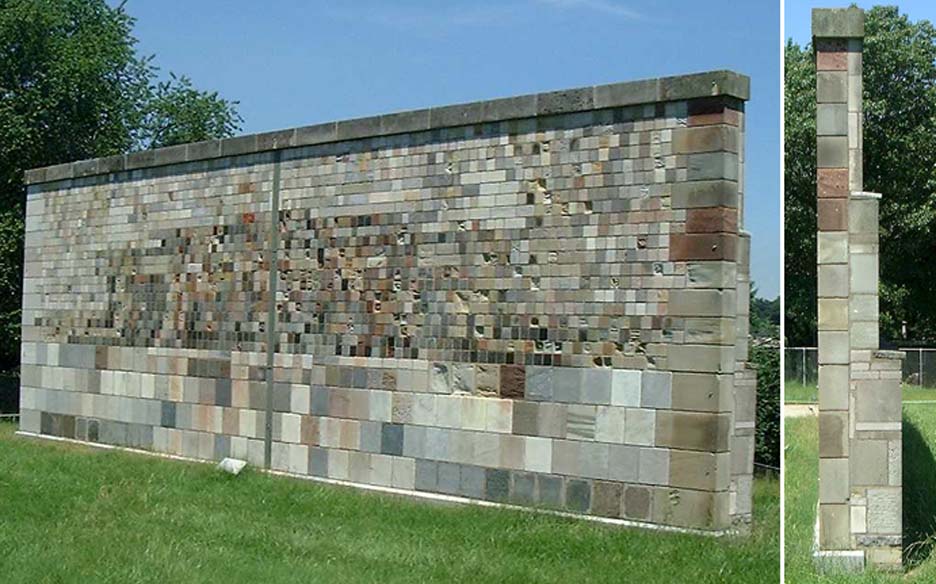 Quote:

The stone facing varies in thickness, most of the blocks below Course 5 being 13 cm (5.1 in) or more thick, and above Course 4, 10 cm (3.94 in) or less. The divider strip extends 20 cm (7.9 in) into the wall.
The wall is built on a concrete foundation extending 0.7 m (2.3 ft) below grade. Grade waterproofings under the base course are (1) two layers of 0.6 cm (.24 in) Virginia slate, laid with broken joints in cement mortar under base blocks 1B, 2B, 3B, 15B, 16B, and 17B; and (2) one layer of 18-oz. copper under base blocks 7B, 8B, 9B, 10B, and 11B. Both slate and copper extend 0.5 m (1,64 ft) into the wall and the intervening sections of the base course have no grade waterproofing. The stonework was built up in sections about 0.6 m (2 ft) high, after which the concrete backing was poured to this level.

If you would like to see it better hurry before Trump decides to move it to the Mexican border.

There's tons of details about the mortars used, states and countries have/use what stone, and such here.
---

Griff Friday Sep 29 07:16 AM

Looks like some unsuitable stone in there...

---

glatt Friday Sep 29 08:17 AM

There's some really good data in there.

I have seen townhouses here in DC that have this reddish colored stone used on their facade. Lots of them are eroded to the point that the stones really should be replaced. I should get pictures on my walks, but people think you are up to something when you take pictures of their houses.

---

blueboy56 Friday Sep 29 12:21 PM

The 2010 film "Monsters" about an accidental infestation of space aliens has a wall between Mexico and the US to keep the beasties from coming north. Even at ~80 feet tall and ~60 feet thick, it didn't work.

---

Diaphone Jim Friday Sep 29 01:07 PM

Something in the exposure qualities make the two photos almost seem like different walls.

---

xoxoxoBruce Friday Sep 29 09:28 PM

The first photo is the official mug shot, the second from the misc photos page. Certainly not taken at the same time and likely not by the same person or camera.

---
Your reply here?

The Cellar Image of the Day is just a section of a larger web community: a bunch of interesting folks talking about everything. Add your two cents to IotD by joining the Cellar.