xoxoxoBruce Monday Sep 25 12:42 AM

Sept 25th, 2017: Cutty Sark

In my yout we had this picture hanging over the couch / hide-a-bed my folks slept on. It was printed on cardboard, then
brushed over with a thick clear coating to simulate a painting. It was the only art, but since we were living in a one car garage
with an outhouse, and a sink with a hand pump, having that picture was a step up.
I had no idea at the time it was the famous Cutty Sark... or what the thing was besides a boat.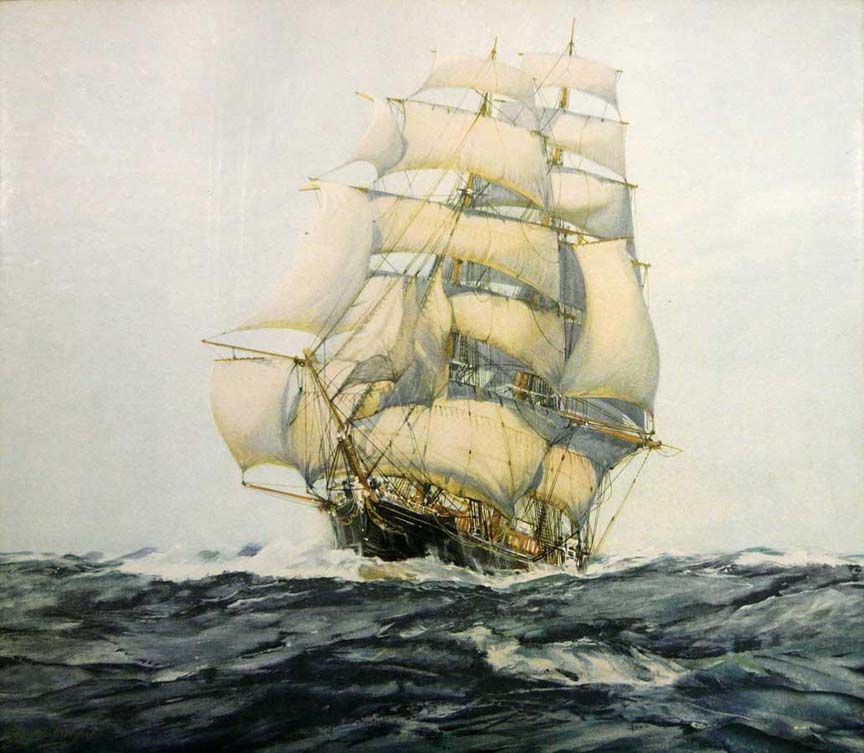 Quote:
Speed was a clear advantage to a merchant ship, but it also created prestige for the owners: the 'tea race' was widely reported in contemporary newspapers and had become something of a national sporting event, with money being gambled against a winning ship. In earlier years, Willis had commanded his father's ships at a time when American designed ships were the fastest in the tea trade, and then had owned British designed ships, which were amongst the best available in the world but had never won the tea race. In 1868 the brand new Aberdeen built clipper Thermopylae set a record time of 61 days port to port on her maiden voyage from London to Melbourne and it was this design that Willis set out to better.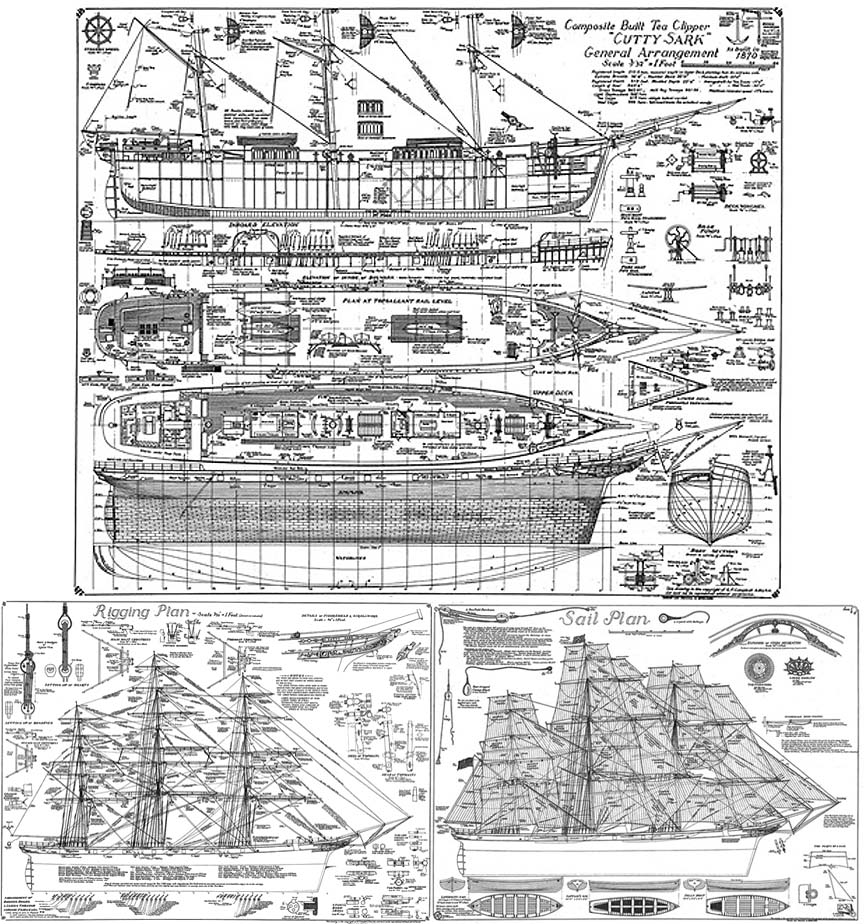 Quote:
Her first round trip voyage under Captain George Moodie began 16 February 1870 from London with a cargo of wine, spirits and beer bound for Shanghai. The return journey, carrying 1,305,812 lbs of tea from Shanghai, began 25 June, arriving 13 October in London via the Cape of Good Hope.
Cutty Sark sailed in eight "tea seasons", from London to China and back
Quote:
The maximum logged speed for Cutty Sark was 17.5 knots (32.4 km/h; 20.1 mph). The speed of a sailing ship is not so straightforward as a steamship, as winds vary and a ship must tack when sailing into the wind, both requiring the crew to make constant adjustments to sails, so her speed also depended greatly on the skill of her captain and crew. Her greatest recorded distance in 24 hours was 363 nautical miles (672 km; 418 mi) averaging 15 knots (28 km/h; 17 mph), although she recorded 2163 miles in six days, which given the weather over the whole period implied she had achieved over 370 nmi (690 km; 430 mi) some days. By comparison, Thermopylae's best recorded 24-hour distance was 358 nmi (663 km; 412 mi). Cutty Sark was considered to have the edge in a heavier wind, and Thermopylae in a lighter wind.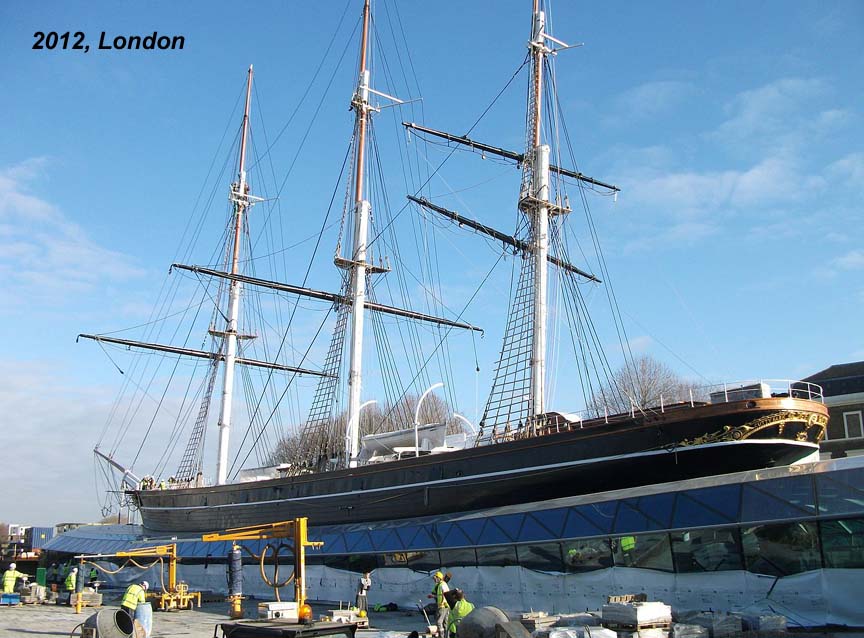 But the steam ships won out and the Cutty Sark spent the next ten years moving wool from Australia to London(faster than
anyone else). After the steam ships took over that trade, she pasted through a string of owners and riggings until she became
a Museum in London.

link

link

link

---

blueboy56 Monday Sep 25 12:40 PM

A few years back I saw photos of a modern day cargo ship that used computer controlled synthetic(?) "sails" to help conserve fuel and costs. Does anyone have info on what happened to that ship and the concept.
Thanks.

---

xoxoxoBruce Monday Sep 25 01:03 PM
---

blueboy56 Monday Sep 25 10:38 PM

Okay, so we have wind power moving oil tankers. Does that mean that we can have draft horses and oxen pulling coal trains and semi trucks down the freeways???

---

xoxoxoBruce Monday Sep 25 10:55 PM

You're making the assumption these ships saving fuel and emitting less pollution, have to be slower than conventional freighters. The shipping companies are all about the bottom line, balancing costs and and earnings. If the ships are slower they will balance fuel savings with time-is-money. If slightly slower the fuel savings may be worth the trade. If they are not slower is the savings worth the expense of retrofitting or new ships.

---

Diaphone Jim Friday Sep 29 01:09 PM

They used brass for long lasting fittings on the ship and for the sailors too.

---

fargon Friday Sep 29 08:45 PM

Quote:

Originally Posted by

Diaphone Jim

They used brass for long lasting fittings on the ship and for the sailors too.

Polish,sailors and Coasties stil polish brass.

---
Your reply here?

The Cellar Image of the Day is just a section of a larger web community: a bunch of interesting folks talking about everything. Add your two cents to IotD by joining the Cellar.