xoxoxoBruce Tuesday Sep 19 11:29 PM

Sept 20th, 2017: Manhattan Gluten

When they dug the foundations for the World Trade Center it produced a lot of dirt and crap.
To dispose of it they filled in along the Hudson River across the street, creating what was to become Battery Park City.
Of course it had to sit for awhile to settle down before they could develop it, plus they didn't want anymore construction going
on in the neighborhood while the twin towers were going up.
Agnes Denes saw this as an opportunity to make a statement with a public art installation.

Oh, a picture, let me open a couple of buttons and touch up my face.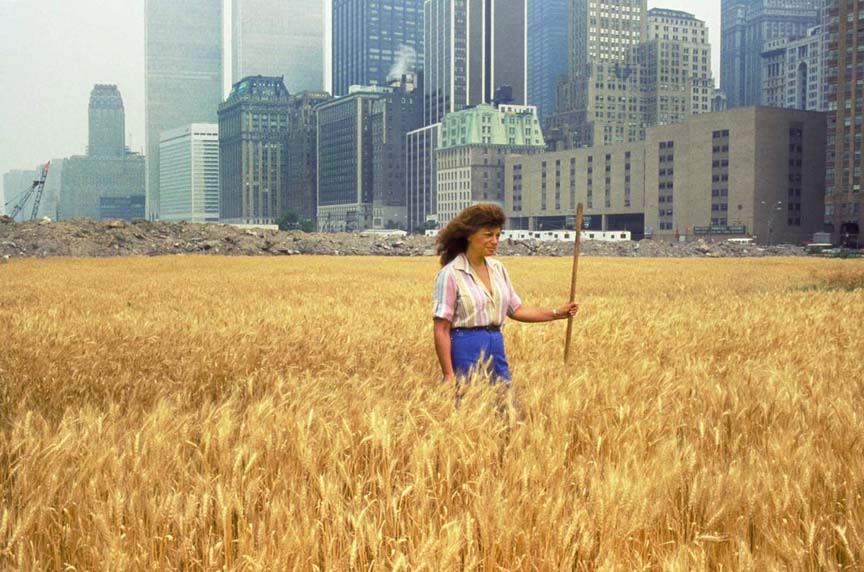 Quote:
In 1982, artist Agnes Denes was commissioned by the Public Art Fund to create one of the most significant pieces of public work Manhattan has ever seen. Instead of a sculpture, Denes planted a beautiful golden wheat field, right next to the gleaming silver towers of the World Trade.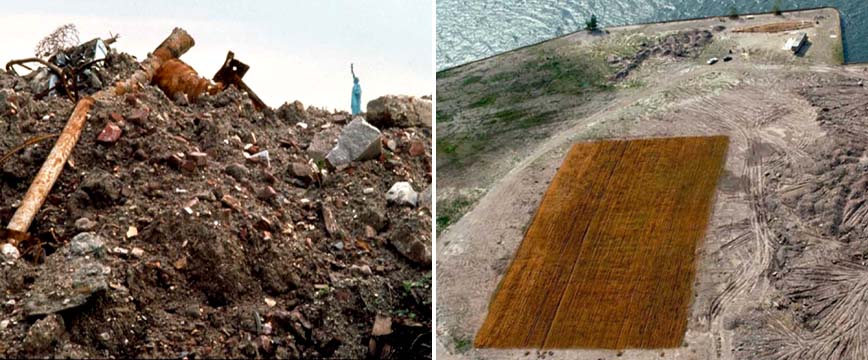 Quote:
Two assistants and some volunteers helped Denes remove trash from the 4 acres of land, spread 225 truckloads of topsoil, and plant 1.8 acres of wheat. An irrigation system was installed to sustain and regulate the wheat's growth cycle over four months.

Planting and harvesting a field of wheat on land worth $4.5 billion created a powerful paradox. Wheatfield was a symbol, a universal concept; it represented food, energy, commerce, world trade, and economics. It referred to mismanagement, waste, world hunger and ecological concerns. It called attention to our misplaced priorities.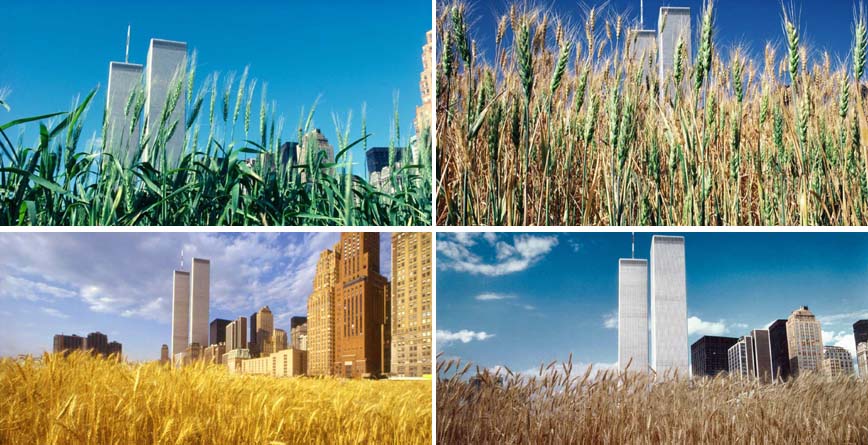 Quote:

In summer, the green wheat stalks stretched skyward and turned a brilliant amber by early autumn. The crop was harvested on August 16 and yielded over 1000 pounds (450 kg) of healthy, golden wheat.

Hmmm, bulldoze it out, dispose of the trash, bring 225 truckloads of topsoil into Manhattan, fertilizer, irrigation system, rodent
control, security, harvesting. I wonder what that cost? Mighty expensive wheat you got there lady.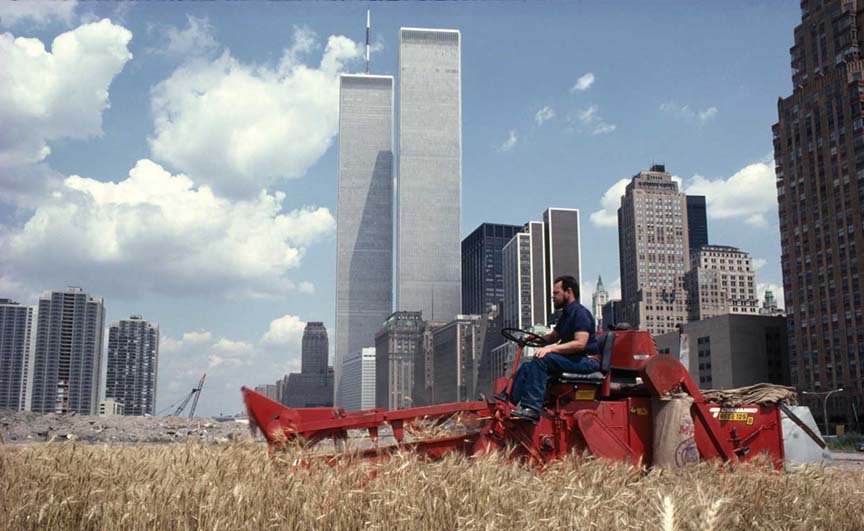 Quote:
The harvested grain traveled to 28 cities in an exhibition called The International Art Show for the End of World Hunger, and according to her website "the seeds were carried away by people who planted them in many parts of the globe".
link
---

fargon Wednesday Sep 20 06:25 AM

Cool.

---

Griff Wednesday Sep 20 07:11 AM

That's pretty powerful.

---

glatt Wednesday Sep 20 08:28 AM

Amber waves of grain.

Nice. I totally approve of this, even though it's a financial boondoggle.

---

Diaphone Jim Wednesday Sep 20 01:39 PM

Is that another damn cat pic?

---

xoxoxoBruce Wednesday Sep 20 10:55 PM

What????

---

fargon Thursday Sep 21 07:22 AM

Where is the cat?

---

Diaphone Jim Thursday Sep 21 01:34 PM

Orange and white tabby on top of the rubble heap.
Could be just a sculpture.

---

Gravdigr Thursday Sep 21 03:41 PM

I'm not sure that's a cat.

Also:

I'm not sure that's not a cat.

---

Gravdigr Thursday Sep 21 03:43 PM

Attachment 61859

It's the rare and elusive Notta Cat. This one's name is Debris.



---

Diaphone Jim Thursday Sep 21 08:18 PM

Good, we have had enough damn cat pics for a while.
Cat sculptures, too.
You know maybe it's another damn bull pic. You can see its little horns.

---

fargon Thursday Sep 21 09:05 PM

What's wrong with Cats?

---

Diaphone Jim Friday Sep 22 05:31 PM

"What's wrong with Cats?"

It ran too long, cost too much and I can't stand musicals.

---

Gravdigr Saturday Sep 23 03:51 PM

---
Your reply here?

The Cellar Image of the Day is just a section of a larger web community: a bunch of interesting folks talking about everything. Add your two cents to IotD by joining the Cellar.