xoxoxoBruce Friday Sep 15 10:54 PM

Sept 16th, 2017; Tiny House

There's a small group of people advocating "tiny houses" for low impact living. There is even a TV show that
features these tiny houses which are a marvel of packaging and multi-use spaces. I never took them very
seriously because I couldn't imagine living in that confinement or the prospect of divesting myself of my stuff.
Not that I'm that attached to it, but the work involved in re-homing it.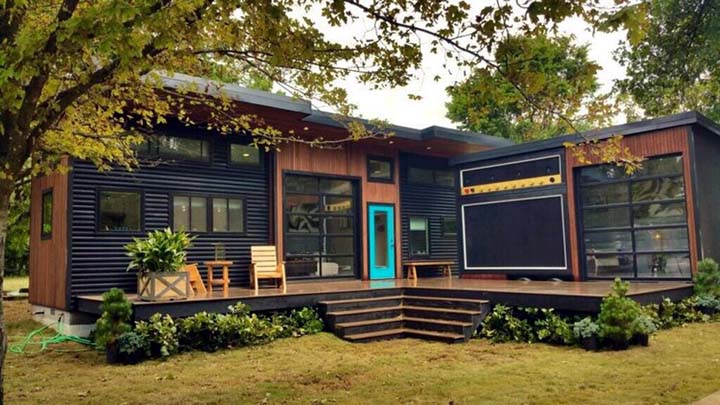 But my friend NAG showed this picture of a tiny house owned by Asha Mevlana, who plays violin with the
Trans-Siberian Orchestra. I thought that doesn't look tiny tiny, and it looks pretty cool. NAG gave a link
to a site which gave some details and a couple pictures.
The house is different from most tiny houses in most of them are built on trailers, although some of them
are built on truck/school bus/motorhome chassis. This house has the living part on a foundation and the
smaller part which is a rehearsal space/recording studio/guest room on a trailer. The deck in between is
a performance space (stage).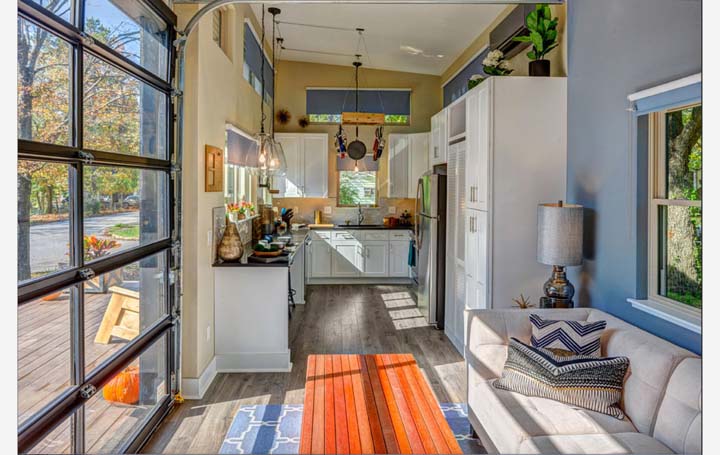 The first site gave a link to this site with a lot of pictures and the complete story of the build.
I was surprised how much the TV show was involved and of course it gave a deadline for added difficulty.
I'm aware of how hard it is to get suppliers to deliver the right stuff on time, but the red tape involved to
satisfy the City of Fayetteville, Arkansas, blows my mind.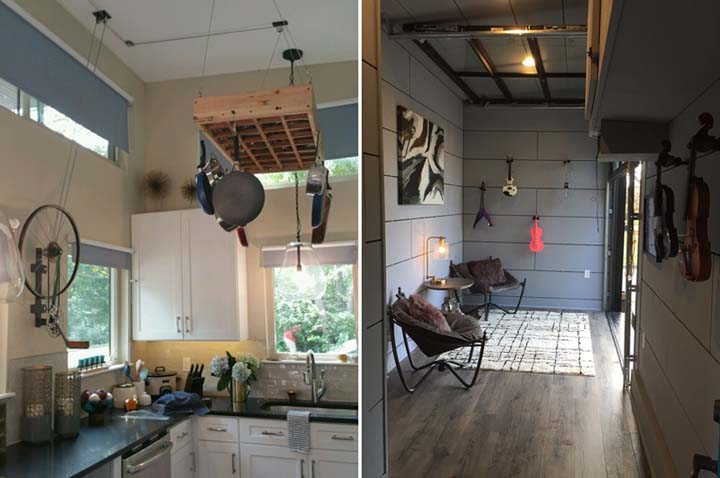 The part of the trailer that looks like a giant amp, is an amp, which contains weatherproof speakers for
mobile or home entertainment.

---

Clodfobble Saturday Sep 16 09:08 AM



This is a cute trend for young, single folks. But the minute you put a baby in that thing you're going to be living in a whole different world.

---

glatt Saturday Sep 16 10:02 AM

The tiny house trend has been around forever. They are called apartments.

---

MtnDsrt Saturday Sep 16 10:14 AM

tiny house

A good friend of mine went through a nasty divorce and split up of life and possessions. When that was all over, she built a tiny house for herself. Like many others, she started with a window-less trailer. It took her a year to make it truly livable. Personally, I couldn't live in it. But she is quite content and it is lovely. It's 1/3 the size of the one in these photos.

---

xoxoxoBruce Saturday Sep 16 12:14 PM

---

Clodfobble Saturday Sep 16 12:20 PM

---

Gravdigr Saturday Sep 16 02:30 PM

---

newtimer Saturday Sep 16 06:31 PM

I prefer my houses be equipped with a toilet. And a shower. But I'm kind of snooty that way.

---

xoxoxoBruce Sunday Sep 17 03:06 AM

This one has both, and the shower is big enough for 3 or 4 people... 6 close friends.

---

SPUCK Thursday Sep 21 12:33 AM

6 close friends... 26 clowns.

---

xoxoxoBruce Thursday Sep 21 09:28 AM

No clowns left, they all went into politics.

---
Your reply here?

The Cellar Image of the Day is just a section of a larger web community: a bunch of interesting folks talking about everything. Add your two cents to IotD by joining the Cellar.