xoxoxoBruce Sunday Sep 10 10:57 PM

Sept 11th, 2017: Gold Vault

Seems to me something important happened today but I can't remember what.
Anyway, I want to live, I want to give, I've been a miner for a vault of gold.
It's these expressions, I never give, That keep me searching for a vault of gold
And I'm getting old.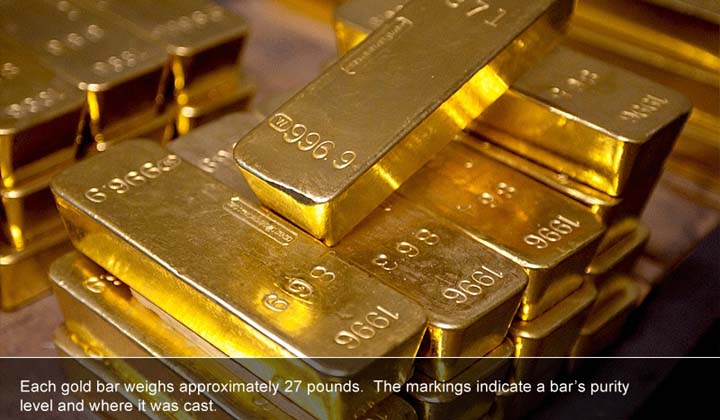 Quote:
The Fed considers each gold bar as a non-fungible individual because of variations in purity and weight. As a result they carefully track each of the deposits, so if you give them a particular bar you can later retrieve that exact one.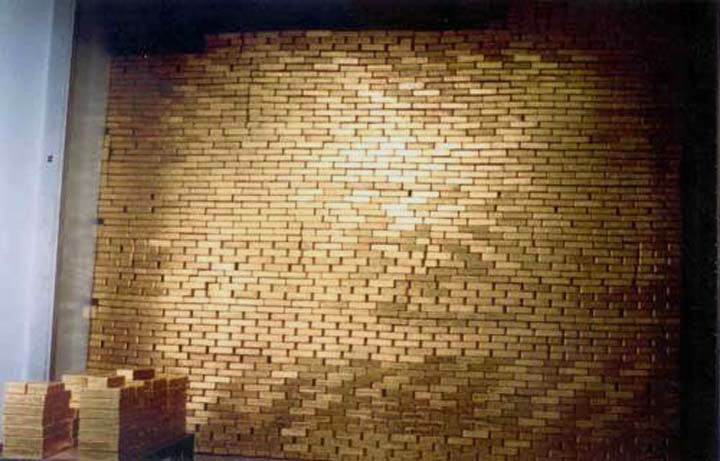 Quote:
The largest accumulation of gold in human history is located deep underneath the heart of Manhattan's financial district, at the New York Federal Reserve Bank. Some 80 feet beneath sidewalk level, the Fed's special vault is built in bedrock and entrusted with deposits from central banks across the globe. Inside sits 7,000 tons of glittering gold bars—around 5 percent of all of the gold ever mined.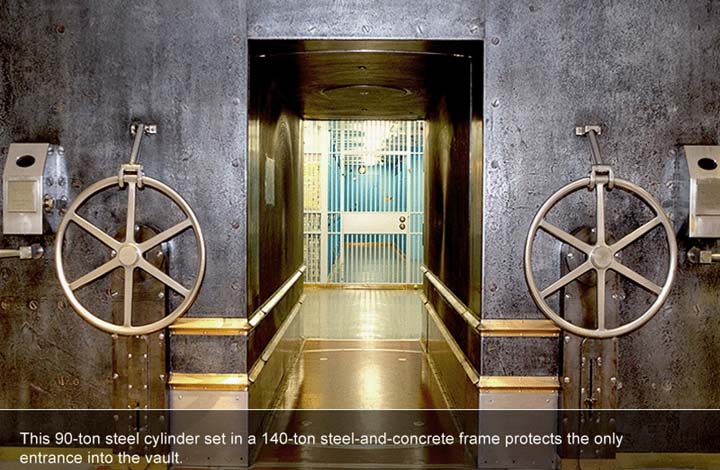 Quote:
The vault itself is cylindrical double-story space that can rotate at the turn of a wheel. A sliver-shaped pie chunk of the cylinder has an opening, that when properly aligned with the entry hallway allows access to the treasure inside. Inside there are 122 separate mini vaults (one for each different country), plus a "library vault" for account holders with smaller deposits.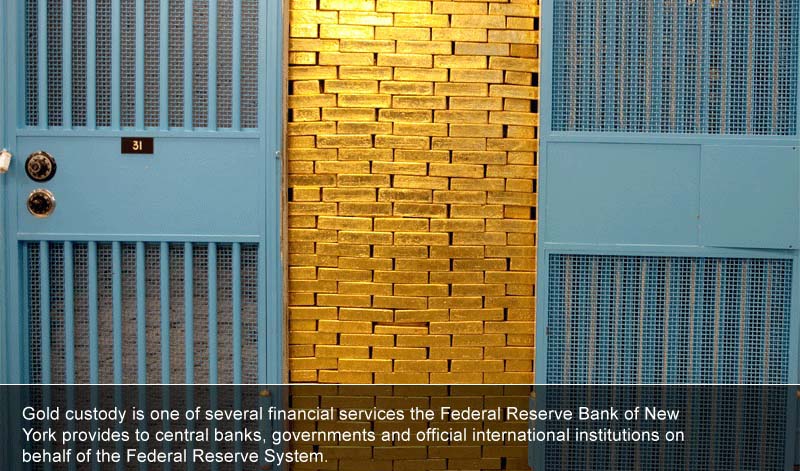 Quote:
The Fed's gold vault really doesn't cater to millionaires and billionaires, though; the customers are sovereign nations. While the list of account holders is a closely guarded secret, think of the likes of Bank of England, Banque de France, and Deutsche Bundesbank. Foreign countries store their gold in New York for the benefits of convenience and centrality. One of the perks of centralizing everything in one spot is that countries can transfer gold amongst themselves by simply moving bars from one compartment to another, at a modest handling cost of $2 per bar.
link
---

SPUCK Monday Sep 11 01:59 AM

Ahhh. Now I know that Diehard 3 was actually true!! That's why all the dump trucks were needed.

---

Flint Monday Sep 11 04:11 PM

What a bizarre symbolic monument.

We make fun of Native Americans for trading with beads, but our economy is based on this. Imagine, after society collapses, how useless a big pile of shiny yellow metal will be.

---

xoxoxoBruce Monday Sep 11 10:40 PM

Not useless, makes great teeth.

---

Gravdigr Tuesday Sep 12 03:01 PM

Totally useless until somebody said "Ooh, shiny.".

---

Gravdigr Tuesday Sep 12 03:05 PM

---

Rhianne Tuesday Sep 12 05:38 PM

Gold, the lowliest of metals
Too soft for serious use
Pretty, of course, and warm to the touch
But no longer alluring when you've handled so much



Sometimes I dream the World is reversed
I dream that accountants are rarer than poets
That things'll get better if they can't get any worse
That a rich man has nothing but dirt in his purse...

Peter Blegvad - Gold

---

xoxoxoBruce Wednesday Sep 13 12:25 AM

Great for electronics.

---

BigV Wednesday Sep 13 02:03 AM

And ballast
And radiation shielding
And for pounding really, really, *really* thin.

---

observer Friday Sep 15 06:35 PM

And I'm pretty sure the vault does not rotate. I think only the entrance rotates (you can clearly see the outline on the floor of the entrance).

https://www.newyorkfed.org/aboutthefed/goldvault.html

How did the description get so mangled by AtlasObscura?

---

xoxoxoBruce Friday Sep 15 10:29 PM

Quote:

The vault is safeguarded by a comprehensive multilayered security system, highlighted by a 90-ton steel cylinder protecting the only entry into the vault. The nine-foot-tall cylinder is set within a 140-ton steel-and-concrete frame that, when closed, creates an airtight and watertight seal.

Yes, it sounds like that passageway in the pictures is through the rotating cylinder that aligns with or seals the entrance to the vault.

---
Your reply here?

The Cellar Image of the Day is just a section of a larger web community: a bunch of interesting folks talking about everything. Add your two cents to IotD by joining the Cellar.