xoxoxoBruce Monday Sep 4 11:35 PM

Aug 5th, 2017: All Girl Garage

Of course there is the All Girl Garage on the TV show of the same name, but there are several more around
the country. For all the advantages for female customers who are sick of being talked down to and outright
lied to, putting one together is not an easy task. Finding a crew of ASE certified females within commuting
distance is almost impossible anywhere.
But Shadi Mohammed has started one in Iraq.



Quote:

"This is Shadi's garage!" she yells as she raises her oil-stained hands with enthusiasm, knowing she's an anomaly in this conservative, male-dominated country. Mohammed is an extraordinary mechanic in an ordinary garage in this Kurdish city near the border with Iran: Everyone working under the hoods of flashy pickups and all-terrain vehicles are all women. They are earning a wage for their families and creating a mini-revolution in the process.
"I want to change the perception of society toward women and toward what they think women can do," explained Mohammed, 45. "Show them that women are also capable of running a garage like this — just like men do here." "I wanted to show that women could take care of themselves, and help encourage women to gain experience in this trade." She also wanted to create a garage where women would feel comfortable when they bring in their vehicle without facing ridicule or harassment from men.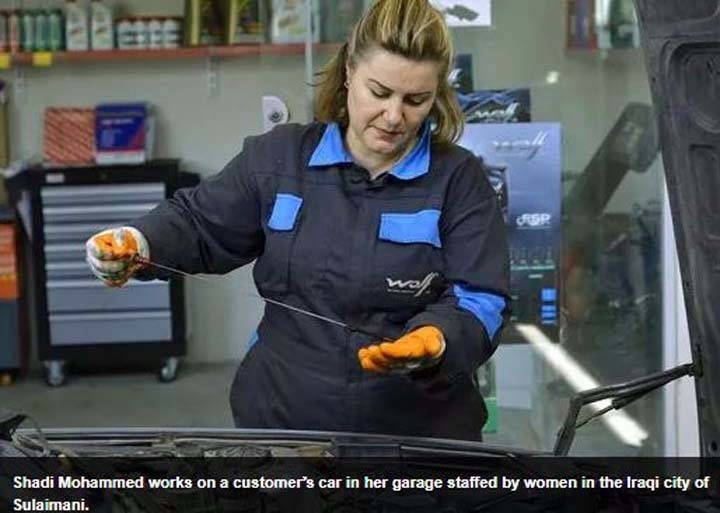 Quote:

Just 11% of women in Iraq's Kurdistan region were employed last year, compared to nearly 19% in the Middle East, according to the World Bank. Only one in 100 of those women had jobs in the private sector, where men and women are more likely to interact — something frowned upon in a country where traditional gender roles are still prevalent. Many of the women who buck this trend still end up leaving the workplace between the ages of 25 to 29 to fulfill family roles at home.

"I would not face the harassment that I am facing now if I were a man," Mohammed said. "I am familiar with my society's behavior. In some cases people just visit us because we have women working here." She said she had to hire women in secret after a public attempt to find women workers was met with ridicule. Despite facing ridicule and harassment, the women say they're thankful for the customers who show respect and support their business.

One of those customers, Aros Ghafur, said he had never before seen a garage owned and run by women but was pleased with the work they did. "I see a clear future of success in what Shadi is doing. I have really encouraged her to keep doing her job," said Ghafur, 31, a Sulaimani resident.

Success for Mohammed is not just increasing profits, but also inspiring other female employees. And it's working. Sparked by Mohammed's give-it-a-go attitude and confidence in taking on Iraqi society, her employees want to encourage other women to do the same.Eyeing the future, Mohammed plans to hire more women and relocate her auto-repair business to a larger site, but she expects little help along the way.

"Nobody has tried to stop me or close my garage, but neither has anyone or the government helped or assisted me with it," she said. "Maybe they don't want to lessen gender discrimination here."

You go girl.

link
---

Diaphone Jim Tuesday Sep 5 12:29 PM

In Saudi Arabia, they couldn't test drive the vehicles after repair.

---

SPUCK Monday Sep 11 01:40 AM

Diaphone beat me to the punch. I was going to say they need to do this in Saudi Arabia too. I hope she gets a huge franchise going. It's a fabulous way to get some sense into the males in that corner of the world.

---

xoxoxoBruce Monday Sep 11 12:31 PM

If she's too successful they are sure to shut her down. If it wasn't in the Kurd section of Iraq she wouldn't have even been able to open.
The Kurds find a whey.

---

Gravdigr Wednesday Sep 27 12:54 PM

Quote:

Originally Posted by

Diaphone Jim

In Saudi Arabia, they couldn't test drive the vehicles after repair.

They can next June.



Quote:

On 26 September 2017, King Salman decreed that women will be allowed to gain driver's licenses in his Kingdom, effectively granting the women the right to drive.[134] Salman's decision was backed by a majority of the Council of Senior Religious Scholars. Salman's orders gives responsible departments thirty days to prepare reports for implementation of this, with the target to remove the ban on women's drivers licenses by June 2018.

From Wiki

---

xoxoxoBruce Wednesday Sep 27 08:36 PM

However, religious/social pressure may keep most of them from doing it.

---

Gravdigr Thursday Sep 28 02:02 PM

Quote:

Salman's decision was backed by a majority of the Council of Senior Religious Scholars.



---

xoxoxoBruce Thursday Sep 28 11:46 PM

Yes, religious scholars, but that's like saying Harvard professors. Your friendly neighborhood Iman, and the girls father/brothers/uncles who are old school, may not go along with that. Legal and permitted aren't always the same.
I hope most accept the change, but people who won't let girls go to school, or leave the house alone, may have trouble with it.

---

Gravdigr Wednesday Oct 4 12:46 PM
---
Your reply here?

The Cellar Image of the Day is just a section of a larger web community: a bunch of interesting folks talking about everything. Add your two cents to IotD by joining the Cellar.