xoxoxoBruce Sunday Sep 3 10:07 PM

Sept 4th, 2017: Mason Dixon Line

Prologue:
In days of old, when knights were bold, the feudal lords held absolute power over everyone on their turf.
So when some were granted charters in the new world they carried that tradition and attitude with them.
Since none of the Kings making these grants knew jack-shit about the new world and good maps didn't
exist yet, some of the grants… make that all of the grants, were nebulous. Lord Baltimore having been
given Maryland brought his Irish cousin George Talbot over as second in command.

Talbot was given a huge tract of land extending into William Penn's Pennsylvania charter of 1681, with the
stipulation he import at least 640 immigrants to settle the area. Talbot did that, plus built a series of block
houses and a fort with an armed garrison in the disputed territory, to fight hostile Indians and Penn.
He even plotted to kidnap Willie Penn. But then Talbot killed a Royal tax collector he was jailed, escaped,
hid out in a cave, was convicted of murder, got a King's pardon, and got outta dodge.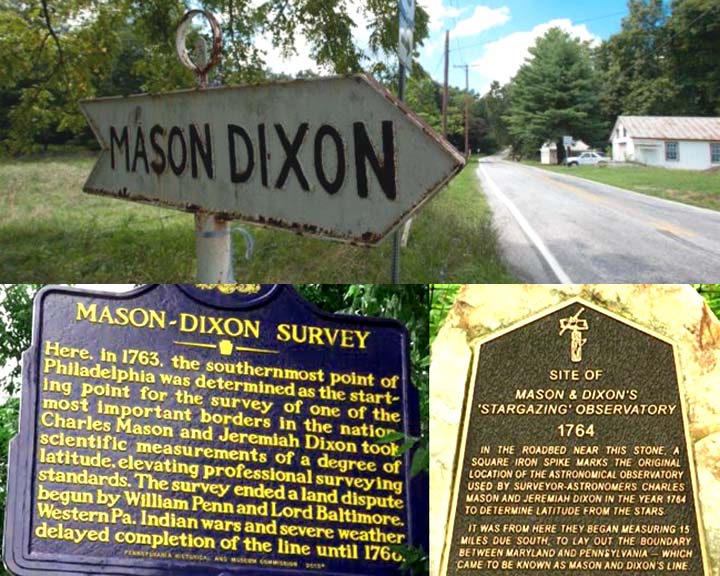 The battle in the English courts between Penn and Baltimore dragged on for 80 years, while bloody battles
ensued along the border. When a settlement was reached the problem was marking the border.
Local surveyors couldn't cut it and 4,000 sq miles were at stake. Enter Mason and Dixon, two of Britain's
best with the finest equipment available.


Quote:

The Mason-Dixon Line was drawn in two parts. An 83-mile (133.5km) north-south divide between Maryland and Delaware and the more recognised 233-mile (375km) west to east divide between Pennsylvania and Maryland, stretching from just south of Philadelphia to what is now West Virginia.
Mr Thaler said: "This was the most outstanding scientific and engineering achievement, not only of its day, but of the American Enlightenment. "It was so advanced for its time. The brains were the best and the technology was the best." Mason and Dixon brought with them some of the most advanced surveying equipment of the day, including tools by renowned instrument maker John Bird, who, like Dixon, hailed from County Durham.

The pair arrived in Philadelphia to begin work in November 1763. They used Bird's instruments to calculate their path by the stars and had to combat hostile Native Americans, mountains, dense forest, rivers and wild animals.
Limestone markers measuring up to 5ft (1.5m) high - quarried and transported from England - were placed at every mile and marked with a P for Pennsylvania and M for Maryland on each side. So-called Crown stones were positioned every five miles and engraved with the Penn family's coat of arms on one side and the Calvert family's on the other.

Almost 400 stones, averaging 500 lbs (226kg), shipped all the way from England?
Somebody's uncle/cousin/brother-in-law owned a quarry.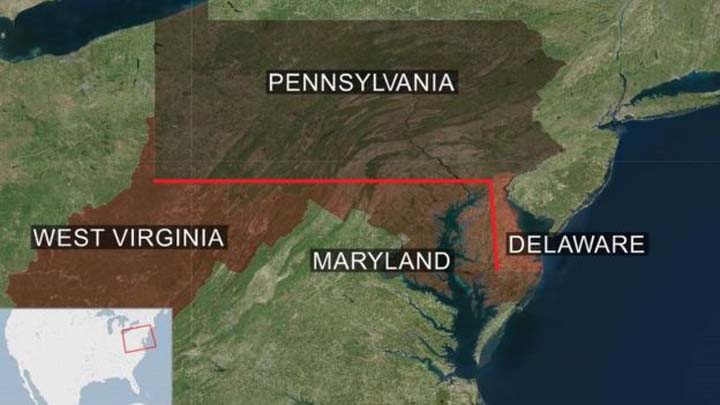 Quote:
"At the time all Mason and Dixon had in front of them was wilderness."
There were some settlements, but west of the Susquehanna River and approaching the Allegheny Mountains there were very few roads. It was all mature forest so they had to come through and cut a vista about 30ft wide. That required axe-men to cut down the trees, pack mule drivers to get the trees out of the way as well as cows for milk, chain carriers, instrument bearers and tent bearers. It was like a small army moving through the woods. They started off with a crew of five, but by the time they got towards the end of the survey the party had grown to about 115. When they came into this I think they thought it would take a year or two, but it ended up taking five.
Yet while their achievement has been rightly hailed, modern technology has shown the line was not as accurate as Mason and Dixon thought. Mr Babcock said: "They thought at the end of the survey that the stones were accurate to within 50ft of where they should be. But what we're finding is that some of them are as much as 900ft off the intended line of latitude.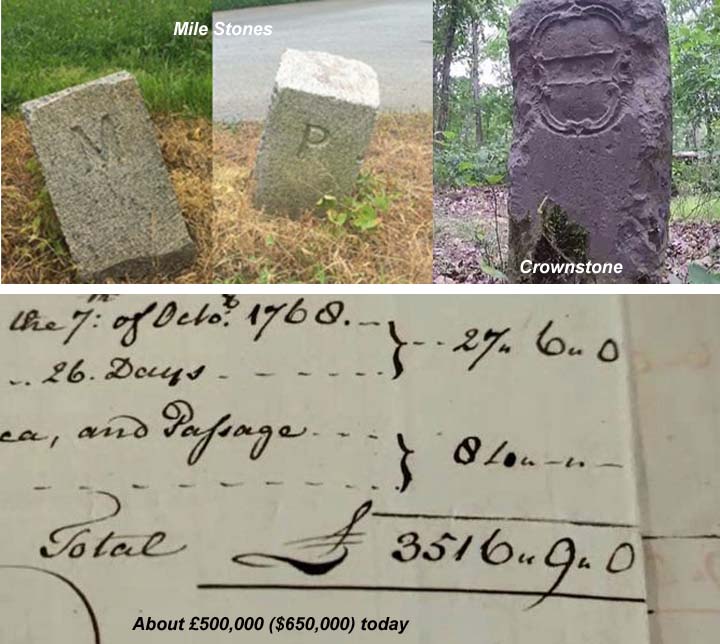 Quote:
Using modern GPS equipment we found they progressively went to the south and then started to come back to the north. The reason for that is not because they were inaccurate or because the equipment was faulty. It was actually gravity. Gravity had an impact on the plumb bob they were using. They had a 6ft telescope and it used a plumb bob on a fine wire to set it to true zero so they could measure directly overhead. But gravity varied from location to location because of the influence of things like mountains. We have found there was a direct correlation between the local variations in gravity and how far north or south of the line they were.
The distances between the stones is supposed to be a mile, but what we're finding is that they are anything up to 15ft longer than a mile in places. That said, the idea of trying to stay on a line of latitude for 230 miles through the wilderness with equipment that had never been used before is just incredible.
link
---

Griff Monday Sep 4 09:22 PM

Fair work.

---

DanaC Tuesday Sep 5 04:51 PM

Fascinating!

---

mrputter Saturday Sep 9 03:44 PM

"Now you're a good surveyor, Dixon, but I swear you'll make me mad.
The west will kill us both, you gullible Geordie lad..."

(For anyone who doesn't know it) this is an almost heartachingly beautiful song by Mark Knopfler and James Taylor, and one of my favourites:



---

DanaC Saturday Sep 9 03:50 PM

'they cut me out for baking bread'

Beautiful

---

Gravdigr Saturday Sep 9 04:00 PM

"they'd cut me out for baking bread
but, I had other dreams instead"

People assumed he would be a baker, cuz dad wuz.

---

Gravdigr Saturday Sep 9 04:01 PM

Thank you for posting that, Mr. Putter.

---

DanaC Saturday Sep 9 04:24 PM

Quote:

Originally Posted by

Gravdigr

"they'd cut me out for baking bread
but, I had other dreams instead"

People assumed he would be a baker, cuz dad wuz.

Yeah - I got the meaning. That's why the line struck me - was a lovely way to say he'd been meant for a baker.

---

Gravdigr Sunday Sep 10 05:19 PM

I misunderstood your understanding.

---
Your reply here?

The Cellar Image of the Day is just a section of a larger web community: a bunch of interesting folks talking about everything. Add your two cents to IotD by joining the Cellar.