xoxoxoBruce Monday Aug 21 11:25 PM

Aug 21st, 2017: Extra Time

Google links Poems about time at 8,530,000, songs about time 81,000,000, and articles about time 1,060,000,000.
Everyone seems to want more time, they complain about not enough time to do this or that, there aren't enough hours in the
day, they don't get enough sleep. Time is democratic, everybody gets 24 hours in their day and 60 minutes in their hours, right?
Yeah yeah, I know, Astronauts, space/time compendium, and science fiction. I'm talking about normal people from the worst
slums to the plushest palaces.
But I know the one place on Earth you can get more time, and it's in Germany.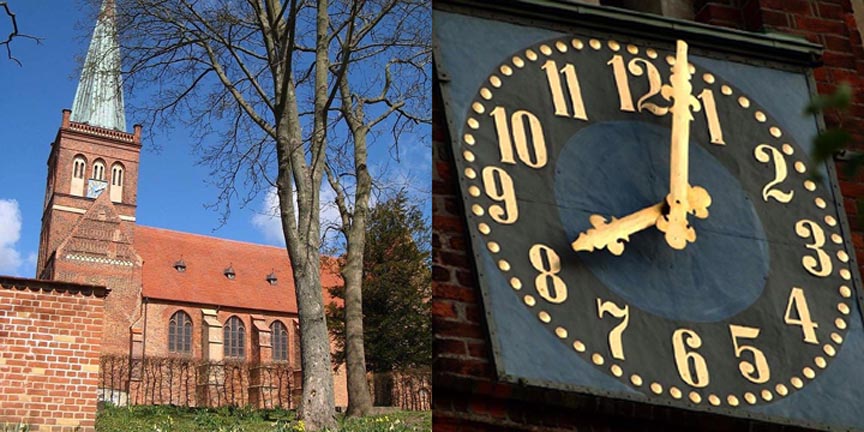 Quote:

Bergen auf Rügen is the capital of the former district of Rügen in the middle of the island of Rügen in Mecklenburg-Vorpommern, Germany, on the Baltic Sea coast.
The St. Marien Church is the church of the protestant community of Bergen auf Rügen, which is part of the Pomeranian Evangelical Church Circle and has about 2000 members. It is the oldest building in the city of Bergen. In 1983 stormy weather had damaged the church clock. After repairing there are 61 minutes-points at the clock face. Now in Bergen Rügen Germany you have more time.

One minute per hour is 24 minutes per day. You could get more sleep... or watch one more show on netflixs.

link
link
---

Diaphone Jim Tuesday Aug 22 12:36 PM

That is the damnedest looking island I've ever seen.
Pretty interesting place, though.

---

Gravdigr Tuesday Aug 22 02:36 PM

That is barely an island. By the thinnest of margins.

---

Diaphone Jim Wednesday Aug 23 12:48 PM

I kept thinking about what Rugen reminded me of.
It is a gerrymandered island!

---

xoxoxoBruce Wednesday Aug 23 01:13 PM

Yup, gerries everywhere.

---

Gravdigr Wednesday Aug 23 01:49 PM

Do Germans have jerry cans? Well, gerry cans, anyway?

---

Happy Monkey Wednesday Aug 23 07:32 PM

Of course. That's how they got the name.

---

Gravdigr Thursday Aug 24 05:15 PM

Yeah, I know how they got the name, but I was talking about whether Germans are offended by the term "jerry" (gerry, wtfe).

---

sexobon Thursday Aug 24 07:18 PM

Quote:

"... For thou hast gone and made thee other gods, and molten images, to provoke me to anger, and hast cast me behind thy back: therefore, behold, I will bring evil upon the house of Jeroboam, and will cut off from Jeroboam him that pisseth against the wall, and him that is shut up and left in Israel, and will take away the remnant of the house of Jeroboam, as a man taketh away dung, till it be all gone."

It's a remarkable story, with a truly interesting linguistic sequel. The word 'Jeroboam' later (c. 1816) became a word describing an oversized wine-bottle; that is, a 3-litre bottle of champagne or Burgundy, 4.5 litres if Bordeaux. In 1827, the word became slang for 'chamberpot', because of the large capacity involved. 'Jeroboam' got shortened to 'Jerry', and the word 'Jerry-can' was used to mean a large water container with a capacity of about 20 litres or so. Compare the history of the word 'Jeroboam' with the doom of the king, and you get the feeling that slang-merchants used to be a very educated lot. ...

Quote:

... The name Jerry was probably derived from the stahlhelm introduced in 1916, which was said by British soldiers to resemble a chamber pot or Jeroboam. ...

[NOTE: stahlhelm = steel helmet (WWI, the term is introduced.)]



Quote:

... The history of the jerrycan is notable because the German design was reverse engineered and subsequently copied, with minor modifications, by the Allies during the Second World War. The name of the jerrycan refers to its German origins, Jerry being wartime slang for Germans. ...

[NOTE: WWII the term is popularized.]


It would seem that whether or not a German would find the word jerrycan offensive would depend on the context in which it's used (as usual) AND how much of a history buff that person is as it could simply mean a large capacity can.

---

classicman Saturday Aug 26 03:48 PM

Quote:

Originally Posted by

Gravdigr

Yeah, I know how they got the name, but I was talking about whether Germans are offended by the term "jerry" (gerry, wtfe).
---
Your reply here?

The Cellar Image of the Day is just a section of a larger web community: a bunch of interesting folks talking about everything. Add your two cents to IotD by joining the Cellar.