xoxoxoBruce Sunday Jul 23 10:24 PM

July 24th, 2017: Horse Door

tywkiwdbi had this picture of a horse door.
The house door is up the steps, and the street level door on the left is the horse door.



Quote:

"The horse walk door is the brown one to the left at this house at 7 Leroy Street, a Federal-style beauty built in 1831.

Behind this door is the horse walk, a narrow passageway through which a homeowner's horse was led from the street to a separate carriage house or stable behind the main house."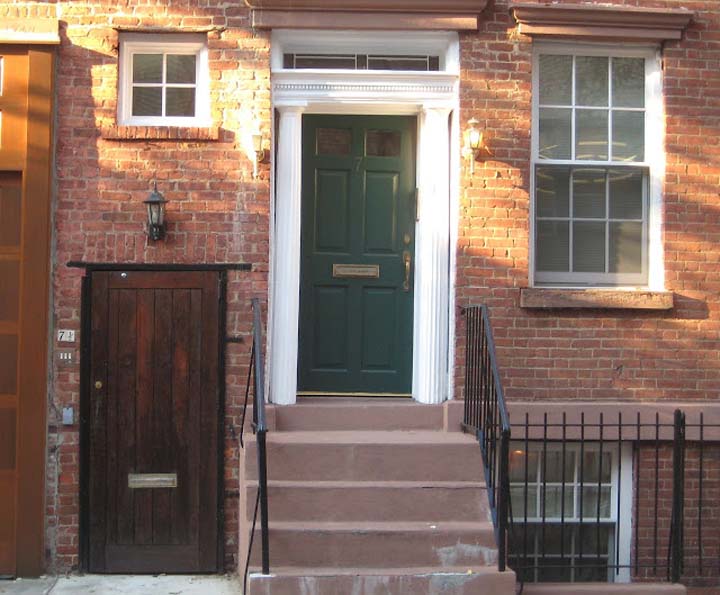 He also mentioned the "horse door" is still active, as where the horse used to live is now occupied by people…
for $16,000 a month.
That ain't hay.

---

Snakeadelic Monday Jul 24 08:09 AM

For that kinda rent, you'd think they'd fix the place up a bit...like the crumbling bricks, the messed-up stairs, and the fact that it looks like the main door is crooked...

Is this place in San Francisco with that kinda rent???

My great-grandmother's house, where she lived for 63 years, is in the University District of Seattle, and after some serious remodels on both the main house and the "carriage house" that I grew up calling "the cottage", it is available for a paltry $895,000 or so. Cottage included! Came as quite a surprise to me, as the last I'd heard shortly after she died in 1995 or '96 the family elders planned to sell it to a company that intended to level the whole place (it's on a high-traffic corner) and build a convenience store. To quote a John Cusack character, "I guess you can't go home again. But you can shop there." So glad that didn't happen!

For $16,000 a month, the former stable had better have ALL the amenities alongside the history.

---

newtimer Monday Jul 24 10:29 AM

Quote:

Originally Posted by

Snakeadelic

For that kinda rent, you'd think they'd fix the place up a bit.

The super-rich aren't like the rest of us. They like that their "quaint city cottage" is drafty and smells like horse urine. It's what they pay for.

---

HitTheLake Monday Jul 24 10:47 AM

Quote:

Originally Posted by

Snakeadelic

To quote a John Cusack character, "I guess you can't go home again. But you can shop there."

One of my favorite movies of all time. Of course my top 10 probably has 5 comedies (or twisted comedies).

---

xoxoxoBruce Monday Jul 24 01:07 PM

It's New York City. The Federal style columns and angle of the photograph makes the door look crooked. I'd say that 200 year old brickwork looks pretty good, and I'm sure the carriage house has all the amenities.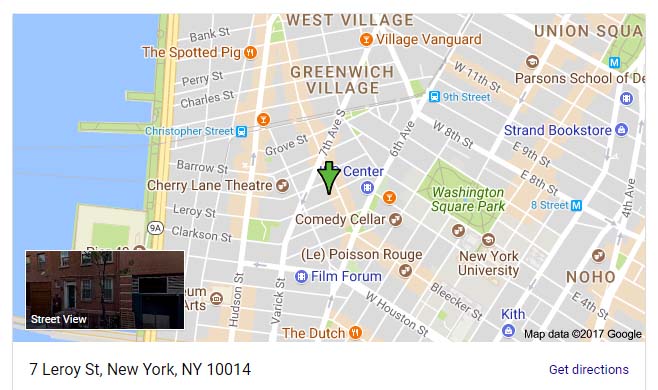 ---

Diaphone Jim Monday Jul 24 05:20 PM

Snakeadelic points out that the main door is crooked. If you look at the link to Neatorama the huge building (City Hall? Opera House?) at top is even crookeder.
And I think the background buildings for the bicycle graveyard were too and I saw a leaning Eiffel Tower somewhere last week.
Maybe I need new glasses.
The old carriage house (mews in England?) seems a pretty secure spot in the Village.

---

Snakeadelic Tuesday Jul 25 07:58 AM

I actually said it LOOKS crooked. My eyes don't always tell me the truth about things.

Photographic perspective can be VERY different from in-person perspective.

The only use I've ever seen for the word "mews" is "a specifically-built housing area for a falconer's birds of prey to live in when they're not being flown." Had an acquaintance long ago in WA state who knew a falconer, and back then you had to build your own mews and have it inspected by some state official as part of the licensing process for falconry.

Anyone from the UK, or who knows more about their language use than I do, got any info on other definitions of "mews"?

---

fargon Tuesday Jul 25 08:58 AM

mews
myo͞oz/Submit
nounBRITISH
a row or street of houses or apartments that have been converted from stables or built to look like former stables.
a group of stables, typically with rooms above, built around a yard or along an alley

---

xoxoxoBruce Tuesday Jul 25 01:43 PM

Mews, sounds cats make.

---

glatt Tuesday Jul 25 02:20 PM

Mews: The reporting of feline current events

---

Gravdigr Tuesday Jul 25 03:58 PM

Meow cut that out.

---

xoxoxoBruce Tuesday Jul 25 11:08 PM

Don't be a pussy.

---

fargon Wednesday Jul 26 07:22 AM

I'm a pussy, but then you are what you eat.

---

Gravdigr Thursday Jul 27 07:17 AM

O. M. G.

I'm must be Jell-O!

---

fargon Thursday Jul 27 07:46 AM

Jell-O Good!!!

---

monster Saturday Dec 9 06:54 PM

We are not a-mews-ed

---

fargon Saturday Dec 9 10:05 PM

I am.

---
Your reply here?

The Cellar Image of the Day is just a section of a larger web community: a bunch of interesting folks talking about everything. Add your two cents to IotD by joining the Cellar.