xoxoxoBruce Thursday Jul 13 01:37 AM

July 13th, 2017: Ticket to Ride

Ha Ha, I got a ticket and you didn't. [/Nelson]
I was buzzing along the PA turnpike, enjoying great sex with Grace Slick, when I
became aware he was hiding in the bushes. Didn't brake but did slow a lot, so
86 in a 70. After I passed him and saw him pull out, I pulled over before he had a
chance to put his lights on. When he came up to the window he was extremely polite
and professional.
I mention that because in my considerable experience with dealing with cops is this
is not always the case, although with PA State Police, this is the rule rather than the
exception. Back to the saga.

So I handed him the registration and insurance papers and he says he needs my
license too. I said I knew that but the other papers were handy and it would take
more effort/time to retrieve my license from under my fat ass. He smiled. There are
two ways a PA cop can write a violation. One is the specific transgression, chapter
and verse, resulting in a fine and points on your record, which is available to your
insurance company, Homeland Security, and Russian hackers.
The second is, violation of PA vehicle code, with I believe a little higher fine but no
points. I suspect the choice hinges on how much a dick you are to the cop, but don't
know for sure because I'm never a dick to them. He/she are doing their job, and
guilty(I always am) or not, tell it to the judge, don't fuck with the cop.

OK, so the cost is:
$25 = Fine
$10 = EMS
$45 = Surcharge
$39 = Costs
$10 = J.C.P. / A.T.J.
$129 = Total (and no points)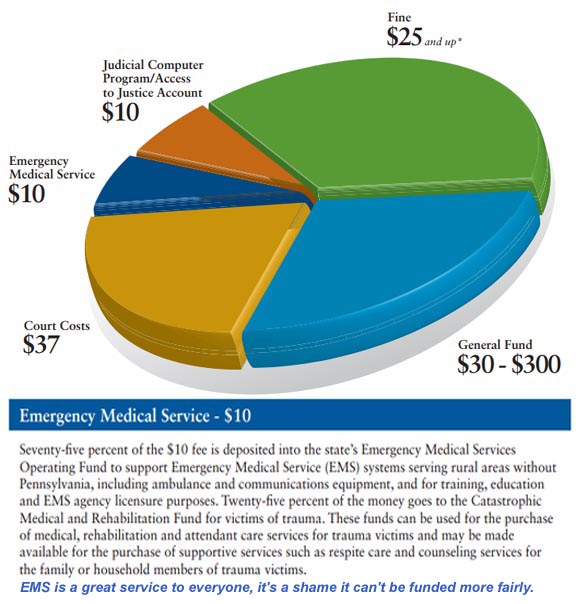 It seems an unfair distribution of the state costs and do-good projects, but one that
will receive little pushback from the public. It also gleans out-of-staters.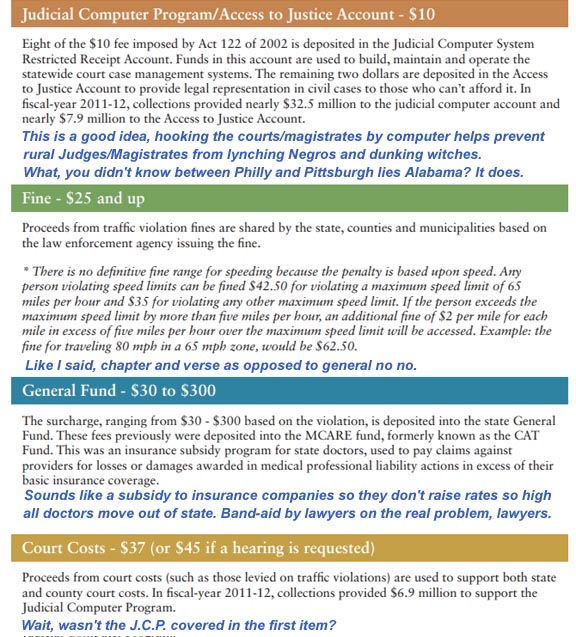 I'm not complaining, I consider it a higher tier toll for running with my traction control
off for most of the way to Ohio.
Note: Traction control turns off automatically at 98mph and back on at 93mph.

If you are offended by my comments on the system or about cops/judges/lawyers, and
we meet professionally, my deepest sincere apologies.

Anyone else can seek out your most sympathetic and compassionate ally shoulder,
Gravdigr in the complaint dept.

---

Diaphone Jim Thursday Jul 13 12:13 PM

That looks just like the extortion scheme in California, but cheaper.
Is there a law about states being in collusion or even conspiracy?

---

xoxoxoBruce Thursday Jul 13 01:33 PM

No, between states it's called cooperation, or alignment. You know, more perfect union and all.
The examples given are nothing, if you really piss 'em off they're talking $10,000 fine, plus a long jail stretch, plus no licence ever, plus your lawyer. They'll do everything but take away your birthday.

---

Gravdigr Thursday Jul 13 06:12 PM

Quote:

Originally Posted by

xoxoxoBruce

Anyone else can seek out your most sympathetic and compassionate ally shoulder, Gravdigr in the complaint dept.


---

captainhook455 Friday Jul 14 04:25 PM

Bwaaaaaaaaahahahaha!!!

---

Gravdigr Sunday Jul 16 12:53 AM
---

SPUCK Sunday Jul 16 04:57 AM

That's so cheap...
You get a ticket in California and look it up in the motor vehicle code and see things like speeding - $120.

Then you get the paperwork and find out it's more than $400. The last speeding ticket I got was $485. 80 in a 70. I'd been doing 100 for hours so I guess I was lucky. :/

---

xoxoxoBruce Sunday Jul 16 08:19 AM

Did the cop knock it down to 10 over? Quite often on the east coast if the limit is 65 and they clock you at 78, they'll write it for 75.

The NJ Turnpike used to be simple, the ticket had the fine and where to mail it to right on it. Now you have to go online to find out the cost of that ticket by serial number and sometimes it doesn't come up for days, even a week. Very easy to get busy and miss the payment window.

---

Gravdigr Tuesday Jul 18 07:32 AM

Damn.

It's been a long time since I got a speeding ticket.

---

captainhook455 Tuesday Jul 18 08:46 AM

I haven't had a ticket since 1987.

---

Snakeadelic Tuesday Jul 18 09:32 AM

I haven't had a ticket since 1997, when I wrecked my 3000-pound steel-plated rolling cockroach of a Plymouth Volare (which I continued driving, broken turn signal bracket hanging diagonally and all, for another 18 months). $408 for careless driving, and the cop was a JERK. She was snappy, cold, and straight up told me it was a good thing she'd been RIGHT BEHIND ME in traffic or they'd have assumed I was speeding to bump it up to reckless driving.

I'd never been on that stretch of road before (it's on Mission St. East, aka Hwy 22, east of Salem), it was dusk, it was raining, and I didn't know about the 3 exit-only lanes and 2 stop lights in less than half a mile on a 50 mph arterial. Slid into a stopped car at a red light. Went to traffic court not to contest but to request a payment plan, explained it all to the judge, got everything but $108 court costs knocked clean off it. This guy had only let 1 guy off lightly by the time it was my turn, and that was because he took photos of the improperly maintained, indistinguishable handicap space (no sign at the front, paint faded just about clean off) he'd accidentally parked in. Another dude came back from a season on fishing boats off Alaska to pay off his DUI and assorted other fines and this judge slapped his butt in jail for leaving the state with a warrant out, so I was sure I was DONE.

Saw that crabby cop once after that. She was on foot at the "bus island" in the middle of a busy downtown 1-way street that served as Salem's transit center until sometime after I moved out of that city for good around 1994. That was THE WORST detail in the city. She looked at me, limping on my cane because I hurt my back badly in that wreck, trying to remember where she'd seen me, and as I was getting on my bus I smiled and said "I paid my ticket!". Based on her expression after I'd gotten seated, I think she was trying to figure out a reason to pull me off that bus and put me in cuffs.

And that's actually the worst I've ever been treated by a cop. Oregon didn't do license points back then, and I'm really glad I never had to figure that part out!

---

Snakeadelic Tuesday Jul 18 09:32 AM

Addendum: I have no idea if Oregon does license points now. I don't drive, and it never occurred to me to ask my parents while I was just there.

---

xoxoxoBruce Tuesday Jul 18 09:45 AM



Minimum altitude, maximum speed!!

---

SPUCK Friday Jul 21 04:09 AM

Quote:

Did the cop knock it down to 10 over

I went back an looked and he knocked it down to 85 from 89....


My second ticket was crazy. We have a train trestle in our town that goes across a river. I drove my pickup across that. It dumps out a couple of blocks away out of a deep cut. As I pulled back off the tracks at a road crossing (easy and bump free) here comes a cop.

"Pull over lets see your license registration etc."

He told me, "I know you've done something wrong but I don't know what."

He popped his trunk and got a briefcase and several tomes. He flipped thru them for about 10 minutes then called someone. Two more cars showed up and they all got briefcases out and had them plastered all over all their trunks and hoods and argued and went back and forth over what they were finding. About an hour and a quarter later the officer came over and said they'd all agreed I'd not broken any motor vehicle codes but that I'd actually committed a misdemeanor. They said its illegal to operate any machine or vehicle within a railroad right-of-way and that the railroad right-of-way is anyplace withing 10 feet of the rails if not otherwise marked.

After all that time I didn't bother to point out that they were parked five feet from the tracks or that thousands of violations were being committed daily at every railroad crossing.

Judge said he was worried I might have run into a train. Tracks are only rated for 15MPH here. I'd told the DA that I knew there were no trains as it only ran once a week on Friday (to a cement plant). Judge gave me three months to pay $150 fine.

It was worth it.

---

Gravdigr Friday Jul 21 07:41 AM

Quote:

Originally Posted by

SPUCK

After all that time I didn't bother to point out that they were parked five feet from the tracks or that thousands of violations were being committed daily at every railroad crossing.

I'd say a RR crossing would qualify as "otherwise marked".



As for the cops parked five feet from the tracks, they were probably driving one of themthere 'authorized vehicles'.

I always kinda wanted a khaki Chevy pick-up with "Authorized Vehicle" stenciled on the door.

---

xoxoxoBruce Saturday Jul 22 11:43 PM

Good idea, I had a couple dozen black pocket Tees printed with STAFF in green over the pocket. It's amazing the shit you can get away with if they're not sure.

---
Your reply here?

The Cellar Image of the Day is just a section of a larger web community: a bunch of interesting folks talking about everything. Add your two cents to IotD by joining the Cellar.