xoxoxoBruce Sunday Jul 9 11:21 PM

July 10th, 2017: Park to Park

A hundred years ago Flying was for wealthy daredevils, roads were mostly suited for critter drawn wagons,
and ships only good for port to port. Anyone wanting to travel were at the mercy of the Railroad Barons.
The US had established some kickass National Parks, but tough to get to most of them.
The American Automobile Association, founded in 1902 catering to the rapid growth of cars, championing
improved, at least passable in most weather, roads between cities and towns.
The NPS and AAA came up with a plan called The National Park to Park Highway. Catchy huh?
But still 5600 miles of bad road.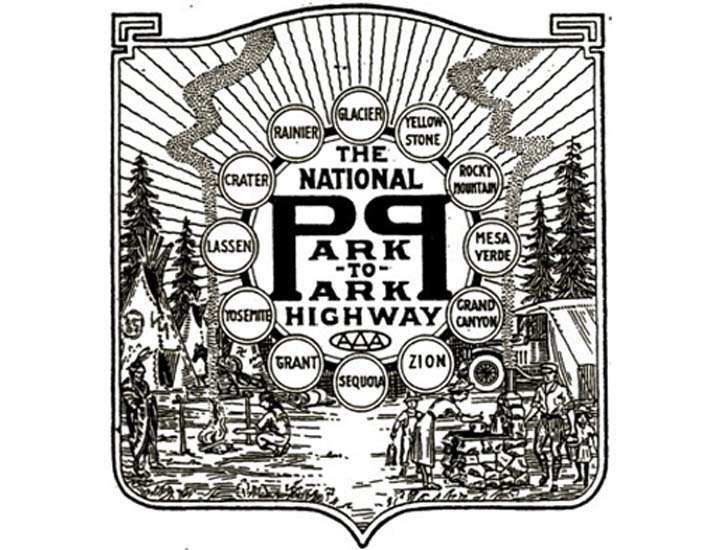 Of course every campaign needs a publicity stunt to grab the public's attention and in this case to have the
public pressure the politicians for better roads.


Quote:

A group of 22 motorists left Denver on August 26, 1920 for the inaugural trip. Together they drove for 76 days in a publicity tour to all the Nation's Playgrounds, as National Parks were then called. On the list were Rocky Mountain, Yellowstone, Glacier, Rainier, Crater Lake, Lassen Volcanic, Yosemite, Kings Canyon (then General Grant), Sequoia, Zion, Grand Canyon and Mesa Verde National Parks.
Each of these National Parks are worthy of dedicated trip on its own but together the trip can only be described as epic.

Oh yeah, epic.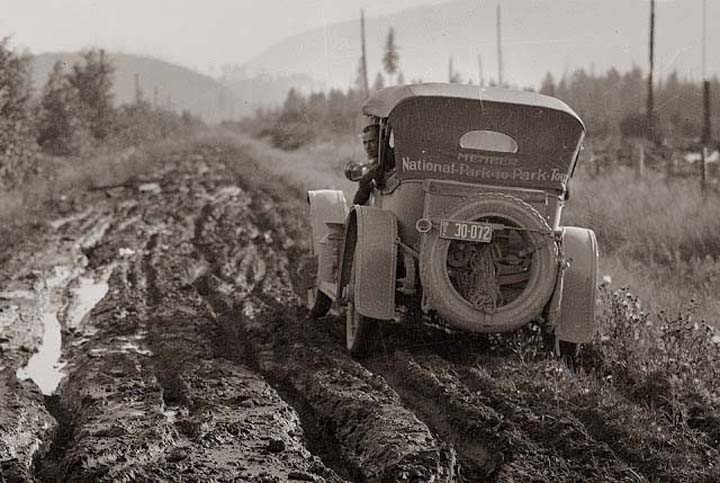 Quote:
The group's first National Park stop was the most popular park of it's day. In 1920, Rocky Mountain National Park exceeded 240,000 visitors more than Yellowstone, Yosemite and Grand Canyon combined. The close access to Denver, good roads and lodging options in Estes Park no doubt contributed to Rocky Mountain's popularity.
From there the tour went on to Yellowstone, whose Grand Loop Road is a great scenic byway on its own. In 1916 automobiles and horses shared the "Park Circle" road and all travel was one way in a counter clockwise direction.
Glacier, Mount Rainier and Crater Lake National Parks were next. The motorists encountered rough roads in this section of the tour, with parts of the parks inaccessible to auto traffic.
The National Park-to-Park Highway tour couldn't visit the stop, Lassen Volcanic National Park. In 1920 only rough wagon roads and cattle trails entered the park. This lack of access to the automobile was the purpose of their tour.
The most iconic images from the tour were taken in the next few parks. Yosemite, Kings Canyon (then General Grant) and Sequoia National Parks allowed the travelers to drive their autos on and through the massive trees in the area.
The group then headed to Grand Canyon, bypassing the Zion National Park side trail due to rough roads. The final stop was Mesa Verde National Park, the most isolated destination on the trip. In 1917 Horace Albright, future superintendent of Yellowstone National Park and future National Park Service Director, described the road to Mesa Verde as "...one of the most disreputable, dangerous, fearsome bits of slippery, rutted miseries I ever had the misfortune to travel."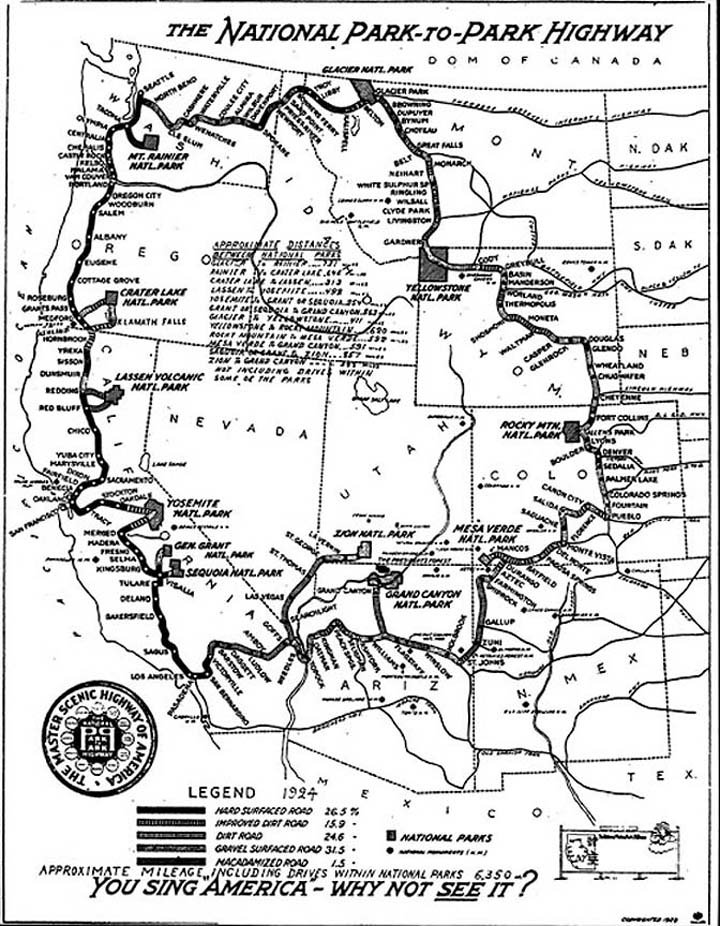 Today the roads are pretty good, so good in fact they're jammed with tourists and vacationers so progress
isn't that much faster, and in summer some parks are impossible without reservations.
If we only had flying cars the death toll would eliminate a lot of traffic.

link
---

SPUCK Sunday Jul 16 04:07 AM


Love your logic Bruce.

That would indeed be an epic trip. Especially in those cars!

Yellowstone sure is a big'un.

---

Snakeadelic Tuesday Jul 18 09:17 AM

Yellowstone is currently also apparently feeling grouchy. I've heard speculation that the 5.8 earthquake epicentered near Lincoln, MT a couple of weeks ago (just about right on top of one of the gem & mineral club's favorite collecting sites, which we'd already visited this year) may have been caused or worsened by something geological going on under Yellowstone.

Damn quake shook me outta bed. It's 45-50 miles from my front door north to connect to Interstate 90. When we leave Missoula we use exits 101 for westbound and 104 for eastbound. The exit for Lincoln is 30 miles east of Missoula. My neighbor was trying to figure out what the hell was going on when I stumbled out of bed and reminded him that this is my SIXTH quake of magnitude 5 or greater (so far 4 in WA, 1 in OR, and this 1 in MT) so I know whereof I speak when I say "Yep, earthquake!"

---

SPUCK Friday Jul 21 03:47 AM

Snake; I thought about that but saw it was quite a ways from YS and decided it wasn't. Interesting.

---
Your reply here?

The Cellar Image of the Day is just a section of a larger web community: a bunch of interesting folks talking about everything. Add your two cents to IotD by joining the Cellar.