xoxoxoBruce Sunday Jul 9 12:34 AM

July 9th, 2017: Plane Sex (Not Mile High Club)

During the Big One, WW ll, Rosie the riveters were ramping up production of materials, and the military was ramping up
training for all this ordnance. We had to get serious, and damn quick, so the training schedules were intense.
The same was happening with all the good guys(nations on OUR side), even the ones in active warfare. This led to increased
combat training accidents, probably nowhere more so than flying, because they donít get many do-overs.

During Aussie flight trainingÖ


Quote:

These Ansons were at an altitude of 1,000 feet when they made a banking turn. Fuller lost sight of Hewson's aircraft beneath him and the two Ansons collided amid what Fuller later described as a "grinding crash and a bang as roaring propellors struck each other and bit into the engine cowlings".
Both of the upper aircraft's engines had been knocked out in the collision but those of the one below continued to turn at full power as the interlocked Ansons began to slowly circle.

The two navigators,and lower pilot bailed out. Fuller flew five miles, made a pancake landing sliding 200 yards across the grass.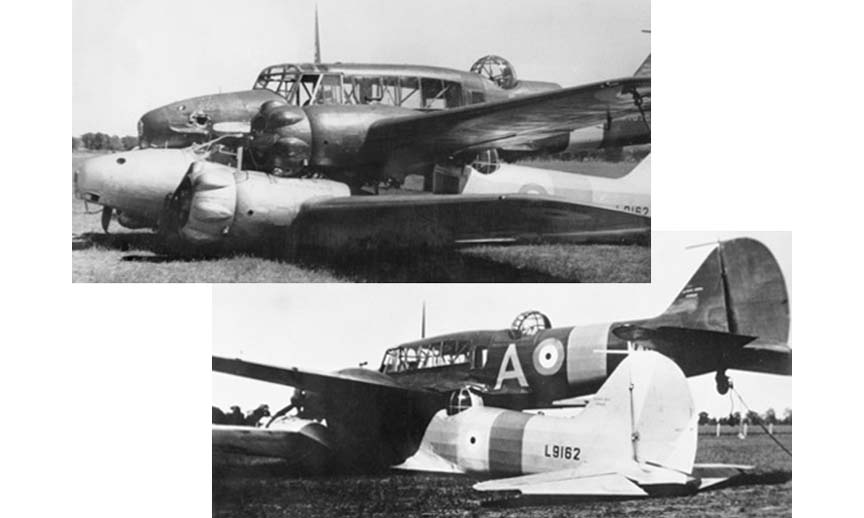 Quote:

Fuller was promoted to sergeant after his successful landing, but also confined to barracks for fourteen days and docked seven days' pay for speaking about the incident to newspapers without authorisation.
Fuller saw active service first in the Middle East, and then in Europe, earning the Distinguished Flying Medal for his actions over Palermo in March 1942.

He got commissioned, became an instructor, and died on his bicycle being run over by a bus.

Link

While researching that crash I found this picture and a guy who claims he was there. He said this was a night training accident
where the larger plane was practicing take offs, while the smaller was doing landings.



I wonder if there was a romantic moon?

---

SPUCK Sunday Jul 16 04:00 AM

I love it!
Crazy buggers.

---

Snakeadelic Tuesday Jul 18 09:07 AM

I am SO GLAD to have been advised that I should never ever get in an aircraft due to the very high risk of my eardrums rupturing (severe TMJ is so fun!). Massive stud points to anyone capable of surviving that, much less LANDING it and walking away!

---

xoxoxoBruce Tuesday Jul 18 09:30 AM

Commercial flights are supposed to be pressurized to the equivalent of about 10,000 feet. Out in your neck of the woods it's not to hard to do that on the ground. I noticed my ears popped a couple times driving to Ohio and back on tuesday, and that never got above 2600 feet.

---

Gravdigr Friday Jul 21 08:05 AM

I'm at ~700-750 feet, my ears pop when I drive to Nashville. I-65 goes over a small ridge several miles north of Nashville. GoogleEarth says it's less than 900 feet.

---
Your reply here?

The Cellar Image of the Day is just a section of a larger web community: a bunch of interesting folks talking about everything. Add your two cents to IotD by joining the Cellar.