xoxoxoBruce Thursday Jul 6 12:25 AM

July 6th, 2017: Headbadges

Headbadges? We don't got no headbadges. We don't need no stinkin' headbadges!

I worked with a legally blind engineer at Westinghouse who rode a bicycle everywhere. He had a three car garage full of them,
not parked full, packed full. High wheelers to ultra-lightweights to folders, he had them. His family was tolerant but annoyed
and would probably been happier if he collected headbadges.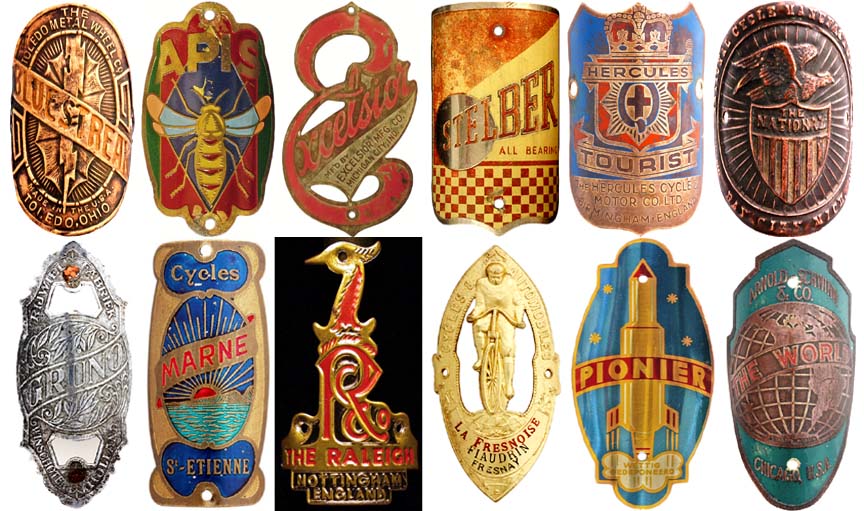 Quote:
Jeffrey Conner doesn't remember exactly how he acquired his first bicycle headbadge during a post-college gig as a bike mechanic in Seattle, but he does know it was an English-made, Rocket-brand badge someone had spray-painted blue. The metal tag had originally adorned the head tube on a bicycle frame, and like other headbadges, it was probably the only surviving part from an older bike that had been mistreated or left out in the elements to decay.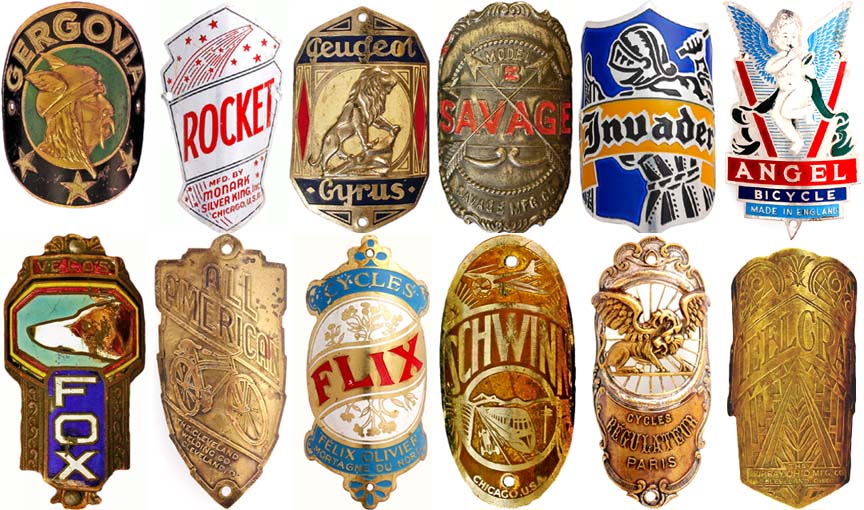 Quote:
Today, Conner has more than 1,000 headbadges in his collection, which he meticulously documents and shares on his personal flickr as well as a group for fellow collectors with more than 800 members. In 2016, Conner's collection also became the basis of a small book entitled A Cycling Lexicon, featuring photographs of the badges alphabetized by brand name. Originally produced by Carter Wong design, the book was later republished by Ginko Press.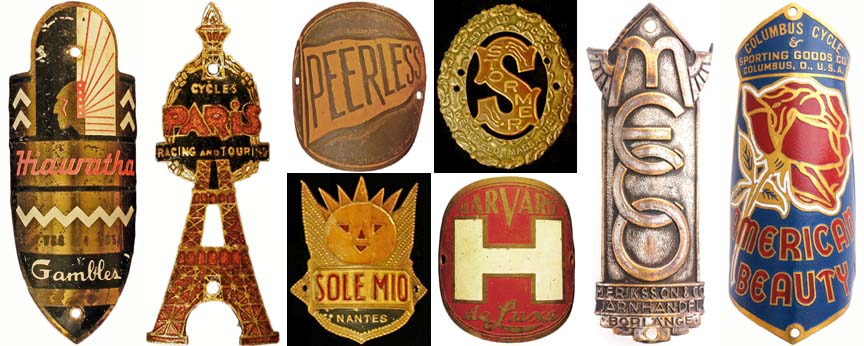 The Stormer has sperm chasing an egg on both ends of the big S.

There were more bicycle makers than you could shake a stick at because they were hand made and people couldn't/wouldn't travel
very far to buy one. As competition from the automobile and new manufacturing techniques change the dynamics of the market,
some brands folded, and many merged so the number of brands declined precipitously.

link

---

BigV Thursday Jul 6 12:59 AM

Super cool!

---

Snakeadelic Thursday Jul 6 07:37 AM

I wondered briefly why I'd never heard of such a thing...and then I remembered the morass of shouting, crying, gravel, and blood stains on my clothes that characterized my (failed miserably) attempts to learn to ride a bicycle. I still have the scar from stripping one kneecap to the bone on a gravel shoulder in one of the worst falls. Guess that's what happens when your balance is never right...

But headbadges look like an AWESOME thing to collect.

---

xoxoxoBruce Thursday Jul 6 03:35 PM

Many of them are brass or zinc so when the bike rusts away they remain. But for the headtube to rust away it would likely be out of human sight in the woods or something. Then the chances of someone finding the remains would be pretty slim. Of course old bikes are still found in sheds, barns, and abandoned buildings, but removing the headbadge kills much of the value to a restorer. That makes the really old ones a real challenge to collect.

On the up side, you don't have to rent storage space for a collection... or if you do you have more important things to address than a hobby

---

aksharfashion Thursday Aug 3 07:25 AM

Raksha Bandhan

This article talks about the importance of religious rakhis in the festival of Rakhshabandhan.
Spiritual rakhis represent the power of gods and goddesses and different sacred symbols.
Sending divine rakhi to your brother in India is a unique way of celebrating Rakhshabandhan in India.
<a href="http://www.dooiitt.com/raksha-bandhan-2017-history/">Raksha Bandhan 2017</a>

---
Your reply here?

The Cellar Image of the Day is just a section of a larger web community: a bunch of interesting folks talking about everything. Add your two cents to IotD by joining the Cellar.