xoxoxoBruce Tuesday Jul 4 12:23 AM

July 4th, 2017: Tricksy Women Camoufleurs

Recently found photographs in the Library of Congress. I'd like to be this outfit's DI.



Quote:
In 1918 women disguised in special (and fairly creepy) dried grass or "rock suits" were student military camouflage artists, or camoufleurs, of the Women's Reserve Camouflage Corps, a forgotten division of the National League for Women's Service.
Female artists across the United States joined the ranks of this highly specialized military group in New York to help with the war effort during World War I. They used their creativity and crafting skills to develop designs and patterns that mimicked the landscape to provide soldiers with added protection.

Quote:
While the photos appear somewhat comical today, they tell of the historical significance of these female camoufleurs, Green says. Women played a crucial role during the war effort, working in factories, hospitals, machine gun battalions, and many other military organizations. At the same time, camouflage became an increasingly important military tactic during World War I.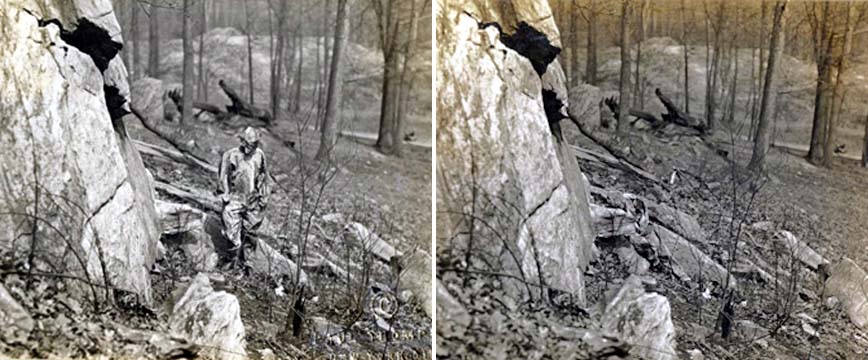 Quote:
The first group came from different parts of New York State and from Philadelphia, almost all of them working artists. To become part of the exclusive military unit, women had to have some training in painting, sculpture, photography, or wood carving, and be in perfect physical condition. All the women in the camouflage corps took the regular army physical examination. While there was no age limit, most women were in their early 30s, the oldest member of the first class being 45. After paying a $43 fee ($25 for the uniform, $18 for tuition), the women were ready to learn the art and science of camouflage.
The intensive three-month course consisted of three indoor lectures and two open "field days" per week, where the women would survey the environment and test their designs. The successful camouflage techniques would be sent to the U.S. military.

Quote:
Camoufleurs would don "rock suits" which could keep the wearer safe from detection at a distance of 10 feet, Green wrote in a blog post about the photos. "Observation suits" were colored so the person could blend into the sky, snow, or ice.
Park police were aware that the Women's Reserve Camouflage Corps were experimenting in Van Cortlandt Park, but some admitted that they often couldn't spot them. A policeman informed Foster that he knew they were among the rocks, "but ye can't see thim till they move."




Bonus - value of camouflage...


Quote:

British Zoologist, Sir John Graham Kerr, came up with dazzle camouflage for ships in 1914, but His Majesty's Navy old guard wanted no part of it until it was forced on them in 1917. The US started using it in 1918, painting 1,250 ships with odd patterns. Out of the 96 ships sunk by German U-boats after March 1918, only 18 of them were camouflaged.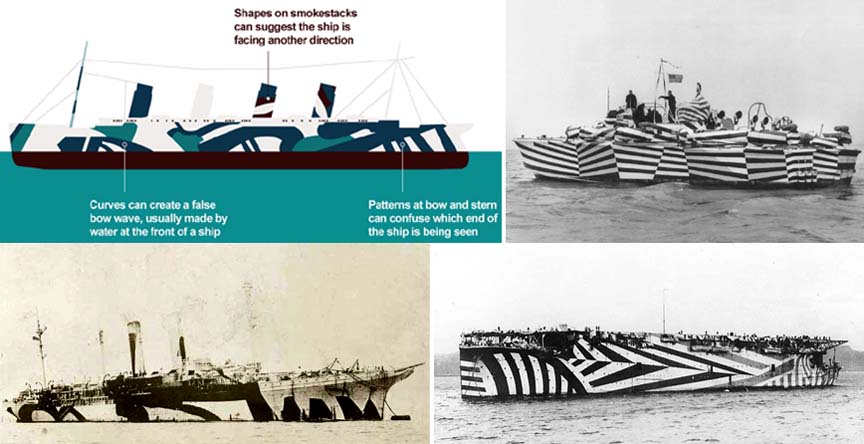 Shows that tricksyness can be used for good.


link
---

Diaphone Jim Tuesday Jul 4 12:19 PM

This brings to mind the copperhead snake thread a while back.

---

xoxoxoBruce Tuesday Jul 4 03:30 PM

Yeah, nature has a big head start in this shit. I was surprised by the fact they paid to do this, and "keep the wearer safe from detection at a distance of 10 feet". Ten feet is awfully close, but I suppose they are talking about a combatant who is on the move and watching for an enemy to pop up over the horizon of from behind a rock/tree, and only scanning the foreground for tripping hazards.

---

footfootfoot Wednesday Jul 5 12:59 PM

Was just at Mystic Seaport with the kids and saw a whole interactive display of dazzle camo on miniature ships viewed through a rangefinder, and dazzle costumes you could put on and move around in like a ship while others watched you.

---

SPUCK Friday Jul 14 12:01 AM

Some of those dazzle ships are amazing!

The rock suits.. not so amazing but a few seem usable.

It's just about impossible to make something suitable elsewhere for where a soldier actually needs to hide. That's probably why Gillie suits rule since they invite picking up what's immediately around you providing rapid location customization.

---

Diaphone Jim Friday Jul 14 12:08 PM

I can find a person in only one of the four rock suit pics.
Any help?

---

xoxoxoBruce Friday Jul 14 03:42 PM

My guess is...

---

Diaphone Jim Friday Jul 14 06:37 PM

Thanks. Good eye or good guess?

---
Your reply here?

The Cellar Image of the Day is just a section of a larger web community: a bunch of interesting folks talking about everything. Add your two cents to IotD by joining the Cellar.