What's IotD?

The interesting, amazing, or mind-boggling images of our days.
xoxoxoBruce Thursday Jun 29 01:03 AM

June 29th, 2017: Scottish Monument

Quote:

High up on the summit of Carlton Hill in Edinburgh, Scotland, stands the country's National Monument. But far from being the source of national pride, the fallacious project has been a national embarrassment, a disgrace, a folly.
A monument to commemorate the fallen soldiers of the Napoleonic Wars was first proposed in 1816 by the Highland Society of Scotland. The proposal found appeal in many prominent Edinburgh residents such as Sir Walter Scott, Lord Elgin and Lord Cockburn, whose support helped promote the project and in 1822, the foundation stone was laid, amid great pomp and ceremony.
Architect Charles Cockerall and William Henry Playfair dreamed up an ambitious monument. Externally, the structure would resemble the Parthenon in Athens, but the inside would house a church and have massive catacomb underneath where Scotland's important figures would be buried.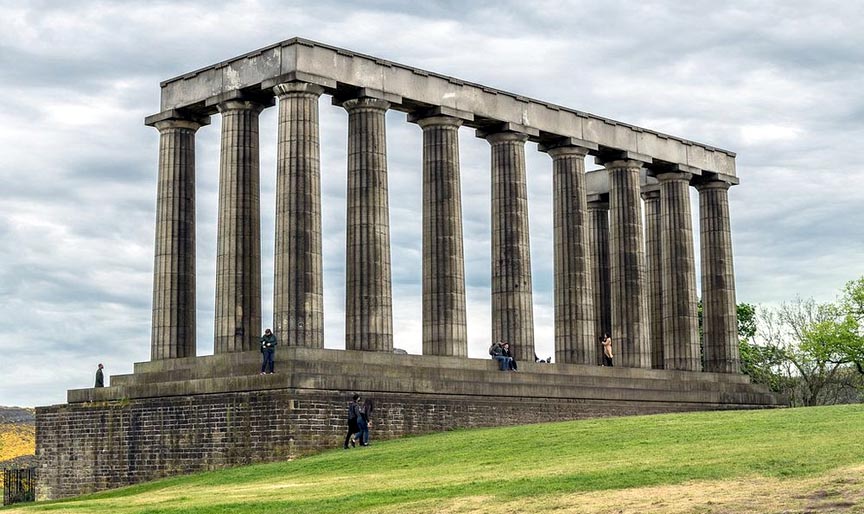 Quote:
Estimate for the project rose to £42,000($4,074,165 in 2017) —a vast sum for the day—but the Society managed to raise only £16,000, with the possibility of a £10,000($970,000 in 2017) grant from Parliament. Despite inadequate funds, it was decided that work would begin on the structure in 1826. Not surprisingly, in just three years, with only twelve stone pillars raised, the funds dried up.
At that time, Edinburgh, as a city, was rapidly developing with several large-scale civic construction projects going on, which the city deemed were more important than the construction of an elaborate memorial with a high projected cost. Despite several attempts in successive years to complete the building, the National Monument remains very much unfinished.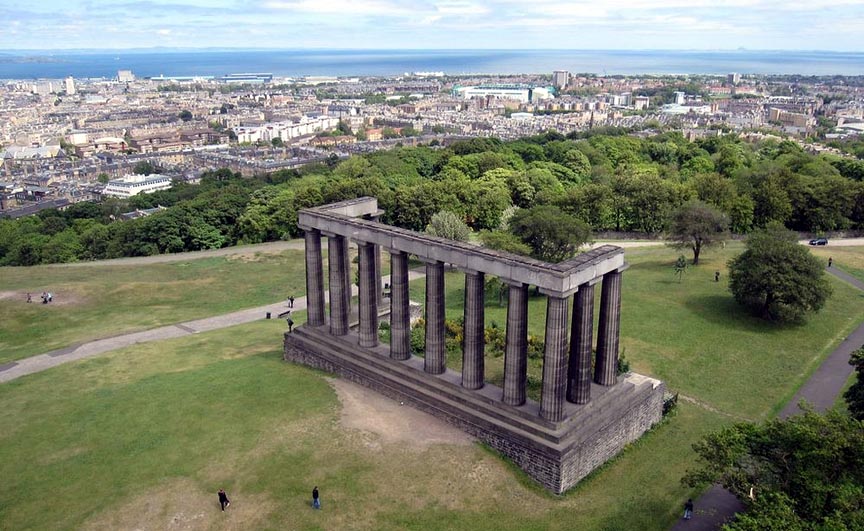 I think that's the wrong attitude, who the hell cares what they intended 200 years ago? It's a natural tourist attraction, with as great a view of the city as the Eiffel Tower has of Paris, or the Wheel has of London.
Put up a brass plaque, a Scottish flag, and shoot off fireworks proclaiming it a finished memorial to fallen Scots in all wars.
What's so hard about that?

link

---

Snakeadelic Thursday Jun 29 07:58 AM

I'm wondering what kind of stone they used. That "charred" look, the black/grey coating on the stone, is often seen in stone often deemed unsuited for construction or monuments. I see it on limestone in nature documentaries all the time, but I'm inclined to doubt anything built of limestone would still be standing in Scotland after all that time, since limestone is one of the most water-soluble, fast-dissolving common minerals (calcium carbonate) found in large deposits worldwide.

Personally I like the "charred" look, but that coating could be pollutants, mold, mildew, fungus, or any combination of those and other elements. Meanwhile, it does have a weirdly ethereal look, with Greco-Roman style pillars in open space, surrounded by city and then water.

I wonder how many Scottish fiction authors have used this thing as a "gateway to another plane/world/dimension" plot device

. It sure looks like it could be hiding all kinds of doorways...

---

xoxoxoBruce Thursday Jun 29 10:37 AM

Quote:

Installing each of the monumentís twelve colossal Doric columns presented a huge challenge. Each section required the brute force of 12 horses and 70 men to haul the blocks of stone from out of Craigleith Quarry and up to the summit of Calton Hill more than 3 miles away.

Craigleith, Edinburgh


Quote:

Craigleith (Scottish Gaelic: Creag Lžte) is a district of west Edinburgh, Scotland. Its name comes from various forms of Craig of Inverleith or rock or hill of Inverleith. Much of the Craigleith sandstone was used to build the old and new town houses in Edinburgh as well as many famous buildings including Edinburgh Castle, Holyrood Palace and the statue of Nelson on Nelson's Column in London. Because of its particular hardness, Craigleith Sandstone was also favoured for cutting stones used in the making of cut glass during the Victorian era.



---

Gravdigr Thursday Jun 29 02:09 PM

I know it's not, but, the monument looks 'shopped in in that bottom pic.

I assumed the dark color was environmental, mold/mildew/whatever.

---

xoxoxoBruce Thursday Jun 29 04:11 PM

200 years of Edinburgh coal smoke too.

---
Your reply here?

The Cellar Image of the Day is just a section of a larger web community: a bunch of interesting folks talking about everything. Add your two cents to IotD by joining the Cellar.