xoxoxoBruce Saturday Jun 10 12:11 AM

June 10th, 2017: Melty Melt

You may have overheard a conversation on the bus, or maybe a line or two in the paper after the sports section.
There's something some science types called Global Warming. They keep saying the ocean is going to get deeper
but what the hell, most of us only use the surface anyway.
There seems to be some disagreement on how fast things will warm up because they keep throwing in methane,
like an Earth fart, and some folderol in Paris France.
So let's just skip over all that mumbo jumbo and look at what happens when ALL the ice melts.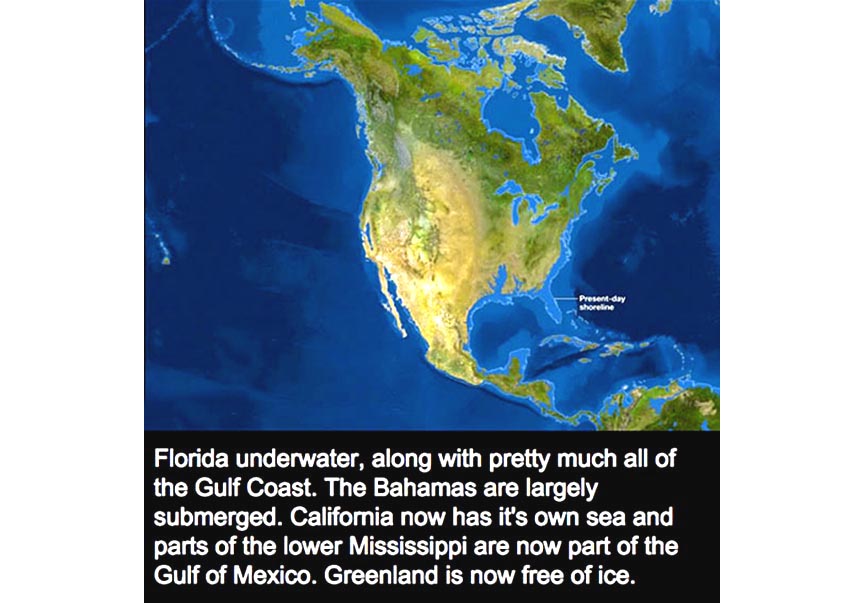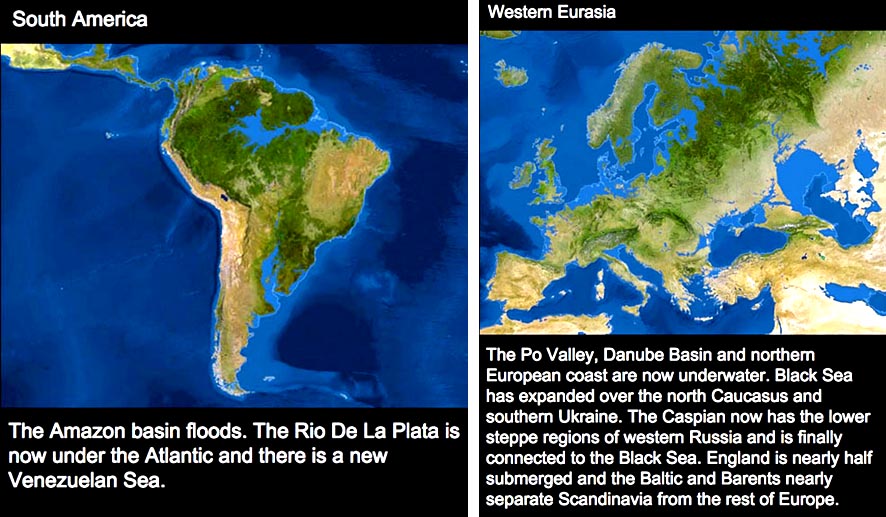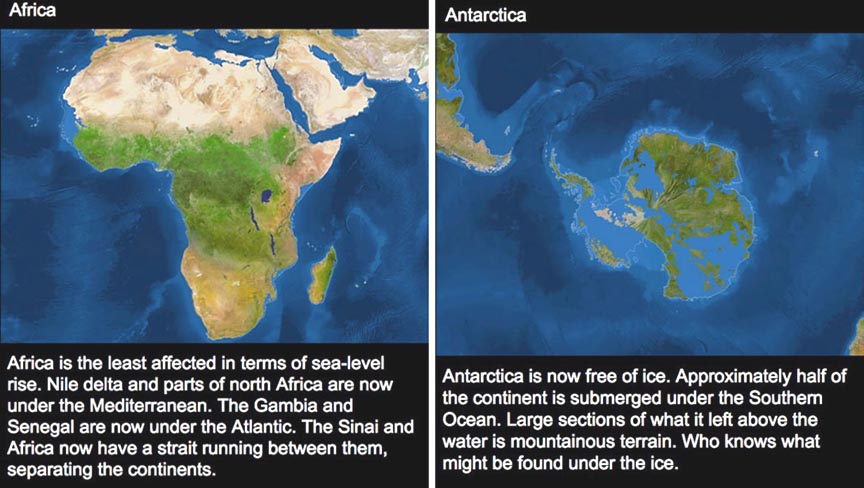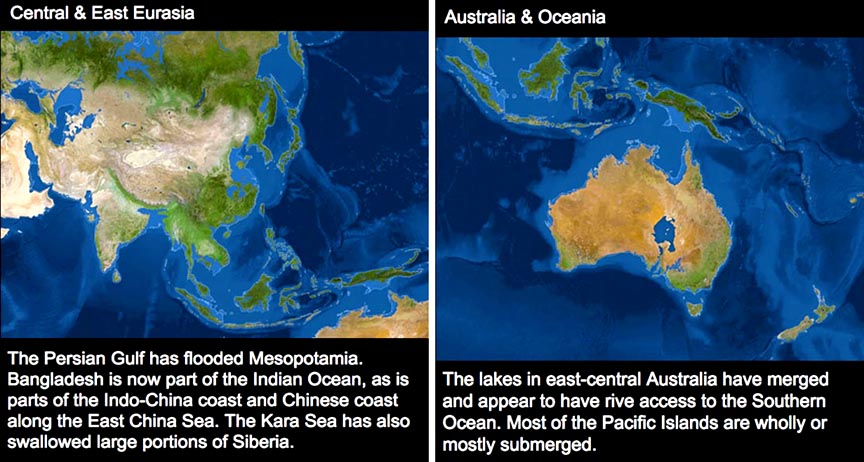 Boy howdy, look at all those new fishing spots.



Nat Geo

---

phelps Saturday Jun 10 04:31 PM

Psuedoscience

This is the sort of propaganda that causes people to disbelieve the hysteria around AGW.

Melting the ice in the Arctic has virtually no effect, because it isn't over land. Greenland and Antarctica is the only place that has water that could cause the oceans to rise locked in ice.

Antarctica is an average of -40C. The most hysterical predictions are that we will see... a 5C rise in temperature in the next 100 years. Virtually no ice would melt from Antarctica from that, and Greenland wouldn't see enough to cause more than a few centimeters of sea rise.

You might as well post a "this is what the earth would look like if the sun went supernova and boiled all the water off the planet", because both are about as likely to happen.

(We really should be talking about the coming cooling associated with the grand minimum, anyways.)

---

xoxoxoBruce Sunday Jun 11 01:58 AM

If you read the post carefully you would see National Geographic stated this is what it would look like IF ALL the ice melted.
By the way, not all the Arctic ice is over water.
But I can see your skepticism after reading a journalist wrote three years ago the sun was going to chill out.

---

phelps Sunday Jun 11 11:33 AM

The arctic ice that is over land is predominantly over Greenland, which I mentioned, Careful Reader.

The point still stands. This would take well over 40C in warming, and potentially over 60C (depending on variables that we don't fully understand). NO ONE credible is predicting even 10C in warming over the next TWO HUNDRED years. 40C would require at least a millennia assuming that NOTHING else happened... Like a solar gran minimum, which historically happens every few hundred years.

---

xoxoxoBruce Sunday Jun 11 04:14 PM

THEY DIDN'T SAY IT WOULD HAPPEN, THEY SAID IF IT HAPPENED!
Is that so hard to understand?

---

phelps Sunday Jun 11 10:43 PM

I understand propaganda. This is propaganda.

---

BigV Sunday Jun 11 11:27 PM

Welcome to the cellar, phelps.

You're pretty argumentative for a new guy.

---

xoxoxoBruce Sunday Jun 11 11:33 PM

But he can't read for comprehension because he's so busy trying to argue against Global Warming he's looking for any lead in. Oh wait, maybe it's a she. If so, my apologies.

---

phelps Monday Jun 12 10:38 AM

Quote:

Originally Posted by

BigV

Welcome to the cellar, phelps.

You're pretty argumentative for a new guy.

Apparently your account goes away if you don't log in for a while, because I've been around for years.

But yeah, argue against my account age when you have nothing to say about my words.

---

Gravdigr Monday Jun 12 03:38 PM

He called you 'new' because your post count is four (4). He apparently wasn't into researching every thing he could to find out that you aren't 4 posts new. He called you 'new guy' because according to the information readily available to him, you appear to be a new guy.

And even though I totally agree with post #6, Ima call you an apparent asshole, because according to the information readily available to me, you appear to be an asshole.



to the Cellar, FNG.

---

phelps Monday Jun 12 04:11 PM

Accurate asshole is fair. I'm more worried about the first.

---

SPUCK Tuesday Jun 13 04:01 AM

It doesn't matter if all the ice melts because it will look like this anyway:

[IMG]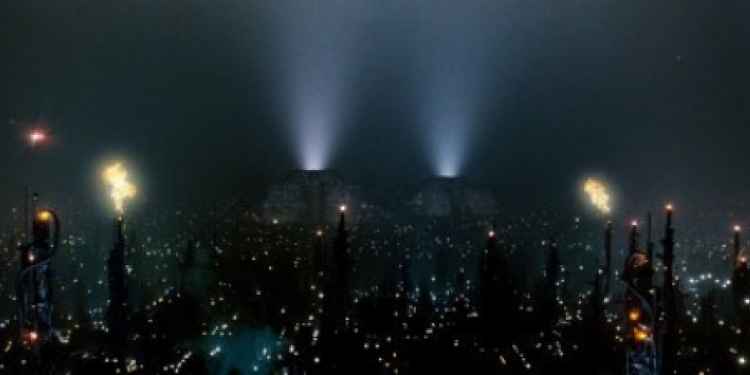 [/IMG]

---

phelps Tuesday Jun 13 11:03 AM

Flying cars and replicants will make up for it.

---

footfootfoot Tuesday Jun 13 11:32 AM

I tend to agree with Phelps in that the data is sort of fear-mongering because it implies that ALL the ice melting is a possibility and or is related to global warming.

If we are going to do a thought experiment, I would also like to see what it would look like if all the water froze, or at least a lot of it. And what would happen when people found out that dogs are just genetically modified human infants.

---

Happy Monkey Tuesday Jun 13 11:59 AM

Forget the water; what if the air froze?

Quote:

Originally Posted by xkcd

If we liquified the whole atmosphere—and for the record, I don't think we should—we could conceivably fit it all in the ground.



---

captainhook455 Tuesday Jun 13 12:36 PM

I don't think my descendants will have to worry about taking a boat to Walmart. The air we breathe will be so polluted that life as we know it will cease to exist.

Sorta like that commercial where the old man says this plain was once covered in tree's. The little boy said , whats a tree grandpa?

Now who the fuck is Phelps?

---

Pi Friday Jun 16 03:58 AM

https://www.theguardian.com/environm...climate-change

---

xoxoxoBruce Friday Jun 16 11:05 AM

More propaganda, Pi. The scientist conspiracy has submarines carrying Aquadozers tm that flatten these little islands under cover of darkness.

---
Your reply here?

The Cellar Image of the Day is just a section of a larger web community: a bunch of interesting folks talking about everything. Add your two cents to IotD by joining the Cellar.