xoxoxoBruce Saturday May 27 11:07 PM

May 28th, 2017: Big Sur Slide

♫ First you bake it 10 years, good and dry
♪ Add water higher than a big dogís eye
♫ Give a little wiggle from side to side
♪ Now youíre doing the Big Sur Sliiiiide

Youíve probably seen pictures of this mudslide that buried Rte 1 at Big Sur with 40 ft (12.2 m) of dirt and rocks. Itís billed as
the biggest mudslide in recorded state history. Susana Cruz, a spokeswoman with Caltrans said, "It's one of a kind. We haven't
been able to go up there and assess. It's still moving,"
Iíve read estimates of a Billion dollars and at least a year to open that road.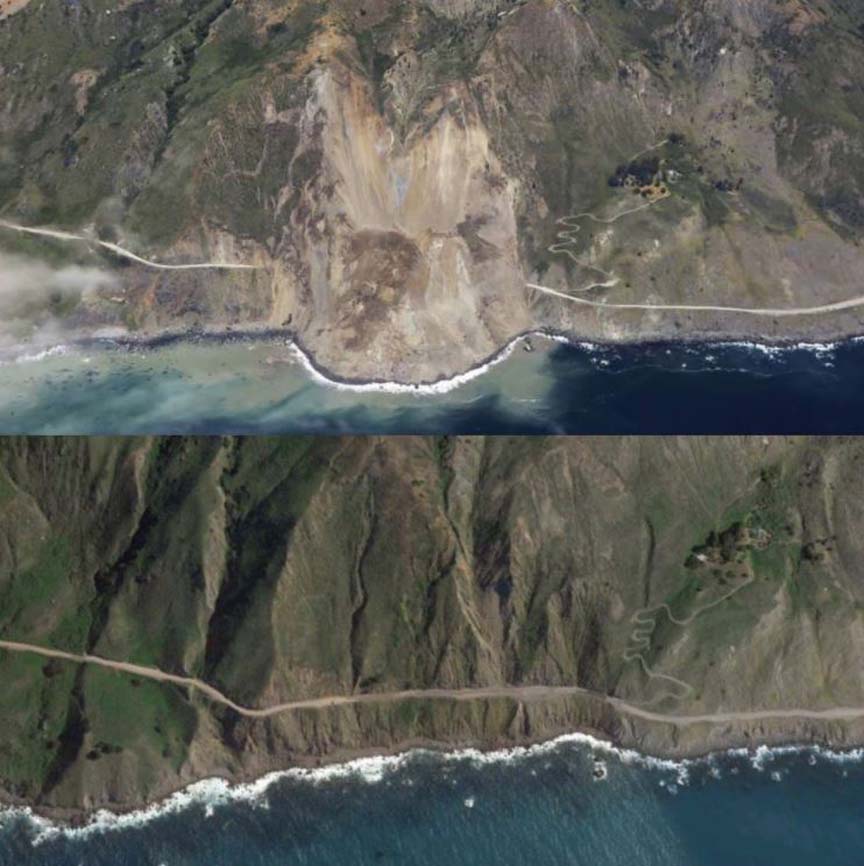 OK, youíve got politicians and tourist businesses screaming to get Ďer done. Probably environmental people saying clean the
ocean too, and Religious Cults picketing saying itís FSMs will. How do you even start moving what slid and stabilizing what didnít?
My solution is turn back the clock, learn from the pastÖ


Quote:

Hydraulic mining, or hydraulicking, is a form of mining that uses high-pressure jets of water to dislodge rock material or move sediment.
Hydraulic mining originated out of ancient Roman techniques that used water to excavate soft underground deposits. Its modern form, using pressurized water jets produced by a nozzle called a "monitor", came about in the 1850s during the California Gold Rush in the United States. Though successful in extracting gold-rich minerals, the widespread use of the process resulted in extensive environmental damage, such as increased flooding and erosion, and sediment blocking waterways and covering over farm fields. These problems led to its legal regulation.

I donít think any of the downsides apply here. This is a piss hole in a snow bank compared to how much of the west coast has
been washing into the Pacific for a very long time.
However, the ocean there is inside the Monterey Bay National Marine Sanctuary, governed by regulations that prohibit discharges
into the ocean. In other words, Da Feds, and Trump doesnít have any hotels there.
Then 13 miles(21km) north is another slide which was scheduled to be fixed by July, and about 40 miles north the Pfeiffer
Canyon Bridge should be done by the end of the year. All there problems came from the winter rains.
I'm glad I got to drive it a few times before the shit hit the fan.

link
---

sexobon Sunday May 28 01:23 AM

Yeah, I've ridden that stretch a couple times by motorcycle traveling between Monterey and San Simeon. News of the scenic highway obstruction probably brought back some memories for the gal who was with me too. Neither of us were from the area.

---

captainhook455 Sunday May 28 09:05 AM

Quote:

Originally Posted by

sexobon

Yeah, I've ridden that stretch a couple times by motorcycle traveling between Monterey and San Simeon. News of the scenic highway obstruction probably brought back some memories for the gal who was with me too. Neither of us were from the area.

Are you still riding? Why don't they do like the Italians. Build a tunnel and future slides cascade over the top.
We have plenty of roads on the right coast that follow the ocean. Just park and walk between the houses or hotels and view the Atlantic.

Sent from my Z818L using Tapatalk

---

glatt Sunday May 28 12:48 PM

Beautiful road. I hope they fix it. Put some people to work and give others a chance to experience the same thing so many of us have.

---

Diaphone Jim Sunday May 28 07:08 PM

I looks like upscale digs just to the south, with a long winding drive that just about went with the slide. Serious pucker factor.
If we are going to get serious about keeping crap out of the Pacific just there, we had better figure out how to get the debris out.
There is a slide very much like this one just north of me on US 101, but moving material simply downhill would block the Eel River.
Here just washing or pushing it down makes some sense.
Tunnels work too, but they are best in anticipation, something this activity seldom allows.

---

xoxoxoBruce Sunday May 28 10:29 PM

They estimated that slide added 15 acres to California.
The place next door is a resort. I saw the name yesterday but forgot it.

---

SPUCK Tuesday May 30 04:54 AM

I drive by there pretty often. That sux.

I believe it is more like 16 acres Bruce.

It covers a third of a mile of the road. You can hear the rocks still moving down the hill so no one is allowed on it since it could take off again.

T'wer me I'd do a few horizontal drillings pack them with ANFO and have that opened with a dirt road in about a week.. But Caltrans? $300M and 13 months. Cripes.

---

xoxoxoBruce Tuesday May 30 06:30 AM

How much would 16 acres of new land raise the global sea level?

---

SPUCK Wednesday May 31 04:32 AM

Think of all the displaced fish! Poor things.

---

xoxoxoBruce Wednesday May 31 03:43 PM

You're right, we are responsible for their predicament and our duty to save them from their turmoil. Eat them.

Wait, no, we are not responsible, it's Mother Nature who has done this to the fish. She's much more powerful than humans. We must follow our position in nature's pecking order. Eat them.

---
Your reply here?

The Cellar Image of the Day is just a section of a larger web community: a bunch of interesting folks talking about everything. Add your two cents to IotD by joining the Cellar.