xoxoxoBruce Tuesday May 23 12:02 AM

May 23rd, 2017: Sutro Baths

Adolph Sutro figured out how to drain and de-gas the Comstock Lode in Nevada.
Well the first thing you know Adolph's a millionaire,
The kinfolk said "Hey move away from there.
Said "Californy is the place you ought to be.
So he loaded up his money and he moved to Frisco.
No GPS you know. Had to trust the horses.
Being a bored rich dude, he got into politics and projects for the public good. Yeah, sounds like a contradiction to me too.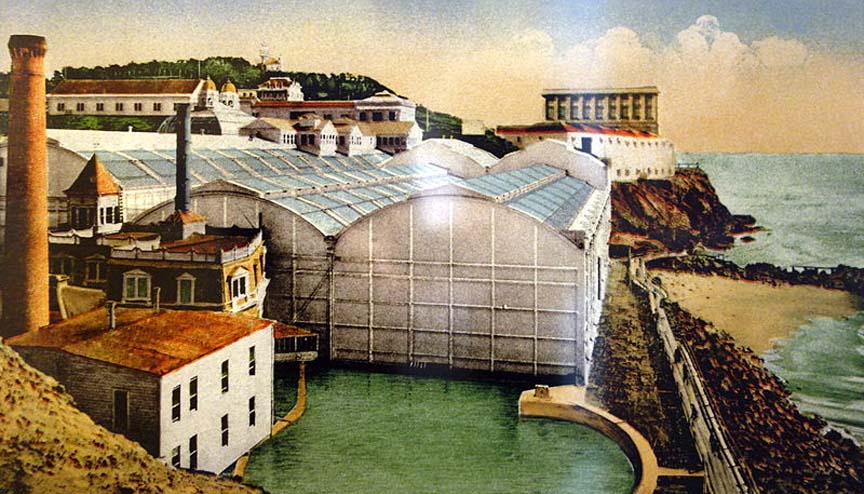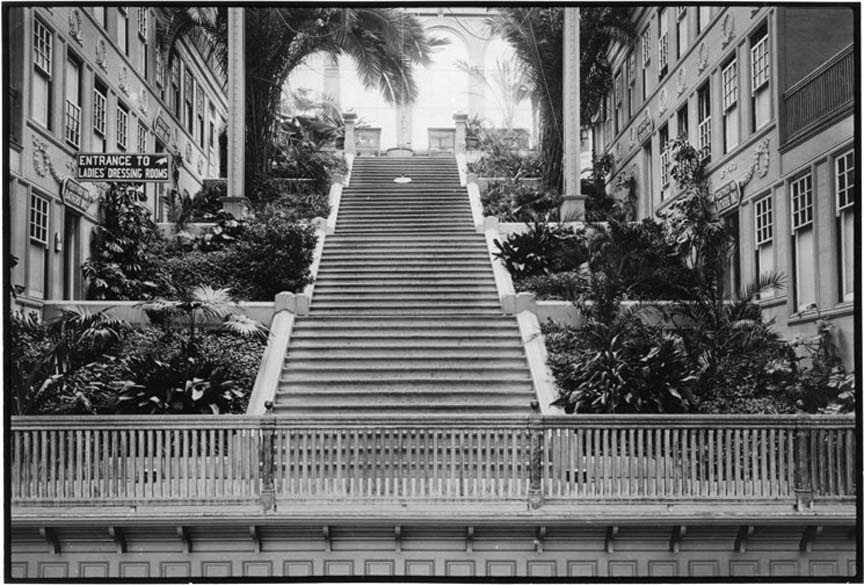 Quote:
The Baths got their start as an artificial tide pool in a natural cove, which Mr. Sutro built to satisfy his interest in natural history and marine life. But Sutro soon expanded far beyond the small, original ocean pool. The goal for the Baths was to provide a healthy form of recreation for the public, and the wealthy San Franciscan did so by building an enormous public swimming complex containing seven pools of various temperatures, sizes, and depths, complete with slides, rings and diving boards, all enclosed in a glass structure on the cliffs overlooking the ocean.
The building was heavily influenced by classical Greek architecture, inspired by Sutro's travels to Europe. The Pacific Ocean flowed into the pools at high tide, filling them naturally with 1.7 million gallons of water, and during low tide, a powerful pump (hidden in a cave) would keep the pools full.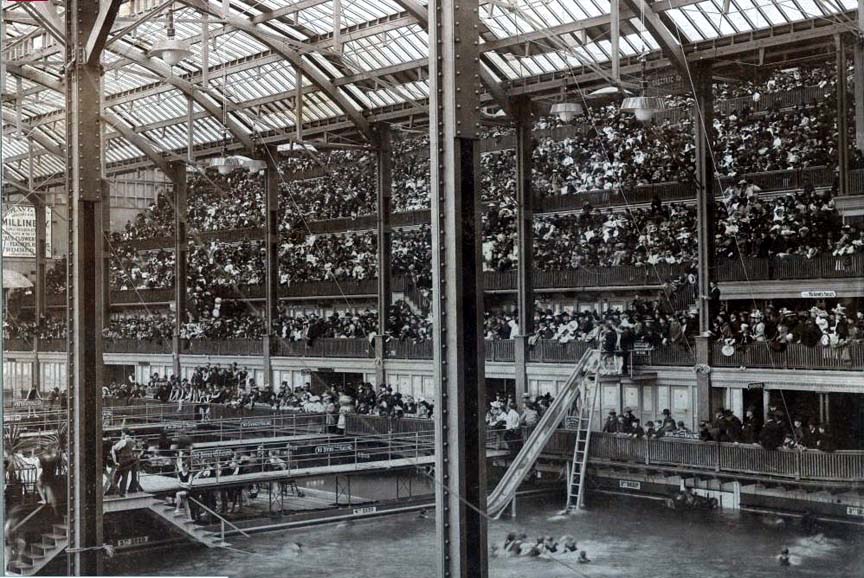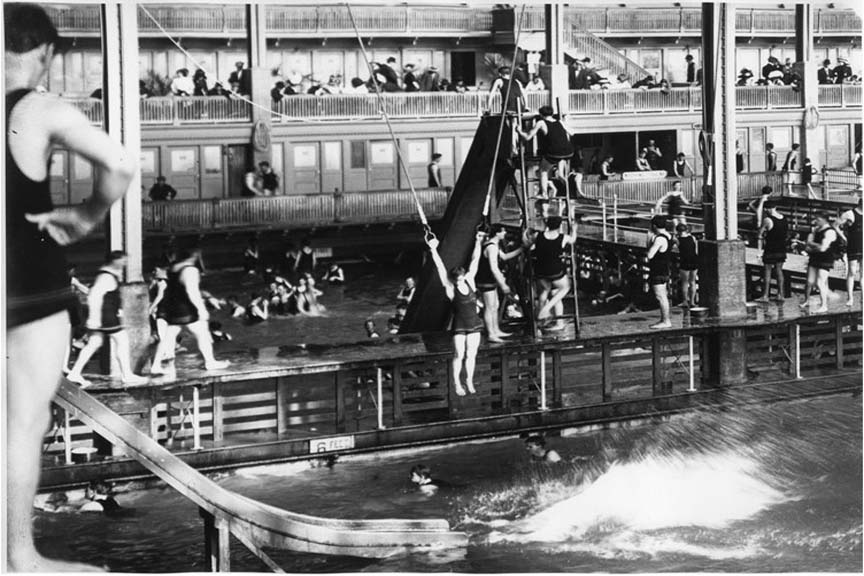 Quote:

The Sutro Baths could accommodate 10,000 people at once, and all were required to wear rented swimsuits while visiting the Baths. Those who didn't want to swim could sit in the bleachers overlooking the pools. Guests arrived via a rail line that serviced the Baths and other nearby attractions, including Sutro's Cliff House, Ocean Beach, and Sutro Heights Park.

All of which were on Sutro's estate.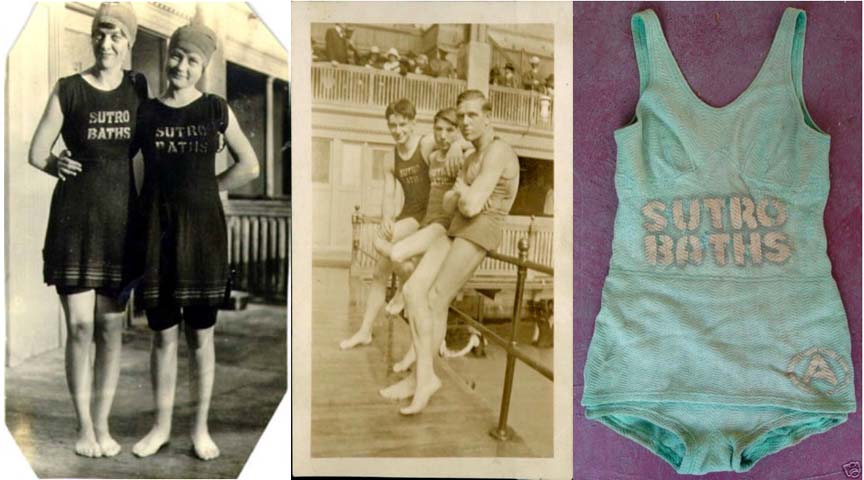 Quote:
Sutro also wanted to provide healthy recreation in the form of education, so he set up a museum of sorts featuring taxidermied animals, exotic plants, and other specimens of natural history, as well as historic artifacts and artwork, all from Sutro's private collection. An amphitheater was also added for talent competitions, concerts, and other shows.

Sutro intended for the Baths to remain inexpensive for the public to use, but the costs to maintain and operate the facility were so high that it was never very profitable. Other attractions were added over the years to try to and generate more money, such as an ice-skating rink, which was built in the 1930s, an imitation of a tropical beach, a fake waterfall and an arcade.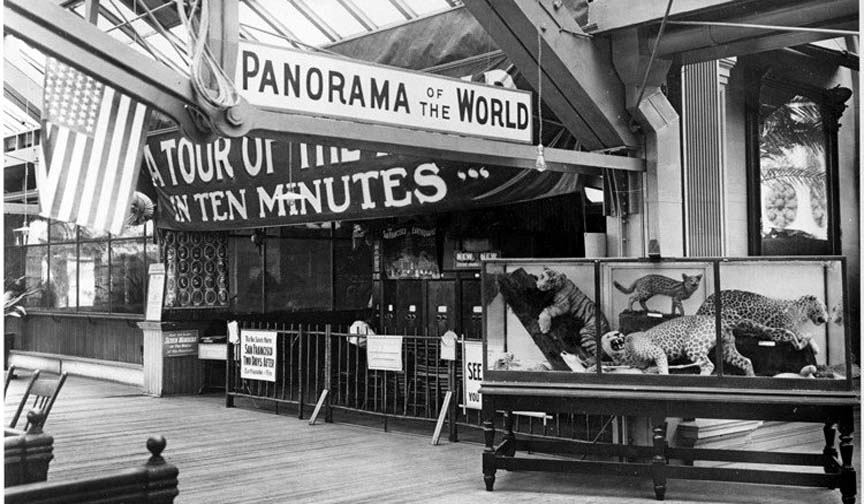 Quote:
The Great Depression affected attendance, and reduction in public transit to the Baths further reduced the number of visitors. By the mid-1960s the pools had closed and were slated for demolition. In 1966, while the Sutro Baths were in the process of being demolished, the structure mysteriously caught fire in what was later determined to be arson.
The developers of the site, who had intended to build high-rise apartments on the location, claimed their insurance money and left the ruins.
The National Parks Service purchased the remnants of the Sutro Baths in 1973 as part of Golden Gate National Recreation Area, and are open for visitors to explore.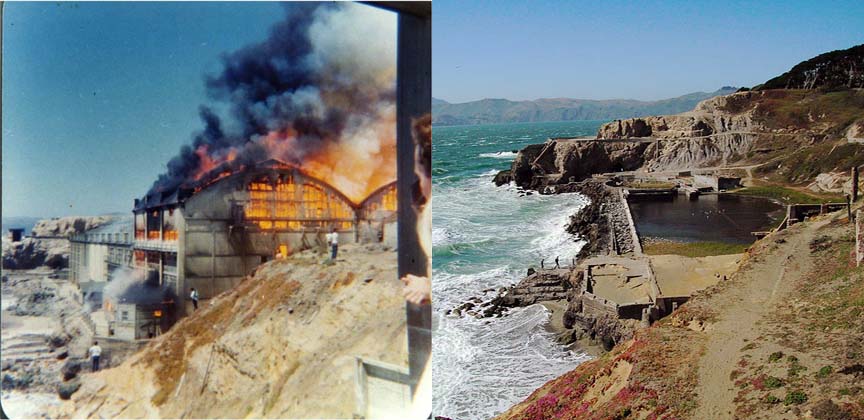 The feds end up buying the sites of a lot of disasters

link

---

fargon Tuesday May 23 05:32 PM

Kool.

---

Diaphone Jim Tuesday May 23 07:29 PM

One of my favorite spots. I got to see it once before it burned. It is still a neat place to explore.
I have had a big colorized poster made from an old photo hanging in my bathroom for 40 years or so. Yep, getting a little tattered.
LA had a smaller outfit called Bimini Baths that I remember from the 40's.

---

xoxoxoBruce Tuesday May 23 11:42 PM

Sounds like Sutro's estate was huge with a lot of shoreline. Any idea Jim?

---

Diaphone Jim Wednesday May 24 12:36 PM

Nah, a piker and a pauper, only owning near 10% of the whole damn city.
Died "land rich and cash poor," but left all sorts of interesting places to visit.
This is his modest estate overlooking the area of the baths:

https://www.nps.gov/goga/learn/histo...ro-heights.htm

The Cliff House restaurant thrives still.
There is a great sort of amusement park/museum with old mechanical games and a camera obscura that shows the ocean front.

---

xoxoxoBruce Wednesday May 24 11:39 PM

It sounds like he was generous to the public in many of his projects. I had to laugh when I read he bought that house and land out there for $15,000.

---

SPUCK Sunday May 28 03:55 AM

Sounds like Sutro loved working with water and pumps and pipes. I can totally relate!

Something about it really draws me in.

I used to do all sorts of whack aquariums and after a while I realized I had more fun getting the water-works going than all the rest of it put together.

I declare Mr Sutro a kindred spirit.

---
Your reply here?

The Cellar Image of the Day is just a section of a larger web community: a bunch of interesting folks talking about everything. Add your two cents to IotD by joining the Cellar.