xoxoxoBruce Tuesday May 16 12:55 AM

May 16th, 2017: Turkey Farm

How ya gonna keep 'em down on the farm, after they've seen Istanbul?
By making the farm, in this case 38° 30° Farm, as sexy as the big city.
This "farm" has no critters, just tourists who come to see the building and sample(and hopefully buy) the cheeses they make there.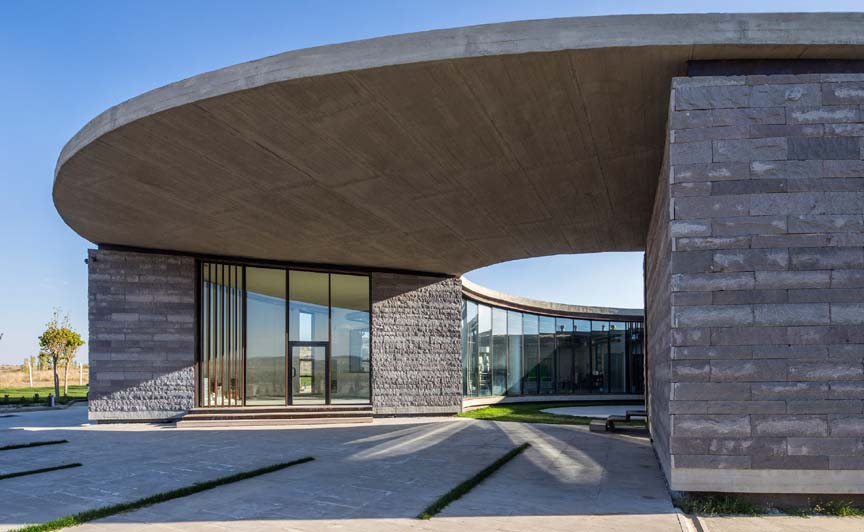 See those strips of grass that look like they're growing in the cracks? Several of varying length, all part of the design.

Quote:
This boutique dairy factory in western Turkey wraps a glazed courtyard offering visitors glimpses of the cheese production.
The Farm of 38° 30° is named after the coordinates of its site in a valley near the village of Afyon Tazlar, in Turkey's
Afyonkarahisar Province.
Production process and spaces are arranged in an ellipse enclosing an inner green courtyard with a circular patio for events
like tasting sessions. While the outer facades are made predominantly of stone, glass walls surround the yard to offer
visitors a 360-degree view of the building's interior.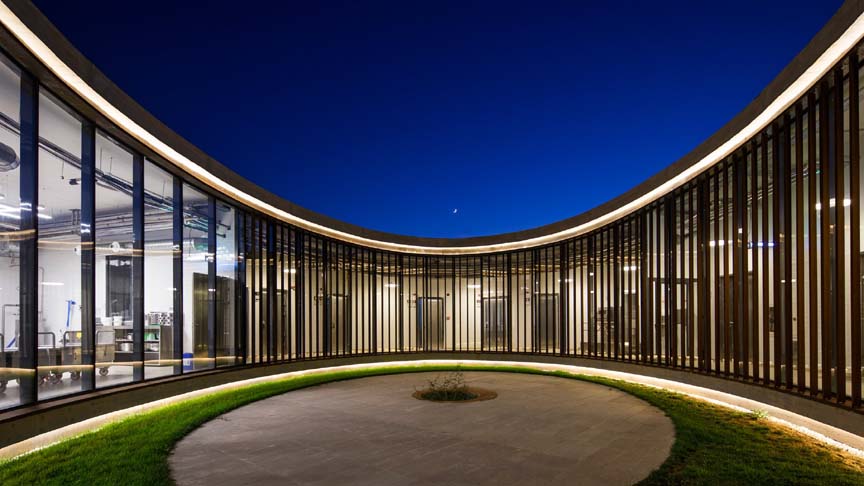 Quote:

"While ensuring maximum efficiency for the production line as in a 'classical' cheese factory building, the boutique factory
adopts a more contemporary attitude via its monumental form," said the architects. Slats of Corten steel forming sun blinds
in front of the glass walls tighten in sequence to increase the shade and privacy of spaces used by staff.

I didn't know they made cor-ten steel anymore, maybe just not here.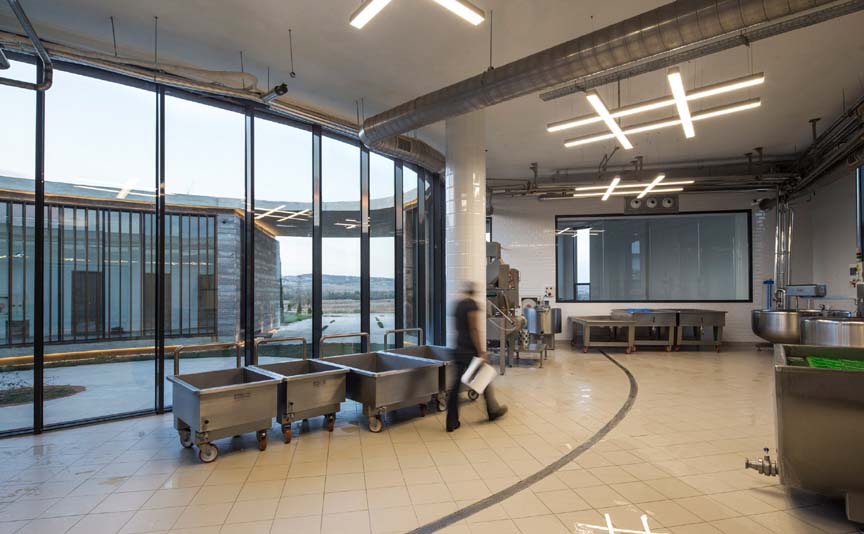 My brain knows Turkey is a modern Nuclear capable nation, but I can't shake the images of bearded dudes with headwraps
sitting around drinking coffee out of those tiny cups.
This kind of blows my visions of flying carpets and harem girls, all to hell.


link

---

Snakeadelic Tuesday May 16 07:53 AM

I'd bet the US won't import anything made there. Our health regulations are actually killing most of the cheese-making done in America. If you keep thinking you remember Swiss cheese having more holes, you're actually right. Current regulations about cleanliness in food production are devastating to the varying types of bacteria and/or mold that are actually crucial to cheese production. We'll still have cheddar, mozzarella, and (solid) Swiss...but a lot of other favorites are already getting more expensive because "proper" versions have to be imported at higher and higher cost.

---

Snakeadelic Tuesday May 16 07:55 AM

And as far as I know, Turkey is like many other nations--when you get away from urban centers and showpiece tourist areas, a lot of it is farm families with the old traditions, the un-fenced flocks, and the ENORMOUS livestock guardian dogs.

---

SPUCK Wednesday May 17 11:32 PM

Turkey was amazingly cosmopolitan, one of it's most important features and the key to it's success. Now with Dip Wad working into his permanent dictatorship,
mass purges, and shoving Islam into the front of the entire place it will lose that edge.

---

xoxoxoBruce Thursday May 18 12:19 AM

Hey, That's Mr Dickwad to you.

---

glatt Thursday May 18 08:23 AM

I was just talking yesterday to a coworker who was trying to walk to a bus stop past the Turkish embassy here in DC. The whole neighborhood was blocked off. Scores of DC cops everywhere. He was forced to divert several blocks around and was late for meeting someone at home because busses stopped running that route because they couldn't get through.

Not sure if it made the news in the rest of the country, but there was a peaceful protest outside the Turkish embassy when goons from inside the embassy came out and started stomping on peoples' heads. American citizens' heads, in America. Many are still hospitalized, including one cop.

Fucking Erdrogen goons will be able to claim diplomatic immunity.

As far as I am concerned, the Turkish government can go fuck itself.

---

BigV Thursday May 18 04:56 PM

I *did* see that on tv!

Holy shit. Where's the breakdown here? Should we just launch all our military assaults from embassies now? Get the jump on the locals? Claim diplomatic immunity? What the fucking fuck?

The stories I was able to get a glimpse of had been largely overshadowed by the surprising announcement of Mueller's appointment as special counsel.

---

Clodfobble Thursday May 18 11:09 PM

There's a pretty insane picture floating around Twitter of an Erdogan bodyguard choking the shit out of an American woman.

---

xoxoxoBruce Thursday May 18 11:34 PM

Good thing it was only a woman or it could have been an international incident. But since Trump and Erdrogen don't give a shit about women, they'll have a good laugh, have some hookers piss on them, and smooth things out.

---
Your reply here?

The Cellar Image of the Day is just a section of a larger web community: a bunch of interesting folks talking about everything. Add your two cents to IotD by joining the Cellar.