xoxoxoBruce Wednesday May 10 11:55 PM

May 11th, 2017: Double Dipper

One up and one down... or vise versa. The Big Dipper and it's reflection.


Quote:

one of the most commonly recognized configurations of stars on the northern sky: the Big Dipper. This grouping of stars is one of the
few things that has likely been seen, and will be seen, by every generation. The Big Dipper is not by itself a constellation. Although
part of the constellation of the Great Bear (Ursa Major), the Big Dipper is an asterism* that has been known by different names to
different societies.

*a prominent pattern or group of stars, typically having a popular name but smaller than a constellation.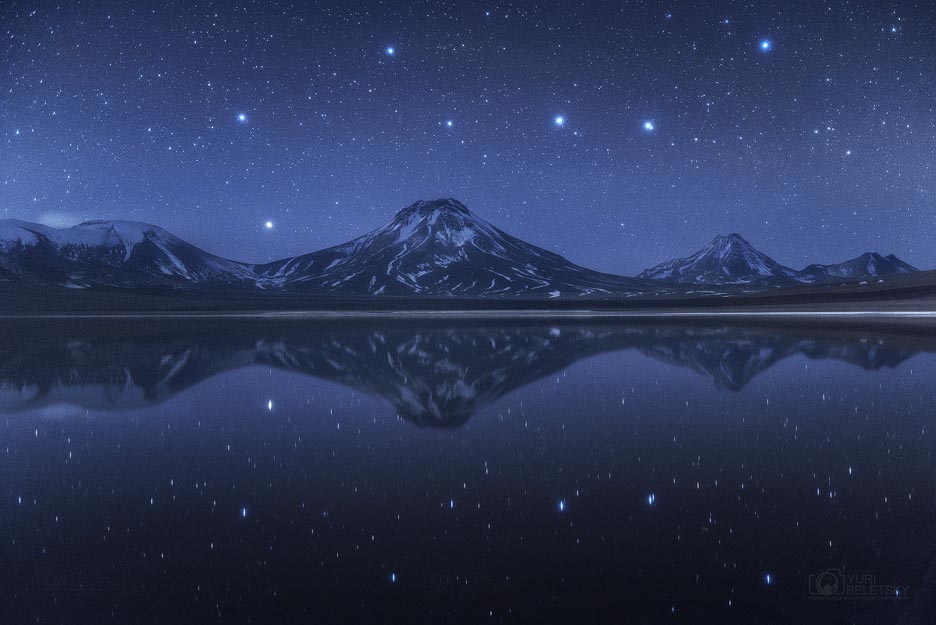 Quote:

Five of the Big Dipper stars are actually near each other in space and were likely formed at nearly the same time. Connecting two
stars in the far part of the Big Dipper will lead one to Polaris, the North Star, which is part of the Little Dipper. Relative stellar motions
will cause the Big Dipper to slowly change its configuration over the next 100,000 years.

It's reassuring that it will be there for me for the next 100K years.

link

---

Snakeadelic Thursday May 11 08:43 AM

For a stunning shot on the opposite end of the cosmic time scale, check out today's APoD, which is the Crab Nebula imaged by 4 orbiting scopes and 1 ground-based. The light from its original star exploding reached the Earth only about 1000 years ago, making the Crab a very young astronomical event from our viewpoint.

---

orthodoc Thursday May 11 04:47 PM

What a gorgeous pic, Bruce! Thanks.

---

xoxoxoBruce Thursday May 11 10:00 PM

We've seen a lot of spectacular pictures of space from satellites and big telescopes. I like this one because it's something I've personally seen and can pick out of the night sky, instead of just being told trust us, it's up there somewhere.

---

SPUCK Tuesday May 16 03:18 AM

Nice picture!

I walk my dog for about an hour every night around midnight so the Dipper 'n me see a lot of each other.

I'm trying to understand why the stars in the lake are time-smeared but the sky ones aren't.

---

glatt Tuesday May 16 08:33 AM

Good eye!

Except I think the stars in the lake are not time smeared. It's some other kind of smearing. Maybe photoshop. If they were time smeared, you would see them forming arc of a circle pivoting around an invisible point in the upper (upper because it's a reflection) left part of the picture. In other words, the star trails in the water would be more horizontal.


*searches around*

Like this.
Attachment 60548

---

Happy Monkey Tuesday May 16 12:17 PM

I think they're water-smeared. Lights reflected in water will usually have a vertical trail, due to ripples. That water is remarkably calm, but not completely.

---

Gravdigr Tuesday May 16 03:20 PM

I think HapMo has the gist of it.

---

xoxoxoBruce Tuesday May 16 06:55 PM

Yes, water reflections of a point of light aren't sharp.

---

SPUCK Wednesday May 17 11:40 PM

Concur.

---
Your reply here?

The Cellar Image of the Day is just a section of a larger web community: a bunch of interesting folks talking about everything. Add your two cents to IotD by joining the Cellar.