What's IotD?

The interesting, amazing, or mind-boggling images of our days.
xoxoxoBruce Wednesday May 3 03:46 AM

May 3rd, 2017: Building an Ark

There's good news and bad news.
The good news - it doesn't have to float.


The bad news - is build it, disassemble, move to cartoon festival, reassemble, disassemble, store for a year, ad infinitum.



Length: 16 meter (52ft) X Width: 12 meter (39ft) Floor height: 2.60 meter (8.5ft) Railing height: 3.60 meter (11.8ft)


Quote:
As you can see on the drawings the ark is build up off 20 identical squares. The "knee-braces" on top are very important to give the squares their strength. Without the "knee-braces" the whole square would go sideways when moving it in place. Knowing all this we started building 20 identical squares.

Quote:
The next step was putting up the siding of the ark, on the straight sections this was pretty easy and simple to install. The corners were a pain in the ass!!! To make the corners seem seamless we had to cut and measure every single siding - especially on the first corner when trying to figure out all the bevel cuts, this was a very time consuming task.




Quote:

Materials:
- osb-3 sterling board 244cm(96in) X 59cm(23in), 22mm(0.87in) thickness. About 150 sheets
- douglas beams 90mm(3,54in) X 90mm(3.54in), 510cm(201in) long. About 300 beams
- thermowood sidings
- screws: 6x160, 6x180, 5x90, 4x50, 4x35.
Equipment:
- festool kapex
- 18V impact drivers
- festool ts55r
- minibrat nailgun

Now knock it down, move it, and reassemble.




Of course reassembled on site it then has to be gussied up.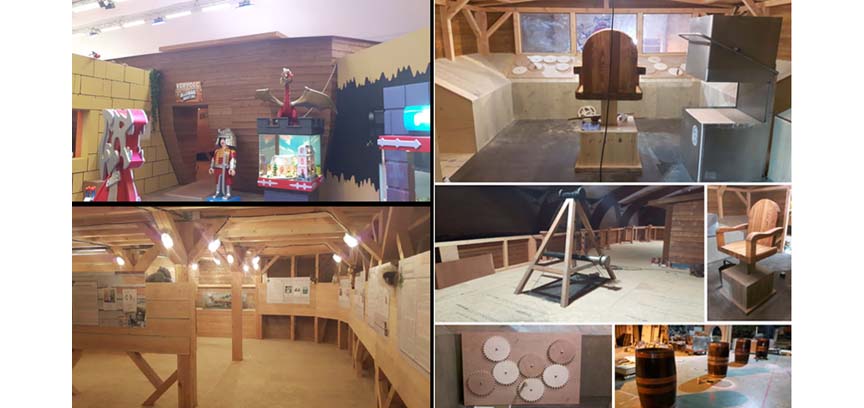 They don't say where it was built but it had to be some third world nation seeing all that metric.


The kicker for me was in the comments...

Quote:

Cost to build the whole ark was about 16,000 Euro = 18,000 USD. That is including everything: wood, screws, stairs, deckfloor coating. It took us about one and a half months to build it (3 people) in our workshop, then about a week to tear it down and transport, and another 2 weeks to rebuild the ark on site.

Link

---

Happy Monkey Wednesday May 3 11:30 AM

How many hairdressers and telephone sanitizers will fit?

---

captainhook455 Wednesday May 3 10:46 PM

That must have been a long legged dude that sat in the Captain's chair.

Sent from my Z818L using Tapatalk

---

xoxoxoBruce Wednesday May 3 10:47 PM

He had Scotty beam him up.

---

tunhuavn Monday Dec 18 09:29 AM

Việc lựa chọn các sản phẩm kính ốp bếp khá là đa dạng và đôi khi chính những khách hàng lại chưa biết lựa chọn sản phẩm như thế nào để phù hợp. Bài viết này của sẽ chia sẻ tới quư độc giả một số kiến thức cũng như kinh nghiệm lựa chọn kính màu ốp bếp, hy vọng rằng quư khách có thể tham khảo và lựa chọn cho ḿnh một loại sản phẩm phù hợp và có chất lượng nhất tunhua.vn.

---
Your reply here?

The Cellar Image of the Day is just a section of a larger web community: a bunch of interesting folks talking about everything. Add your two cents to IotD by joining the Cellar.