xoxoxoBruce Sunday Apr 30 10:50 PM

May 1st, 2017: Spoke Sniffer

A dude called Spoke Sniffer has developed a reputation for finding an impressive string of obscure bicycles. When I started looking at his pictures of the details I figured these must be pre WW I or maybe shortly after. Look at the hand work in those tubes. I'd call them trailing arms but I'm sure that's not right.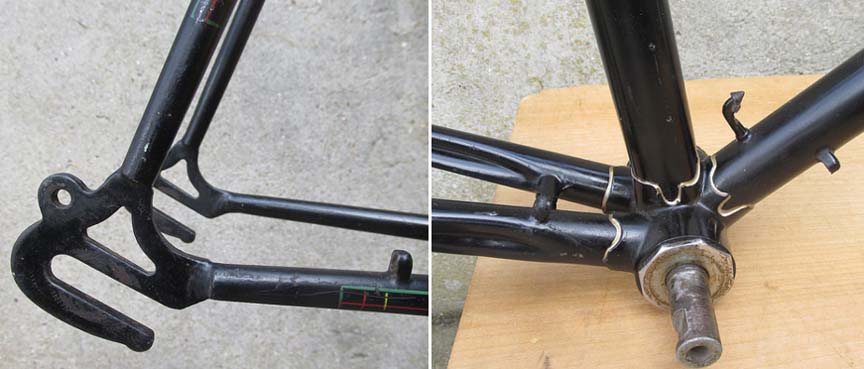 Quote:

I just picked up this interesting pair of frames which appear to have been made in the 50's for a Parisian shop by an unknown contract maker of much better than average skills. The first frame has more elaborate details such as the fork crown cuts, seat stay reinforcements and chrome socks. Both feature amazing elaborate box lining. The second frame is more pedestrian in details but both feature very clean brazing and construction details given the era. They will be left as is and converted to city bikes…details pending.

What? The 50's? I'm amazed.
Then I got to thinking, in the period I had guessed, things were mostly hand crafted, and the Industrial revolution was just gaining steam beyond textiles. The Great depression and mass unemployment caused many to get by from their old skills.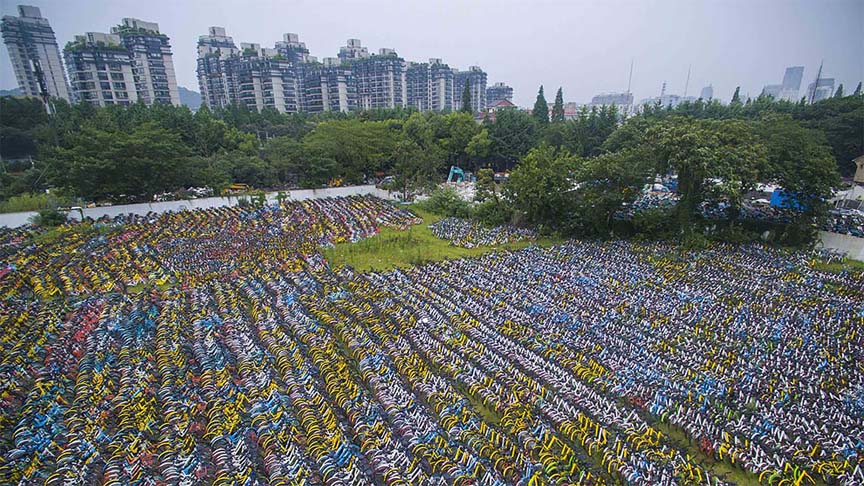 Cars were expensive and distances short in Europe so unlike the US, mass automobile production didn't put a dent in the bike or horse as the family transportation. In the ramp up to WW II the US built an industrial juggernaut, to win the war in the Pacific, plus supply the Russians and Allies with much materiel. Post war that industrial juggernaut was raring to supply, or even create, mass markets. Of course there were devoted bikers here but for most Americans… Bikes? Sure after we move to Levittown we'll buy one for Jr and one for Sissy.
How do you like my new Ford?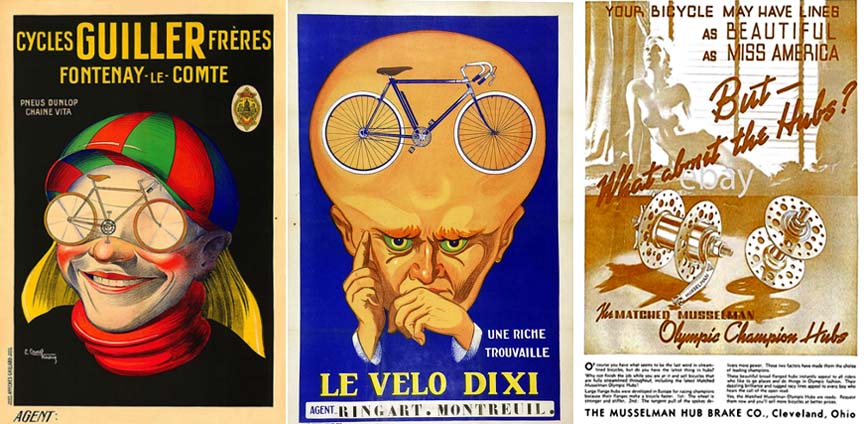 So I figure that's why the old school craftsmanship was alive in 1950s Paris.
This whole diatribe is from my head and could be completely wrong. It certainly doesn't represent the views of this site or the management thereof... therein... Toad.
I've been up for 39 interesting hours, the Everclear is working it's magic, so take it for what it's worth.

link
---

BigV Sunday Apr 30 11:56 PM

The term you're looking for is "chainstay".

---

sexobon Monday May 1 02:03 AM

The black bicycle frame that has sculpted frame lugs with gold trim reminds me of my 1973 Raleigh (Nottingham) Competition built by the Carlton factory (Worksop, Nottinghamshire). That year's model was built with Carlton's Capella lugs (made in Italy) from the 50's apparently when the builders found a case of the unique lugs that had been previously lost. Any other year of the Competition would have been built with Nervex lugs. It seems that sculpted lugs have been mainly a British thing. A couple of pics from the web.
Attachment 60380
Attachment 60382

---

Griff Monday May 1 07:15 AM

Guys did some nice work back in the day.

---

xoxoxoBruce Monday May 1 12:14 PM

Yes, with a file, rather than a nuclear proton guided intergalactic ultrasonic water jet.

Of course all those curlicues give the brazing more surface bite for strength, and more edge to see the brazing didn't leave any gaps, as well as pride in making something cool. I have a vision of an old man filing away, puffing his pipe, lazy old dog at his feet. Of course it was probably an indentured apprentice boy getting a slap upside the head for taking too long.




Chainstay it is, thanks V.
It's funny, I had this illustration on my desktop to add to the bike thread, and never thought to look at it.

---

xoxoxoBruce Monday May 1 01:21 PM

Neatorama lists 10 things bicycles have done for us.
#1 is it changed the way we found more punani.

---

Gravdigr Monday May 1 04:56 PM

Quote:

Originally Posted by

xoxoxoBruce

...I'd call them trailing arms but I'm sure that's not right...
Quote:
Originally Posted by
BigV

Ida still been wrong, but, I would've called it a swingarm, like on a murdersickle.

---

xoxoxoBruce Monday May 1 10:44 PM

I thought of swingarm too, but then realized it doesn't swing.

---

Gravdigr Tuesday May 2 06:18 PM




Also: I thought 'spoke sniffer' was gonna be a euphemism. (<--Hey! I spelled that right the first time! Yay me!

)

---
Your reply here?

The Cellar Image of the Day is just a section of a larger web community: a bunch of interesting folks talking about everything. Add your two cents to IotD by joining the Cellar.