xoxoxoBruce Friday Apr 28 11:44 PM

Apr 29th, 2017: Lying Real Estate Agents

You've heard them, "they're not making anymore land". Well it ain't so I tells ya, it's a lie.


Quote:

Located about 30 kilometers off the southern coast of Iceland, lies the small island of Surtsey. It is one of the world's youngest
islands with an age just over fifty years.

Quote:

Like all islands, Surtsey was conceived in an underwater volcanic eruption which began at a depth of 130 meters(427 ft) in the
Norwegian Sea. Molten lava kept piling up at the bottom and a mound began to rise, until it broke the surface on 14 November
1963, and the island was officially born.
Surtsey's fascinating birth was witnessed by the crew of a trawler that was sailing in the vicinity. On seeing a dark column of
smoke rise at the distance, the captain thought that a boat was on fire, and ordered the vessel to investigate. Instead, they
found a growing island. Within a few days, the island measured over 500 meters(1640 ft) in length and had reached a height of
45 meters(148 ft).

Just look at those sun drenched beaches.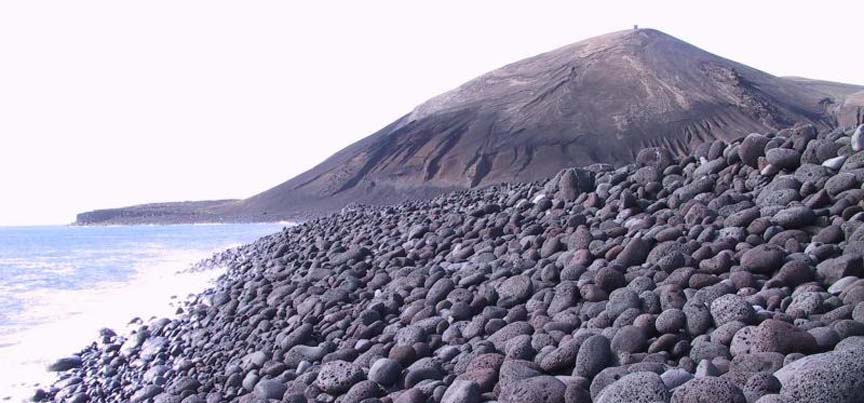 Quote:
Meanwhile, the volcano continued to erupt and the island kept growing. When eruption finally stopped on 5 June 1967, the
island had grown to a size of 2.7 square kilometer(1.2 sq mi). Its highest point was 174 meters(571 ft) above the sea level.

What makes Surtsey so fascinating to scientists is the way the island is slowly being colonized by plants and birds. The first
vascular plants were found growing on the shores in the spring of 1965. In the next twenty years, some twenty species of
plants were observed there, but only about half of the species survived in the nutrient-poor sandy soil. Once birds started
arriving and nesting on the island, their droppings fertilized the soil and more plants began to survive. By 2008, there were
69 species of plant in Surtsey. Of these, mosses and lichens make up for most of the plant life, but new species continue to
arrive on the island by way of the sea, wind and birds, at a typical rate of roughly 2–5 new species per year.
Surtsey is also teeming with animal life. Twelve species are now regularly found on the island including fulmar, guillemot,
gull, and Atlantic puffins. Migrating birds also use Surtsey as a stopping place. Seals are seen basking on the northern shore.
The presence of seal also being orcas to the island. Insect species on Surtsey ranges in the hundreds. There are slugs,
spiders and beetles.


But then those damn real estate agents got together and...


Quote:

To allow the island's biology to grow naturally without human intervention, very few people are allowed to land on the island.
Once some young boys attempted to grow potatoes on the island, which were promptly dug up once discovered.
Another time, improperly handled human defecation from researchers camping on the island resulted in a tomato plant
taking root which was also destroyed.
Since 1965, Surtsey has been a nature reserve, and a UNESCO world heritage site.

Bastards covering their lies.

link
---

Snakeadelic Saturday Apr 29 08:18 AM

I think I still have the National Geographic with Surtsey's first peek above the water on the cover!

Crater Lake in Oregon is still an active volcano, if mostly dormant, by the way. Some years back it grew a new island of its own, christened Wizard Island. Now there's a companion, though I haven't checked lately to find out if it's still growing, has broken the water surface, or has been given a name.

My mom still picks on me in front of my friends (and sometimes hers) about how much I knew about volcano activity and history when I was still in single-digit age range. Krakatoa was always my favorite--that bad boy blew up in Indonesia so big it killed summer halfway around the world for like 2 years in the late 1800s. Around about the time of the US Civil War I think; I haven't focused any of my 'independent study' hobbies on volcanoes for a while.

I did recently see a Werner Herzog documentary called Inferno, and WOW is it neat! There's a great digression to hominid fossil hunting in Ethiopia on the way to see Erta Ale, one of 3 permanent lava lakes in the world. They also let him film a sacred volcano in North Korea.

It's freakin' awesome to see what I remember as photos of a boiling cauldron turning into someplace green, and I'm glad they're keeping people as off as possible. We don't get to see the complete birth and colonization of new islands often.

---

Snakeadelic Saturday Apr 29 08:20 AM

Oh, and Krakatoa may have blown itself from a single island into a ring of small islets, but it's not dead either. Anak Krakatau, "Child of Krakatoa", popped above the waves a while back and is still perking along.

---

Diaphone Jim Saturday Apr 29 12:19 PM

I remember well news stories of Surtsey's emergence.
It is nice to see him/her as a thriving teenager, though a smaller sibling failed to survive.
There is an hourly webcam that this morning has a distinct Winslow Homer look.

http://en.vedur.is/weather/observati...bcams/surtsey/

---

xoxoxoBruce Sunday Apr 30 01:17 AM

Quote:

There is an hourly webcam that this morning has a distinct Winslow Homer look.

I've never read a better description of a picture before I saw it. I knew exactly what to expect and you were right on the money.

---

glatt Sunday Apr 30 08:50 AM

Slugs? How?


Sent from my iPhone using Tapatalk

---

xoxoxoBruce Sunday Apr 30 09:16 AM

Jetskis, teenty tiny jetskis.
Or airplanes, feathered squawking airplanes.

---

Diaphone Jim Sunday Apr 30 12:45 PM

Glatt: It looks like you answered your own question.

---

glatt Sunday Apr 30 08:55 PM

LOL. I need to figure out how to turn that off. I got a new phone and am still figuring a few things out

---

Gravdigr Monday May 1 05:25 PM

---

Gravdigr Monday May 1 05:26 PM

---

SPUCK Wednesday May 3 08:39 PM

In a nutshell this is how we beat the rising sea level!!!

---

footfootfoot Thursday May 4 10:37 AM



Slugs! He created slugs. They can't hear. They can't speak. They can't operate machinery... I would have started with lasers, 8:00, day one.



---

Gravdigr Thursday May 4 04:26 PM

Hah!

What's that from?

---

footfootfoot Thursday May 4 05:20 PM

Time Bandits

---

xoxoxoBruce Friday May 5 12:42 AM

Shell less escargot?

---

BigV Saturday May 6 12:55 PM

escarnot?

escarno?

---
Your reply here?

The Cellar Image of the Day is just a section of a larger web community: a bunch of interesting folks talking about everything. Add your two cents to IotD by joining the Cellar.