xoxoxoBruce Wednesday Apr 26 11:45 PM

Apr 27th, 2017: Bioluminescent Sea Critters

Quote:

While a handful of land animals can create their own light, homemade luminescence is the rule rather than the exception in the open ocean's dark waters. Researchers estimate that between 80 and 90 percent of deep-dwelling animals are bioluminous, creating light by mixing the pigment luciferin with luciferase, the enzyme that makes it glow. The light tends to green and blue, colors that travel far in seawater. Glowing helps attract mates, lure prey or confound predators. Many of these animals live thousands of meters deep and are difficult for scientists to find and study. Here are some of the prettiest — and strangest — glowing creatures of the seas.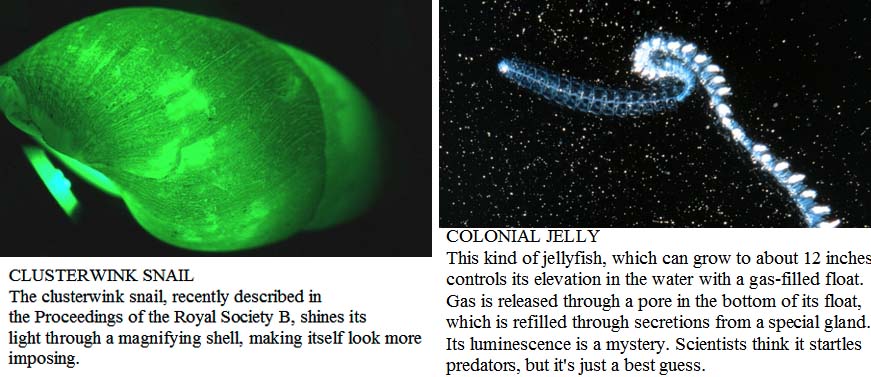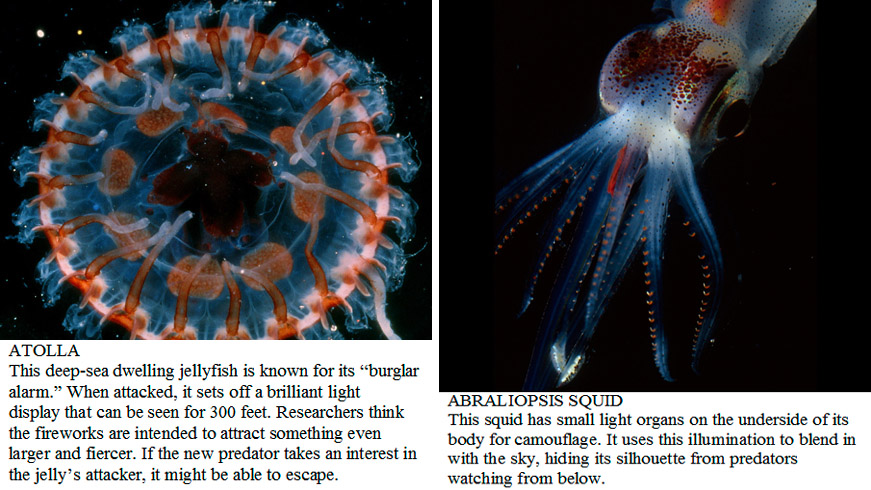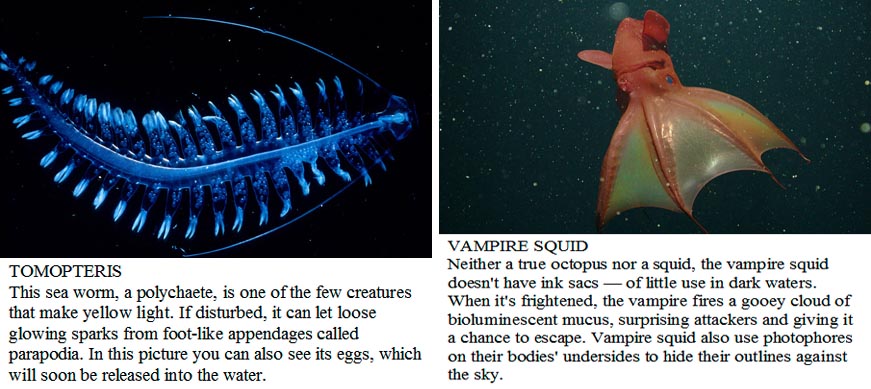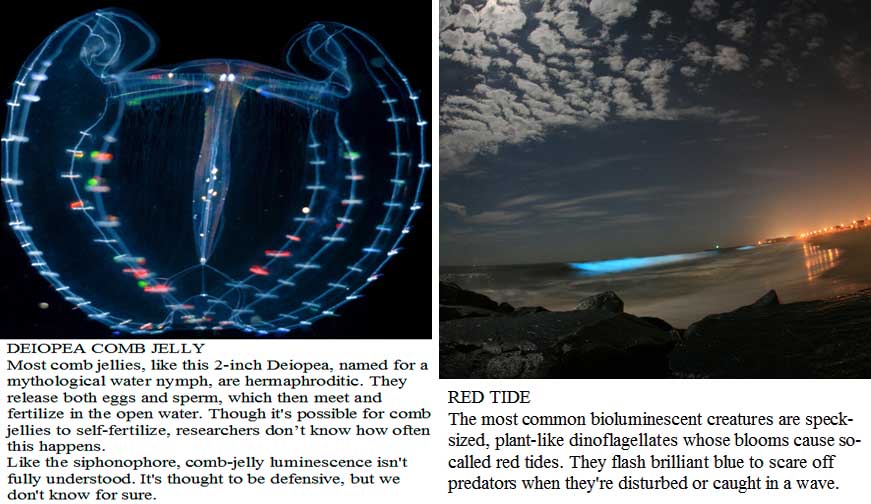 Odd they use blue, the last color humans had a name for.

link

---

Snakeadelic Thursday Apr 27 08:02 AM

Bioluminescence was once thought to be restricted to invertebrates, but at least two fish (an eel and a species of small shark) glow green under the right lighting! The shark is the swell shark Cephaloscyllium ventriosum. http://tinyurl.com/m5ll8zx

---

SPUCK Saturday Apr 29 06:00 AM

I was camping on a moonless night at Sunset State Beach.The waves were blasting out a wad of photons every time they broke. It was really spectacular, I watched it for hours.


In high school a friend and I decided to raft six miles down our local river which cuts town in half and pull out in town where we live eventually.

We drove up the highway way out of town and put in at the Cowell State part Felton bridge. We had paddles and wet suits food, and clothes. We left at about 2pm figuring it would take an hour or two tops.

Turned out the river was moving pretty fast and in the first 100 yards we crashed and lost our snacks and one paddle. Continuing we discovered how it feels to have your ass strike a boulder at about 4 MPH. Then we crashed a few more times with the classic hit-the-rock in the middle of the river have the raft turn 90 degrees and vertical dumping us and all our stuff and sending us around opposite sides of the rock. Shortly we'd lost our shoes, all paddles, everything!

About then we discovered the river enters a box canyon (great pre-trip prep eh?) and that, for whatever reason, it was getting dark pretty dang fast. We came to a tiny beach and asked some camper/squatter types sitting around a campfire on the shore where we were. They told us and we estimated 'only a few more miles' and launched again.

After more suffering and darkness we crashed snagged into some tree limbs, the raft blew instantly deflating and my buddy bailed into the two foot deep water and crawled onto a shore while I clung to the failed raft for a minute contemplating the Tree of Whoa. All of a sudden he started screaming for me to, "get out NOW" and "come this way!!" So I did and he grabbed me and drug me and my seriously bruised ass out of the water.

I asked him what was the issue and he showed me what in-the-light-of-day turned out to be seventeen, hundred foot tall redwood trees that had slid into the river in an enormous tangled pile of broken tree limbs and three foot trunks. It was about 8 feet in front of me. The entire river sieved down thru it. About 8 feet stood between me and oblivion.

The 'shore' was only a 10 x 10 foot island that the back-up probably created. We had to climb the pile in the pitch dark to get to the actual shore. We did that and with no shoes knew we had to climb out of the canyon up to highway 9, the highway we'd driven up to launch our now recognized suicide mission of idiots and fools.

We didn't even have booties. It turned out the canyon had opened back up a bit and it was only a 70 degree loamy hill covered in something growing profusely and close to the ground. We had to grab the stuff and dig our toes into the soil using hands and feet to claw our way up the hill about 200 feet.

What does this have to do with this IOTD? About half way up the hill each hand hold hole in the loam we made glowed brightly with bioluminescence. In the middle of this whole sordid disaster here was this amazing eerie cold blue-green light coming out of the dirt six inches in front of my face. It was really kind of eerie.

We finally made it to the top then hiked thru brush about 200 yards to the highway and flagged down a ride. It was midnight.

Both of us got raging poison oak on our feet down from perfect rings where our wet-suits ended and rings to our hands and a ring on our necks up our faces. Neither of us could sit for two days so we stood at the back of classes. We found out there's a law against rafting the river due to how hazardous it is.



I always have flash backs to that 'fun' escapade when bioluminescence is mentioned.

---

Rhianne Saturday Apr 29 07:22 AM

Quote:

Originally Posted by

Snakeadelic

Bioluminescence was once thought to be restricted to invertebrates, but at least two fish (an eel and a species of small shark) glow green under the right lighting! The shark is the swell shark Cephaloscyllium ventriosum.

http://tinyurl.com/m5ll8zx

I thought I saw somewhere, probably on QI, that humans have faint bioluminescent stripes.

---

fargon Tuesday May 2 10:20 AM

The bioluminescence in a ships wake will light up the whole ship.

---

captainhook455 Tuesday May 2 08:58 PM

Does a ferryboat glow purple?

Sent from my Z818L using Tapatalk

---

BigV Tuesday May 2 09:40 PM

You're thinking of fairy boats....

---
Your reply here?

The Cellar Image of the Day is just a section of a larger web community: a bunch of interesting folks talking about everything. Add your two cents to IotD by joining the Cellar.