xoxoxoBruce Wednesday Apr 19 11:17 PM

Apr 20th, 2017: "World For All"

"World For All" pet adoption campaign. "There's always room for more. Adopt."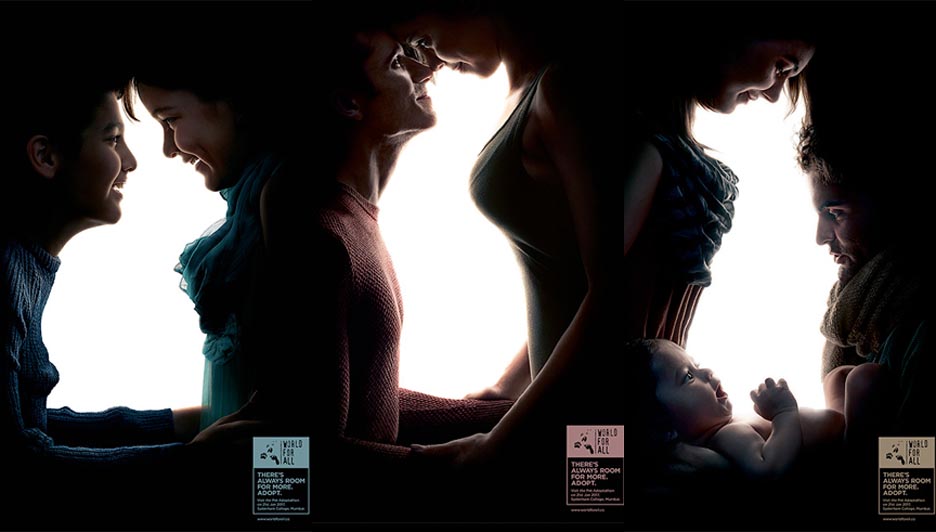 A series of creative optical illusion posters in Mumbai, India promotes the adoption of homeless animals.
Photographed humans form the shapes of dogs, cats, and other animals.

Fuckin' do it, the rewards are beyond your dreams, besides attracting hot chicks and cool guys.



link

---

Snakeadelic Thursday Apr 20 08:18 AM

That's gotta be the coolest "faces or vases" illusion I've seen in a long time!

The only pets I've ever bought were the kind too dumb to train (reptiles). My cats were stolen from their mother, who was part of a feral colony. The neighbor tried to stay on top of spay-neuter, but they made one HUGE mistake. They thought when the last female was spayed, no more kittens.

For that, you have to neuter the dominant tom, and they didn't. Took him all of 3 weeks to call in a new female once he realized his sister wasn't going to come back in season.

I'm really glad we didn't go with the original plan to wait and try to eventually qualify to adopt through our local Humane Society and get an adult cat that hated kids & other pets. The feral colony's central territory covered a T-junction of gravel roads. People with trucks liked to blow through doing 30, 40 mph on said gravel roads. Our cats are grey. As soon as we saw their mother teaching them to be wild, we knew they'd be dead in the road before they were 4 months old; they were about 6 weeks when we stole 'em.

As for the new female in the colony, she was grey too, as were several of her first litter of kittens, 2 of which were killed by fast-moving pickups. Both of the grey kittens.

Some folks will just always HAVE to have pedigrees, "designer" breed crosses with ridiculous names, or the perfect look of a purebred dog or cat. Personally, I've found that as the years go on, every pedigreed dog I meet is worse and worse off (the 7-month-old Newfoundland pup who now overheats at a slow walk and it isn't even summer yet...the Jack Russell Terrier that died of sudden-onset liver and kidney failure at only 10...the English Bulldogs that can barely walk or breathe...the German Shepherd that had to have ligament & kneecap surgery at 10 months...and those are just the locals I've met). "Hybrid vigor" is largely proving to be a myth, but when pedigreed Dogue de Bordeaux mastiffs bred for the show ring have an average life expectancy of SIX YEARS, it's time for some unflinching examination of what people are breeding these animals hoping to get from them!

I definitely believe that if you can qualify with your local HS or a breed rescue group, adopt. If we'd tried to adopt our kittens from such a group, we'd have been turned away, but those kittens turn 11 this summer sometime and the vet says they're doing just fine.

---

Gravdigr Thursday Apr 20 04:20 PM

Quote:

As soon as we saw their mother teaching them to be wild...

That is possibly the most fucked up sentence I have read this year.

Also, isn't the average age for a dog right around ten years?

---

DanaC Thursday Apr 20 04:59 PM

Not for a Jack Russell - you'd generally expect them to get into their mid to late teens.

Wild wolves have an average life expectancy if about 6 pr 7 years - up to 16 or 17 in captivity.

A dog breed with a life expectancy of 12 upwards is not a horror - a dog bred to a life expectancy of 6 or 7 years is cruel.

As beautiful as they, I have never understood why anyone would have a Great Dane or one of the other giant breed. They call the Great Dane the Heartbreak Breed - you lose them all so young.

Carrot's 5 now - and I feel like he's really growing into himself, becoming a beautiful adult dog. The idea of this already being his twilight years - not because of some unforeseen health problem, but because it was built into his breed from the start is a horrible thought.

---
Your reply here?

The Cellar Image of the Day is just a section of a larger web community: a bunch of interesting folks talking about everything. Add your two cents to IotD by joining the Cellar.