xoxoxoBruce Monday Apr 17 12:27 AM

Apr 17th, 2017: Feral Chickens

Imagine you're a Cock or Hen locked up, not in a big 4 door sedan, but a small 2 door chicken coop. Then a storm knocks down
that coop and suddenly you're a Freebird!. Where would you choose to live? Like humans many chickens choose Kauai, HI,
Bermuda, or Key West, FL.


Quote:

Over the past few decades, island destinations from Bermuda to Hawaii have had to contend with an influx of feral chickens.
Like seagulls in cities or rabbits in public parks, these animals thrive in semi-natural environments, making themselves right
at home and presenting a multitude of challenges to their human neighbors.
If you're strutting around Key West, odds are you're going to run into a feral chicken or three doing the same thing. They're
everywhere, waking honeymooners with their squawking early in the morning, scratching up local gardens in the afternoon,
and stealing from snowbirds' plates at dinnertime.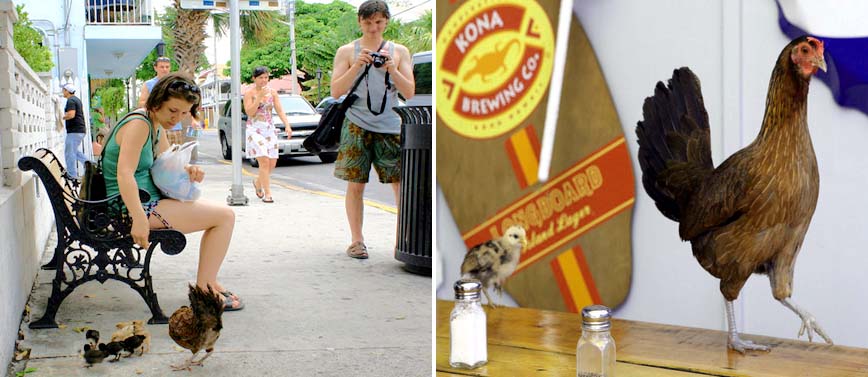 Quote:
Their ubiquity has led to a certain cultural cachet: "They are an iconic part of Key West," says Tom Sweets, executive
director of the island city's Wildlife Center. "You'll see them on signs, restaurants, businesses… the tourists love them."
Currently, the Key West Code Compliance Department adjudicates individual chicken-centric conflicts between people.
But over the years, the city has tried different strategies to manage the population on a wider scale. The government tried
rounding them up themselves, and shipping them away, but this was resource-intensive and garnered a lot of public backlash.
…So in 2011, the city tried something new: they asked the Key West Wildlife Center to help them by taking care of those
birds that can't take care of themselves.
In a typical year, Sweets says, the Center takes in about 1400 sick, injured, orphaned, or unwanted chickens, rehabilitates
them, and places them somewhere off the island. …"We find them homes in a better area for them." Sometimes this means
a 12,000-acre free-range ranch in Okeechobee County. Other times it means a mom-and-pop egg operation, or a family
who wants an unusual pet. In that last case, the chicken comes with a certificate signed by Key West's Mayor.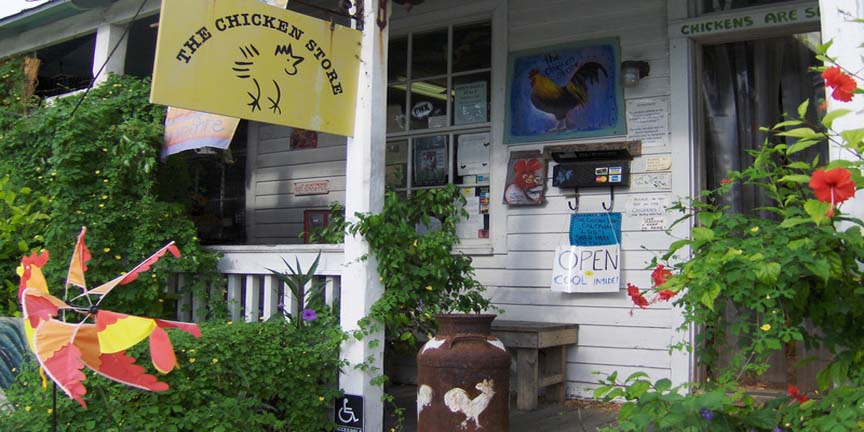 Quote:
In Kauai, which legend has it also inherited its chicken problem from a coop-destroying hurricane, the government has taken
the opposite tack. "They pretty much just leave them alone," says Eben Gering, a biologist who studies feral chicken genetics
on the island. Like in Key West, the island's thousands of chickens enjoy legal protection on public property, but not private.
Kauians generally don't mind them, though—"they're like pigeons here," Gering says, and state-sponsored efforts to manage
them, including a free trap rental program, have been discontinued. For the most part, chickens on Kauai just go about their
lives, eating bugs and seeds and, according to one local blogger, the occasional slice of Costco pizza.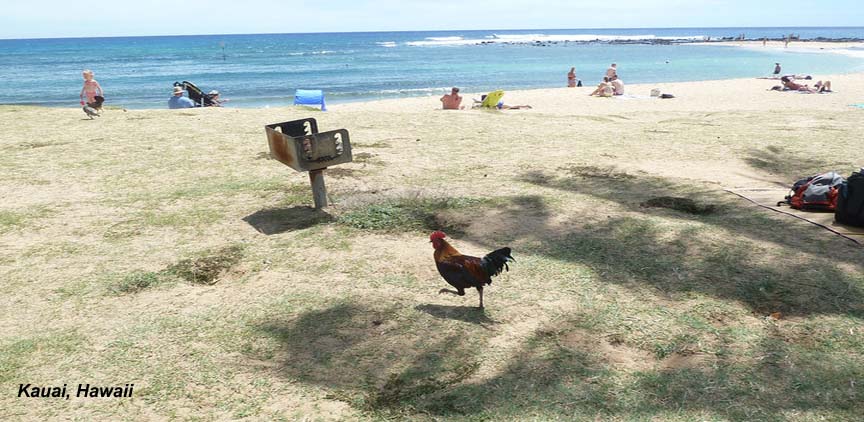 Quote:

Other islands handle things very differently. In Bermuda, which has been covered in feral fowl since a hurricane knocked
down hundreds of coops in 1987, the government hopes to straight-up eradicate the population, which they say destroys
about $100,000 worth of crops per year.
Their plan involves a combination of brute force and public whistleblowing. "If you find chicken eggs, destroy them," the
Department of Environment and Natural Resources (DENR) advises on their website, which also features a giant button that
says "Report a Feral Bird Problem." There is a $3,000 penalty for letting a chicken loose in Bermuda, and the DENR
uses traps, nets, and poison bait to cull the birds.

If you want to see more Cock pictures you'll have to wait for bbro in October.

link
---

Griff Monday Apr 17 07:28 AM

Cornell BBQ

Ingredients:

1 egg
1/2 cup vegetable oil
1 cup cider vinegar
2 teaspoons coarse salt*
2 teaspoons poultry seasoning
1/4 teaspoon freshly-ground pepper
Poultry pieces (half chicken, whole chicken, whole chicken legs,
chicken thighs, and/or chicken breasts)

* Adjust the quantity of salt to meet individual health needs and taste. I use less salt than called for in the recipe. Barbecued chicken basted frequently during cooking will be saltier than chicken that has been lightly basted.



Instructions:

In a large bowl, whisk the egg. Add the oil and whisk until the mixture gets thick, homogenous, and a bright yellow, approximately 2 minutes. Whisk in the cider vinegar, salt, poultry seasoning, and pepper. NOTE: If you prepare the barbecue sauce ahead of time, refrigerate until ready to use. As this sauce is high in acid which kills any bacterial that might be present in the eggs. If you are still worried, use pasteurized eggs.

In a large resealable plastic bag, place the chicken pieces of your choice. Pour the prepared sauce over the chicken and let marinate in the refrigerator for at least 2 hours or up to 24 hours (the longer you marinate, the better).

---

glatt Monday Apr 17 10:33 AM

I saw feral chickens in Kauai about 23.5 years ago. One year after the bad hurricane.

October 1, 1993.
My wife and I each took a picture, and I think we fed them. Can't remember.

Attachment 60126

Attachment 60127

---

glatt Monday Apr 17 10:43 AM

I was just getting all nostalgic for that trip, so I tried to find the picnic area where that picture was taken. I think it was in the Koke'e state park campground. So I got into street view and went there, and in the street view shot of that campground parking lot, there are feral chickens running around.

4758 Muhihi Rd
Waimea, Hawai

---

Gravdigr Monday Apr 17 02:48 PM

How do ya know they're wild?

Do they smoke, drink, and put out on the first date?

That's how ya pick out the wild chicks around here.



---

blueboy56 Monday Apr 17 10:58 PM

At Bubba's burgers on Kauai, the have no sense of humor. While eating one of their incredible hamburgers, one is not allowed to feed the chickens.

---

xoxoxoBruce Monday Apr 17 11:58 PM

The chicken coop.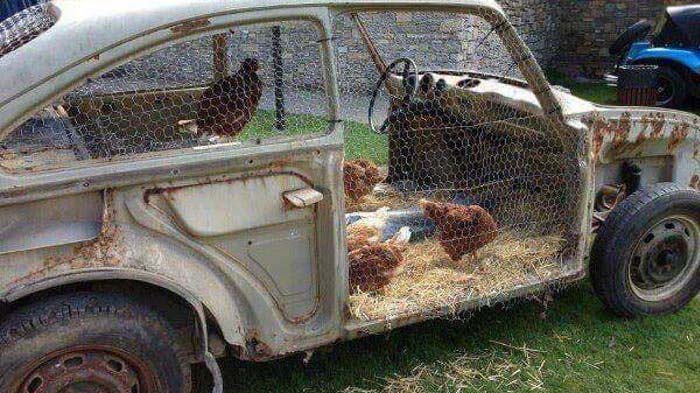 ---

Gravdigr Tuesday Apr 18 03:51 PM

Quote:

Well, if it had four doors...



---

xoxoxoBruce Tuesday Apr 18 05:34 PM

Then it would be a hen house and not a coop.

---

Gravdigr Tuesday Apr 18 05:36 PM

Close enough.

---
Your reply here?

The Cellar Image of the Day is just a section of a larger web community: a bunch of interesting folks talking about everything. Add your two cents to IotD by joining the Cellar.