xoxoxoBruce Sunday Apr 16 12:38 AM

Apr 16th, 2017: Food Forest

What the hell, a drawing, a sketch in IOtD? Yup.
No matter, nobody's going to see it anyway because they're all busy with Easter, so kiss my keister.
There are different levels of we lazy bastards. Before I graduated to couch potato, then internet troll, I was wiling to expend
a great deal of energy to build something. But when it was done so was I. Maintenance? Boring, Fugetaboutit.
Probably that's why this plan intrigued me.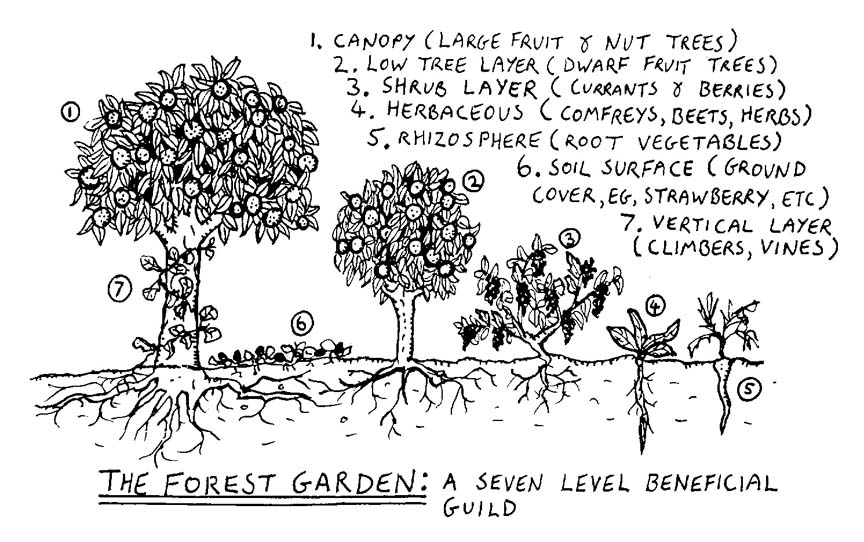 You can read the whole what to/how to at Modern Farmer.

CAUTION: creating this and eating the results, may make you healthy, so don't forget to plant some Cheeto and M&M bushes.

---

Snakeadelic Sunday Apr 16 08:36 AM

Critter-proofing a garden like that would be BRUTAL. The only successful "deer-proof" fence plan I've ever encountered requires that the top of the fence be 8 feet above ground, and that the fence itself be tilted outward from its base at about 30 degrees short of vertical. That seems to be the only fence deer won't try to jump, because sure they can make the 8 foot jump up, but they can't tell if they can clear the tilted interior.

For rabbits and ground squirrels and skunks and the like, you'll need to dig out about 2 feet of soil and make a box inside that hole. Said box needs to be heavy-duty plastic-coated wire and has to cover the entire bottom and all 4 sides, plus sticking up at least a foot above ground at the base of the fence. Then you fill it back up with dirt to actually grow the garden. Leave off the low fencing or use uncoated wire and rabbits, ground squirrels, and similarly-sized garden destroyers can and will chew right through. The mesh should be under 1 inch to keep moles and rats out, because anywhere a rat can stick its head, its whole body follows. As for mice, your best bet is don't kill any snakes in your yard--many of the venomous AND non-venomous species in the US live on rats & mice. Heck, corn snakes are rumored to have gotten their name hanging around in corncribs and silos to eat the mice and rats that invariably swarm such places.

If I ever win the lottery, tho, I'm having a massive glassed-over "courtyard" garden and I'll be referring back to this plan!

---

xoxoxoBruce Sunday Apr 16 11:42 AM

Perimeter, anything that moves or gives off heat, even in the dark.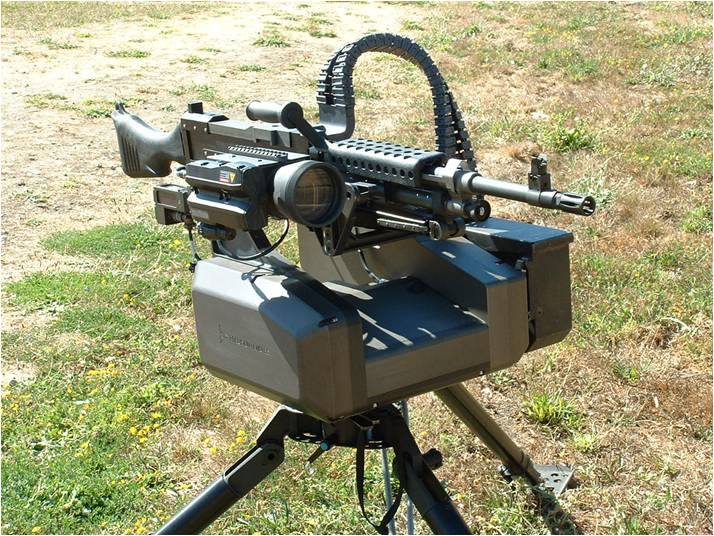 ---

blueboy56 Monday Apr 17 10:48 PM

No problem, just get one of them there super accurate crossbows and put a bolt (smeared with super glue) into the barrel. Instant jam and up blows the barrel. So there.

---

xoxoxoBruce Tuesday Apr 18 12:00 AM

Do the deer around you carry superglue?

---

Griff Tuesday Apr 18 07:35 AM

---

BigV Tuesday Apr 18 01:22 PM

Wait a minute. . .

A border collie's spare time comes straight out of MY spare time. Who benefits?

---

Gravdigr Tuesday Apr 18 03:39 PM

A childhood friend's dad had a blue heeler mutt that knew how to dispatch groundhogs with a vengeance. His summer record was 62 or 64 groundhogs brought to the front door of the barn. Graveyard dead.

Dog's name was Judas.

---

xoxoxoBruce Tuesday Apr 18 05:45 PM

---

Griff Wednesday Apr 19 07:25 AM

Chucks are tough. I remember my childhood dog getting in a real blood bath with a big one. Benny figured out how to handle them after getting cut up on his first chuck.

---

SPUCK Monday Apr 24 03:47 AM

Back to the OP: If you plant enough of all that you can ignore all the critter predation as they simply won't get it all. They typically seem to zero in on only certain spots an not rummage the whole place. I guess only a certain number of one type critter tends to fit in an area and so the predation is limited to what that number can ravage.

Excluding:
Starlings
Rabbits
and $%@*!)__##$@! Rats.

Was helping my daughter change her CV-half axles in the dark, in the driveway, Friday night. We were backs against a 10 foot Eugena/Ivy hedge and this rat literally stuck its head out between our shoulders!

---

Griff Monday Apr 24 07:44 AM

Freaking rats! Despite all the chickens here, we haven't had a rat problem, luck and dogs I guess.

---

SPUCK Tuesday Apr 25 03:29 AM

OMG: That's exactly why we have rats - we had chickens.

---
Your reply here?

The Cellar Image of the Day is just a section of a larger web community: a bunch of interesting folks talking about everything. Add your two cents to IotD by joining the Cellar.