xoxoxoBruce Thursday Apr 13 12:48 AM

Apr 13th, 2017: Bottle-Cap Alley

The IOtD I did on street signs showed that people can creative and pretty off the wall when it comes to
creating names for the highways and byways. I've seen some crazy ones on alleys and paths too.
Quite often there's a name on deeds and official maps, then there's a name everybody calls it. Americans
are so contrary.
But when I saw the name Bottle-Cap Alley I didn't miss a beat, it didn't seem odd... till I saw the picture.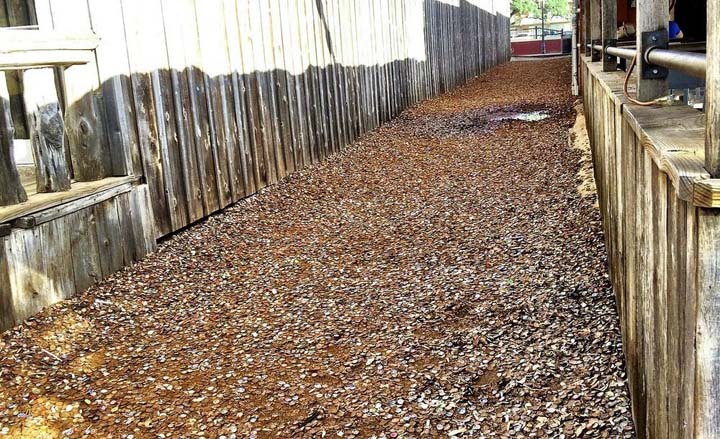 That alley is big enough to drive through, but your new tires would come out with recapped.

Quote:
For years, boozers from the Texas A&M University in College Station, Texas, and elsewhere, have been
paving a short alley located between the pub Dry Bean and the restaurant Dixie Chicken, with used
bottle caps. The alley, about 50 meters long and 2 meters across, is today filled with hundreds of
thousands of weathered metal bottle caps. It's a curious little attraction.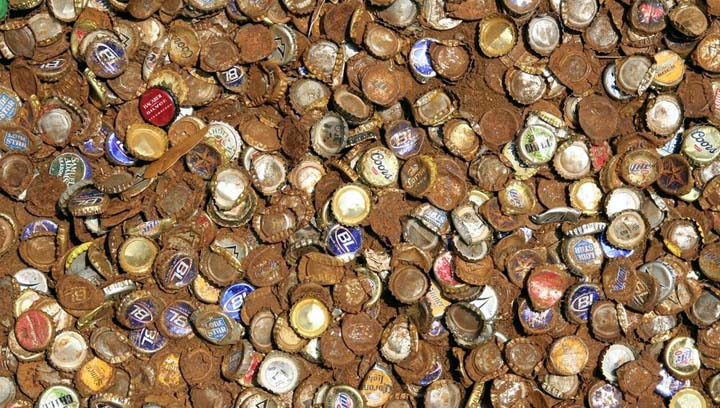 Rusty steel, if they were aluminum somebody would have scooped them up and sold them.



Quote:

The alley periodically receives "donation", in the form of bottle caps, from the surrounding bars and
individuals who collect them for the purpose.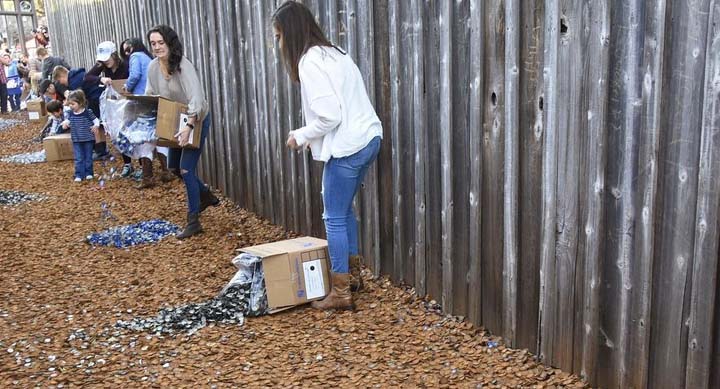 Quote:
The Bottlecap Alley is located at the north edge of the Texas A&M campus. The Alley entrance is on the
north side of Hwy 60/University Drive, midway between College Main and Boyett St.
Link
---

blueboy56 Thursday Apr 13 12:55 PM

Uh. . . You mention it is ~50 meters long and 2 meters wide but didn't say how deep is my love. Sort of.

---

Happy Monkey Thursday Apr 13 12:59 PM

Fabulous wealth, if a future installment of the Fallout series is set in Texas.

---

xoxoxoBruce Thursday Apr 13 08:29 PM

Quote:

Originally Posted by

blueboy56

Uh. . . You mention it is ~50 meters long and 2 meters wide but didn't say how deep is my love. Sort of.

Boom-tish.


He'll be here all week folks, we also have ham on the menu.

---

blueboy56 Thursday Apr 13 10:41 PM

Just saw a story on news Re: the Trevi Fountain in Rome. It gets about $1.5 million in coins per year. Does anyone know how long it would take to fill up if they didn't sweep it out every day?

---

xoxoxoBruce Friday Apr 14 12:15 AM

Question? Your last joke got a boom-tish (drum-cymbal) from the drummer, who's waiting to accompany the stripper, after you've warmed up the audience.

You're new on the circuit ain't ya.

---

xoxoxoBruce Friday Apr 14 12:46 AM

It's big, 65 ft wide and in the movies looks a couple ft deep. BBC News, in 2006, said they collected an estimated 3,000 euros each night. But assuming the coins are from a shitload of countries, that doesn't help much.



Quote:

7. It's a crime to steal the coins from the Trevi
Perhaps for just that reason, it's illegal to fish out coins from the fountain. In the past it was common for gangs of thieves to sweep the coins out of the fountain at night. In fact, three were caught by a T.V. show using a hidden camera in 2011. The most famous raider, however, was known by his nickname, d'Artagnan. He stole the coins from the fountain for 34 years before he was caught in the summer of 2002.

So they didn't start the daily sweep until at least 2011 The fountain was refurbished, and reopened in December of 2015. They may not have started until then.

So to answer your question... duh, Idono.

---

Gravdigr Tuesday Apr 18 04:08 PM

I once met this chick in a bus station men's room...She would love this alley.

She'd be rich, rich, I tell ya.

---
Your reply here?

The Cellar Image of the Day is just a section of a larger web community: a bunch of interesting folks talking about everything. Add your two cents to IotD by joining the Cellar.