xoxoxoBruce Saturday Apr 8 11:30 PM

Apr 9th, 2017: Hsuehshan Tunnel

Taiwan built the Taipei-Yilan Freeway to balance the building on the island, try to shift the business and population growth to the
less crowded side. But to cut serious time off the trip required tunneling. It took 15 years, plus Billions of dollars for a total length of 12.942 km (8.042 mi), making the Hsuehshan Tunnel the ninth longest road tunnel in the world.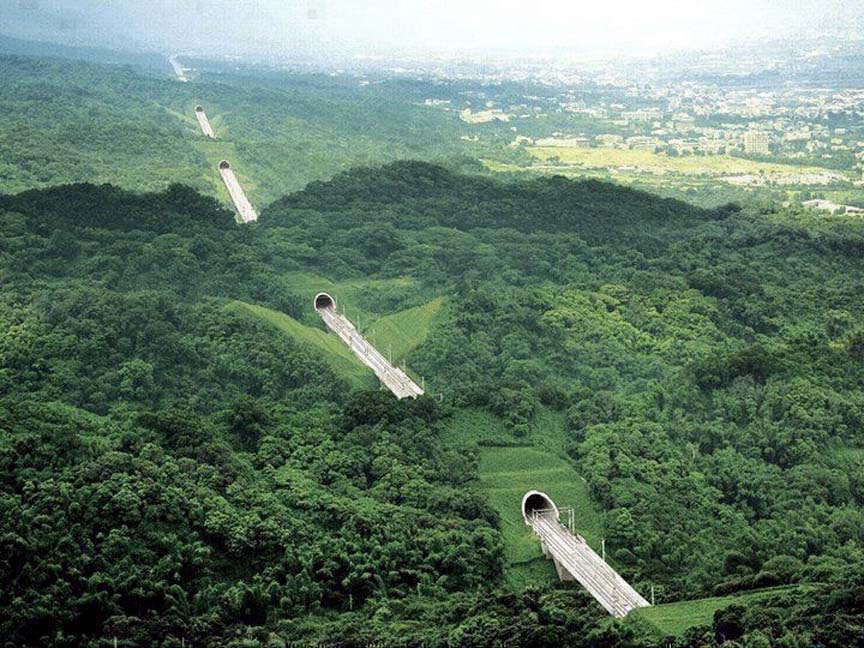 Quote:
Tunnel construction used 370,000 m3(13,000,000 cu ft) of concrete, 2,000 kilometres (1,200 mi) of cables, and 2,000 lighting units. While excavating the tunnel, engineers encountered difficult geological problems like fractured rock and massive inflows of water, which caused severe delays. One of the three TBMs on the westbound tunnel was buried by a ground collapse. In order to speed up the tunnel boring, an additional working interface in Interchange Station No. 2 (under Ventilation Shaft No. 2) was built. Along the tunnel alignment, there are six major faults, ninety-eight fracture zones, and thirty six high pressure groundwater sources. Hence, serious tunnel collapses with groundwater flooding took place periodically during tunnel construction. Altogether, 25 lives were lost during 15 years of construction
Sounds like Seattle.



When it opened the speed limit was 50 km/h (31mph), and keep a 50 m (164 ft) separation, when the speed drops to 20 km/h
(12 mph) it's 20 m (66 ft). The penalty for violating either (with zero tolerance) is a NT$3,000 (US$93.75) to NT$6,000 fine. No passing, no where, no way, no how, and a zillion radar cameras to make sure. They raised the speed limit to 60 km/h(37mph) with a 10 km/h (6mph) tolerance, then to 70 km/h (43mph) with a 10 km/h tolerance.

Methinks they should have called Mighty Paul Chen and Babe the Blue Bulldozer.

link
---

Snakeadelic Sunday Apr 9 09:10 AM

I swear living in Seattle too long rots your brain.

A TUNNEL???

In my lifetime I've been through at least 5 earthquakes of magnitude 5 or greater. All but one were in (unladylike words here) Seattle. One of them was the Nisqually Quake mentioned in the Wikipedia link--the 6.8, epicentered about 15 miles as the crow flew from my apartment building at the time. Said apartment building shook like a wet dog for 32 seconds straight. Half a minute can seem like a very, very long time, folks.

My sweetie of 13 years used to drive through downtown next to the Viaduct 5 days a week and he HATED that thing. I dunno about politicians and town meetings and infrastructure planning and all that, but I do distinctly remember than everyone I knew back then who drove in that area was terrified that if another 5+ magnitude quake hit, the Viaduct was positioned perfectly to fall all over the waterfront and kill lots of tourists and commuters.

You'd never catch me in an underground large-bore tunnel anywhere near Puget Sound, thanks. Or one with six faults and ninety-anything fracture zones!

---

Diaphone Jim Sunday Apr 9 12:48 PM

OK, I'm stumped or stupid.
Where is an eight mile tunnel in this photo?

---

glatt Sunday Apr 9 01:11 PM

Quote:

Originally Posted by

Diaphone Jim

OK, I'm stumped or stupid.

Where is an eight mile tunnel in this photo?



You can't see it because it's underground. ;p

---

xoxoxoBruce Sunday Apr 9 01:13 PM

So am I, Jim. I found the picture labeled Hsuehshan Tunnel, and thought it was cool, then went looking for a description. What I found doesn't explain, if the 8 miles is accumulated length of tunnel, or that 8 mile section isn't in the picture. I suppose if it's not in the picture a picture of a mountain with a hole in it wouldn't be as dramatic.

---

footfootfoot Sunday Apr 9 05:03 PM

It seems pretty stupid at a glance. What's wrong with highway cuts and filling the valleys with the stuff you took from the hills?

---

xoxoxoBruce Sunday Apr 9 05:12 PM

Wildlife overpasses?

---

Diaphone Jim Sunday Apr 9 06:11 PM

I remain confused. That pic routinely comes up in discussions of the tunnel.
It is a dual bore tunnel with many pictures showing that too.
I guess the problems inherent in such endeavors worldwide are well known.
The rules to prevent accidents better be efficacious because I sure don't want to have to walk 4 miles to get out.

---

xoxoxoBruce Sunday Apr 9 06:21 PM

I think they have people stationed in the tunnel so if you have an accident they shoot you, then they feed you and your car into a shredder built into the wall. Fast and efficient way to clear the tunnel quickly.

---

xoxoxoBruce Sunday Apr 9 06:46 PM

The Discovery Channel aired a documentary on the tunnel on 8-27-06, maybe it's archived somewhere?

A lot of the articles around the opening call it the snow capped tunnel, and indicate the tunnel is 8 miles long. Evidently there are more than one, but the 8 miler is the biggie.

---

Diaphone Jim Tuesday Apr 11 03:09 PM

I wonder why a two- or three-bore tunnel system is simply called a tunnel.

The Waldo Tunnel (now the Robin Williams Tunnel) north of the Golden Gate Bridge is two separate tunnels, north and south bound.

The Caldecott Tunnel south-east of the SF Bay Area has four bores..

The Chunnel (English Channel Tunnel) is actually three tunnels as is the one featured here (Hsuehshan).

Seems they should all be called "tunnels." So there.

---

xoxoxoBruce Tuesday Apr 11 10:30 PM

I would assume the third bore is for service(disposal of the ground up cars and shot drivers) and escape with such a long tunnel, so it's all part of the tunnel system. Hence tunnel, rather than tunnels.
Also the project was all paid for from the same purse so singular.

---

xoxoxoBruce Friday Apr 14 11:01 AM

Tunnel? You can dig it.

---

Diaphone Jim Saturday Apr 15 12:35 PM

"TLS 1.2, AES with 128 bit encryption (High); ECDH_P256 with 256 bit exchange"


Properties of above empty black box, which I guess has some attributes of a tunnel.

---

xoxoxoBruce Saturday Apr 15 02:02 PM

Jim, it's a youtube video of a tunnel boring machine, are you saying you can't see it? PC, or phone?

---

Diaphone Jim Saturday Apr 15 07:32 PM

I finally got it by copying and pasting the info from the
"properties" function.
Not really a video but a really well done animation of all the machine's pieces and parts.
I have a PC and a new ISP. I seldom have the video troubles I had for years.
This one just didn't want to do anything, off the daily board or this one.

---

xoxoxoBruce Saturday Apr 15 08:47 PM

Oh OK, glad you got it straightened out.
Youtube has some live action, some animations, some slide shows, and some what-the-hell-did-I-just-see. However they are all videos, that's what they do, that's who they are.

---

footfootfoot Saturday Apr 15 08:58 PM

That was an amazing piece of equipment. If my math is right, the cutter face is moving at close to 2 meters per second at the outer edge.

---

xoxoxoBruce Sunday Apr 16 12:21 AM

Yes, when I was told the maximum speed of a Chinook's rotor blades was 102 rpm it seemed slow. When I questioned it they said the tips are doing 500mph, and if you add the helicopter moving at 200mph, you're getting close to breaking the sound barrier. OH... duh, I'm glad somebody figures all that shit out.

I'm sure somebody figured out how fast the can spin the rock cutters and probably adjust it as the material changes. They have a lot invested in that machine, a big bet.

---
Your reply here?

The Cellar Image of the Day is just a section of a larger web community: a bunch of interesting folks talking about everything. Add your two cents to IotD by joining the Cellar.