xoxoxoBruce Wednesday Apr 5 11:11 PM

Apr 6th, 2017: Lonely Railroad Stations

In recent movies they show airports, but in old movies they showed railroad stations in New York, Chicago,
Los Angeles, London or Paris, that were bustling with crowds of people.
But consider Shinjuku Station in Tokyo handles 3.6 million passengers every single day, or 1.3 billion riders
a year, so in some spots railroads thrive.

But even Japan has some lonely stations. Kyu-shirataki station closed in March, when the only daily passenger
for the last few years graduated from High School.
This is Kyu-shirataki.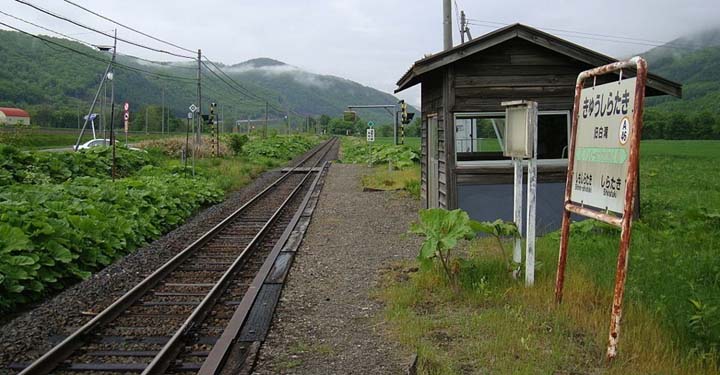 Here in the US the railroad barons made fortunes, especially moving war materiels and troops. Rather than
plowing those profits back into the equipment and better passenger service they kept the money, feeling
secure in their continued dominance. Then the Interstate Highway System, America's Autobahn, burst their
bubble when trucking became cheaper with better service. Amtrak was formed by the government to take
over passenger service but it's mostly used around the big cites so it has some lonely stations.

1-Sanderson, Texas, with 238 boardings and alightings
2-Thurmond, West Virginia, had 295 boardings and alightings
3-Alderson, West Virginia, had 432 boardings and alightings

This is Sanderson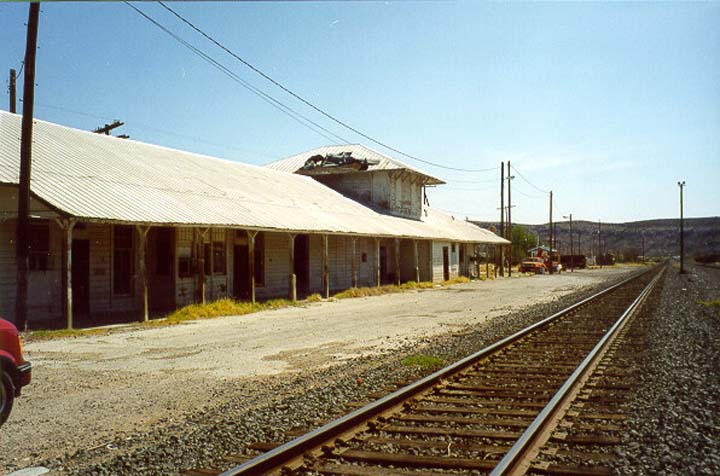 It seems England has a lot of lonely stations with yearly passenger counts of...
1-Shippea Hill (Cambridgeshire) – 12
2-Reddish South (Greater Manchester) – 38
3-Pilning (Gloucestershire) – 46
4-Coombe Junction Halt (Cornwall) – 48
5-Barry Links (Angus) – 68
6-Denton (Greater Manchester) – 74
7-Stanlow & Thornton (Cheshire) – 88
8-Teesside Airport (County Durham) – 98
9-Chapelton (Devon) – 100
10-Clifton (Greater Manchester) – 116

This is Shippea Hill.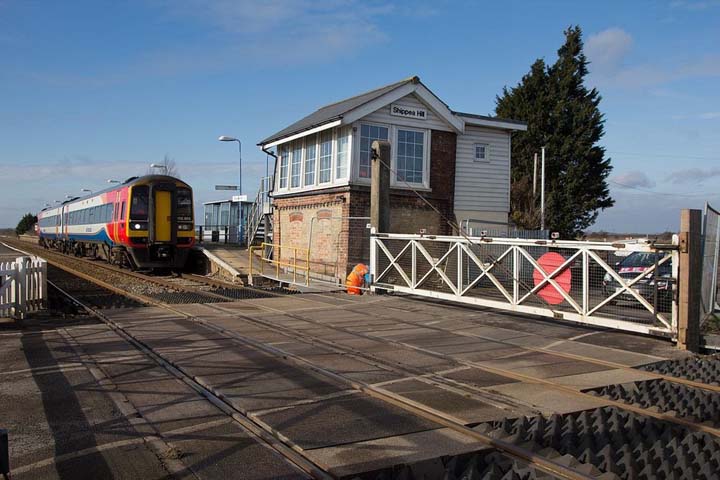 Why would they keep the trains running for so few people? History.


Quote:

With so few passengers, why do these British trains even bother to run? Because, ironically, it's cheaper
to keep the line open than to close it. Closing down a line is a long-winding bureaucratic process that
involves costly consultation, government approval and the inevitable public protest. So many train
operators keep running empty trains to avoid the costs and political fallout, and to maintain the pretense
that the service has not been withdrawn. These trains are officially known as "parliamentary trains".
The name comes from an archaic Act of Parliament passed in 1844 that required train operators to provide
inexpensive and basic railway travel for less affluent passengers. While the law no longer holds, the
pressure to keep the line operational still remains.
Often, these ghost trains run at inconvenient times like very early in the morning, or very late at night,
or in the middle of the day at the weekend, so as to have no passengers.
On a positive side, ghost trains keep the hope alive that the line may become more regular again in the
future. Once a service is closed entirely, infrastructure deteriorates and the decay becomes irreversible.
Keeping trains running, even if it's empty, helps maintain the infrastructure.

I think that's a good thing, use it or lose it.

link
---

Snakeadelic Thursday Apr 6 08:21 AM

I wish we had rail service here! I'd actually be able to travel alone to go visit my family if I could just do it by train. Unfortunately, the nearest station is over 2 hours' drive north

.

I rode the train, specifically Amtrak's Coast Starlight, between Salem and Seattle so many times during the 1990s that I could name every station stop going either northward or southward between those cities. I rode the train so many times that much later, a conductor trusted me enough to tell me the used to take bets. A little explanation is in order here...

1. I will never again ride a train and NOT have a camera.
2. The Talgo trains, which are Italian-made bullet trains, SUCK if you are either taller or shorter than average (and I'm much shorter) or have any kind of back problem (which I do). I learned that after like 2 trips and that was that, it was the Starlight or nothing, because the Coast Starlight is a "superliner" train. 2-story silver cars with the stripes (the coastal Talgos are white with maroon & dark green decoration), lower story reserved for people like me who are dangerous on the stairs (balance problems) and other challenges.
3. If you can, always take a superliner and sit on the bottom floor. It's reserved for elderly & handicapped passengers, but the Americans with Disabilities Act makes it illegal for them to demand proof. The lower floor has fewer seats that are further apart.

My usual MO used to be get on the train, wait until I was sure no one needed the seat next to mine, pull out the other seat's footrest, wad up my jacket into a pillow on the armrest under the window, curl up, and sleep. (I didn't have a camera or I'd have been awake every trip.) The next to last time I rode the Starlight , which goes from Seattle to LA and back again, was when I moved to Canada at the end of my busy decade. Since I didn't have the right documentation to cross the border by train, I hopped off in Bellingham, WA and a Canadian friend drove over and picked me up.

I rode the Starlight one time after that, and that was when a conductor who recognized me told me about the betting pool. They'd get a quick whiteboard pool together every time I got on the train, maximum bet $2, betting on which station calls would wake me up. The guy who told me about it said he won $30 on my last trip, because a hunch told him to only play Centralia/Chehalis.

And yeah, if I had the money and the Empire Builder superliner route is still active (Seattle-Chicago & back), I would TOTALLY ride the train through the Rockies with my 2 cameras and the 32-gig memory card! If there was a rail link from Missoula to the stations near the Canadian border, I'd be all over resuming rail travel!

---

ats Thursday Apr 6 08:59 AM

Picky comment: Angus is in Scotland, not England. :-)

I'm actually quite impressed that there are 30+ people who (a) live nearer Barry Links than either of the other two stations in the small town of Carnoustie, (b) want to travel to Dundee at 6AM and back at 7PM, those being the only two trains that stop at Barry Links, and (c) don't prefer to use the cheaper, more regular local bus services. The next station up the line, Golf Street, manages even more regular passengers despite having the same service pattern.

If you look at the history of passenger numbers for those two stations, you'll see they occasionally have *very* good years -- the clue is in the names, in that Barry Links and Golf Street are located for the Barry and Carnoustie golf courses, and ScotRail have used them to lay on special trains when events are on...

---

glatt Thursday Apr 6 09:14 AM

Nice decloaking ats.

I'd totally ride one of those trains if I was a tourist who happened to be in the area. Just to say I did.

---

MtnDsrt Thursday Apr 6 11:03 AM

"Kyu-shirataki station closed in March, when the only daily passenger
for the last few years graduated from High School."

I love that they kept it going till he/she graduated.

The track of a spur off of the old Atchison//Topeka/Santa Fe line runs near my home. It's on again/off again. I love it when it goes by and wish they'd run it, but it's stopped now.

---

xoxoxoBruce Thursday Apr 6 03:59 PM

The Alaska Railroad is cool, don't worry about stations, when/where you want to get off just tell them and they stop the train. Then when you want to get on, just stand by the tracks and they'll stop, pick you up and even help load your gear, weapons, and dead moose.
The exception is when you take a vehicle along you can only get on/off at certain stations. My van had a two foot square roof vent/escape hatch over the bed, so my wife would stand on the bed to take pictures from about 14 feet above the tracks where she could get a good view over the scrub brush.

---

SPUCK Saturday Apr 8 03:48 AM

Yeah Bruce those are called "whistle stops" and they're really cool. Without them many many people could not live in AK. The train is often the only way to get to people's homes. You can even call the bottled gas people and they'll load x bottles on the train and the train will stop and dump them off the side and continue.

I work on private rail cars and often snag rides on them. I know what you mean Snake about cameras. I usually only ride the ones with vestibules because I prefer standing "out on the back porch" as it connects you more with the entire event. You get the smells and sounds.

One time I took a bunch of pictures of meets and the train and it was snowing. Got home and not a single picture came out because the snow reflected the flashes and all I had was picture after picture of snow flakes on a black background.

I used to do the car 'technical contact' gig on the Hialeah that was NASA's escort car for transporting Space Shuttle Booster Segments from Orem, UT to Cape Canaveral. We'd be directly hooked to the engines followed by several flat cars for distance and a 'buffer car' there to collide with anything first before actual booster carriers did. The Hialeah would have several NASA engineers, a security guy, a car technical contact (me) and a cook.

If anything went wrong the NASA guys had a thick binder that had what to do and who to contact along every foot of track we traveled over. If something went really wrong we were to try to disconnect from the train directly behind us and flee with the engines. We never thought we'd actually be able to pull that off because the motor segments pointed up and down the train and would likely slag everything in both directions in seconds with one segment lighting off all the rest serially. Since they were just segments with no ends they likely wouldn't go anywhere as the fire would spew from both ends.

Once we reached the Cape everyone would bail out into cabs and leave me alone with just the gators and turtles at the gate into the facility. The next day they'd pick up the Hialeah and I'd be the only person on it all the way back to Los Angeles. That was kinda fun as we'd stop at lots of places like New Orleans and I could get off and wander around for hours. It was pretty cool having my own 100 foot long classy rail car with a back porch to cross the entire country on.

---

Clodfobble Saturday Apr 8 08:38 AM

How long was the whole cross-country trip, Spuck?

---

xoxoxoBruce Saturday Apr 8 10:53 AM

Damn Spuck, that's a unique experience! How many people can claim that?

---

SPUCK Monday Apr 10 03:35 AM
Hi Snake!
From Orem to the Cape about five days. It was kinda odd because the same train (ours) had to cross and operate over something like ten different company's tracks, which is not normal.

Back from the middle of the Florida panhandle to Los Angeles was about 6 days thru lots of desert.

Normally the car would travel in passenger service (Amtrak) but occasionally in freight. Freight is nerve-wracking and frankly quite dangerous as the couplings are different and the trains are long causing "slack issues". As a long freight climbs a hill the entire train draws out tight and long. As the train crests a hill and starts down the other side you can have all that slack start to comeback on you, especially with a poor engineer. Two inches of slack times 200 couplings can add up to painting a wall with you. Think 'crack-the-whip'.


Bruce; Indeed.. Not many people have done that. In fact a different company outbid us once and on their maiden trip the overweight boosters collapsed a trestle under repair and the escort car and engines when over on their sides and down a hill. That was strange and kind of the end of booster moves and the Shuttle program too.

I've been very fortunate to have had a great many rare opportunities to see and do amazing 'life-long memories' things like this.

Reminds me; two weeks ago three private rail cars were brought to a private rail yard for maintenance in Salinas, CA. (Some of the stuff I do for a living.) The cars were on the back of the Amtrak Coast Starlight that was to stop and back them up and off on a siding for us to grab. It just happened that my buddy and I got to the yard, opened the track gate and walked out to the high rail 2 minutes before the Starlight showed up, we could see it coming. So the Starlight slows to a stop in front of us and the engineer opened the hatch on the Road-Warrior looking engine hops out and comes over to us asking, "is this the place?" I look and about 300 faces are staring out the windows at us. The conductor showed up in a suit next and we all shook hands and introduced ourselves then got to business siding our cars. Anyway I thought it was pretty unique having a long Amtrak going from LA to Seattle essentially stopping for us.

---

Undertoad Monday Apr 10 07:44 AM

So, how much money does it take for an Amtrak flunky to decide this passenger service can be an hour and a half late for some private operation?

---

xoxoxoBruce Monday Apr 10 08:20 AM

My buddy's wife in Texas tracks railroad cars, tells the owners where they are and who's using them so they can collect the rent. She makes a nice living from her bedroom.

---

Clodfobble Monday Apr 10 06:12 PM

It is the year 2042. So many people now work from home, a movement has started to deliberately reconnect ourselves in "neighborhood offices." For a small fee, subsidized or paid entirely by the homeowner's association dues, you can get a desk at an office building within a few blocks of your house, next to all your neighbors doing their own thing. Offices share a communal phone rep, cafeteria, Christmas parties, and corporate team-building exercises that everyone still hates but somehow we do them anyway. People choose where to buy a house with at least as much of an eye toward the neighborhood office as the neighborhood school. The most progressive areas have begun combining the two spaces, with some even mixing in the neighborhood nursing home.

2067: Undiluted tribalism has been embraced once again. Skirmishes have broken out between rival neighborhood offices. Dirk the Accountant has proven a shrewd tactics commander, while Shelly the writer and Betsy the railroad-car-tracker have teamed up to sabotage their opponents' water supply. It is a grim age.

---

SPUCK Monday Apr 10 09:49 PM

LOL Clod; Looks like time for you to pen a SciFi novel.




Quote:

Originally Posted by

Undertoad

So, how much money does it take for an Amtrak flunky to decide this passenger service can be an hour and a half late for some private operation?

You have noooo idea. It actually costs nothing but this particular operation took almost 2 years of wrangling and worked thru both the Union Pacific chief consul and up to the president of Amtrak to get into effect. It was derailed by a Sacto Amtrak flunky who should be out on his ear but likely will continue giving Amtrak a bad name.

In Amtrak's defense I will say the crew that showed up was extremely professional to a military level that left me memorably impressed. I'd seen nothing like it in years.


A joke:
An engineer calls into rail control operations for a time check to synchronize his clock. The operations person sez, "what rail organization please?"

The engineer starts to answer but then asks, "what does that matter?!"

Operations responds, "We format our answer accordingly."

"Like how", the engineer asks.

"Well, if you work for the Burlington Northern it's 2 pm; if you work for the Union Pacific it is 1400; if you work for the Norfolk Southern the big hand is on the 12 and the little hand is on the 2; and if you work for Amtrak it's Tuesday!"

---

xoxoxoBruce Tuesday Apr 11 12:07 AM

Boom-tish!

---
Your reply here?

The Cellar Image of the Day is just a section of a larger web community: a bunch of interesting folks talking about everything. Add your two cents to IotD by joining the Cellar.