xoxoxoBruce Saturday Apr 1 10:30 PM

Apr 2nd, 2017: Thermokarst Lakes

In the great white north of Siberia, Russian scientists noticed in satellite images a couple of hundred new lakes have developed.
They are easy to spot because unlike the other lakes these are a pretty turquoise blue… and bubbling.

These six pictures are of one of those lakes between 2013 and 2016, photographed by the Landsat-8(US) and Sentinel-2(EU)
satellites. Yes your tax dollars and European tax dollars are helping the commies. Wait till Trump hears about this.
Oh wait, Russia's our friend.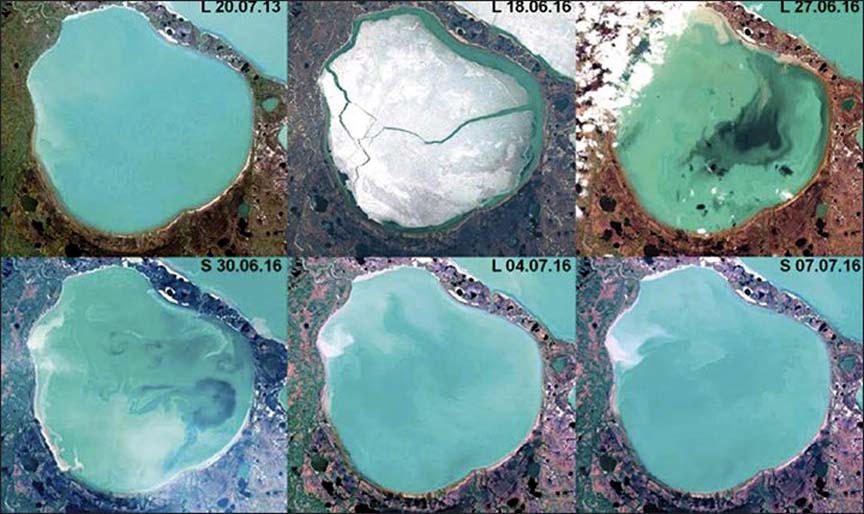 Quote:

The lakes are a type of thermokarst lake, which form when thawing permafrost causes the surface to collapse and fill in with
meltwater. But unlike normal, dark thermokarst lakes, these ones are bright blue and bubbling, because of methane that's
leaking into them before escaping into the atmosphere.

One study estimated that by 2100, up to 205 billion tonnes of carbon emissions will be released by permafrost if climate
change continues to intensify, as Sarah Emerson reports for Motherboard. The discovery of the lakes comes the same week as
researchers announced that they're closely monitoring around 7,000 gas bubbles or 'pingos', which have formed in Siberia and
are at risk of exploding to form huge craters.
Previous research had suggested that a global temperature rise of 1.5°C (2.7°F) would be enough to start the melting of
Siberia's permafrost, and scientists are concerned that these lakes and pingos are a sign it's already happening.

I think that should be "announcement" rather than "discovery" of the lakes.

♫ There was a Russian with a bubble,
--and Pingo was his name-o.♪
♫ P-I-N-G-O
--P-I-N-G-O
--P-I-N-G-O♪
♫ And Pingo may go Blammo.♪

link

---

Snakeadelic Sunday Apr 2 08:20 AM

Here's one that went Blammo:

https://wryheat.files.wordpress.com/...ngo-crater.jpg

And here's a huge one in northern Canada that hadn't exploded yet:

http://tinyurl.com/nxhposq

And one that blew out a chunk of a road:

http://tinyurl.com/ltl4p56

Silly-ish name, scary phenomenon. Some of these things get several stories high before they blow. The scariest part is that the EPA is currently repealing all kinds of "behave responsibly" regulations for the oil industry, and one of the places that's had a bullseye on it in oil-company eyes for decades is Alaska, where you bet these things are forming up as well. Only a matter of time before a rig hits one or one pops up unexpectedly under a pipeline. Which, if the info I remember isn't hopelessly outdated, would probably be in or running through Denali National Park.

---

xoxoxoBruce Sunday Apr 2 02:30 PM

The current pipeline is nowhere near Denali Park, but that doesn't protect either one from this shit.

---

glatt Monday Apr 3 12:28 PM

Is this a tipping point?

I understand that methane is a much more powerful climate change agent than carbon dioxide is. If the world is warming up enough to start releasing this trapped methane, is there enough of it to get into a run away feedback loop kind of thing where the climate changes dramatically as the methane is released?

---

xoxoxoBruce Monday Apr 3 03:09 PM

Methane is 30 time worse than CO2. We see the methane that comes up through the water but not what comes straight out of the ground. An estimated 205 Billion tonnes(226 Billion tons) from just the permafrost, not to mention the warming ocean has a shitload of Methane clathrate it may give up.
I'd guess the tipping point is nigh.

---

Clodfobble Monday Apr 3 07:57 PM

So when Texas becomes an unlivable desert, which one of you Northerners wants to take us in?

---

xoxoxoBruce Monday Apr 3 08:01 PM

Foots live up next to the Great White North.

---

Clodfobble Monday Apr 3 08:07 PM

As far as I'm concerned, anywhere that drops below freezing for more than a day at a time is the Great White North.

---

BigV Monday Apr 3 08:59 PM

Clanfobble is welcome here.

---

xoxoxoBruce Monday Apr 3 10:18 PM

If it comes to pass, no place in the US should drop below 32 degrees for more than a night, except for Alaska, and they're always looking for a purty mouth.

---

xoxoxoBruce Monday Apr 3 10:46 PM

Apr 4th, 2017: Empire State Quarry

Quote:

Some of the finest limestone in the United States - and possibly the world - can be found in the hills around the southern towns of Bloomington and Bedford, and in the previous century stonecutters turned extracting it into a science, and shaping it into an art.
The stone was in such demand that a massive industry cropped up around it, and hundreds of thousands of tons of mammoth stone slabs were carved out of the ground and shipped around the country. A shocking number of iconic American structures are made out of Indiana limestone, including the Empire State Building, the Washington National Cathedral, the Pentagon, and 35 of the 50 current state capitol buildings.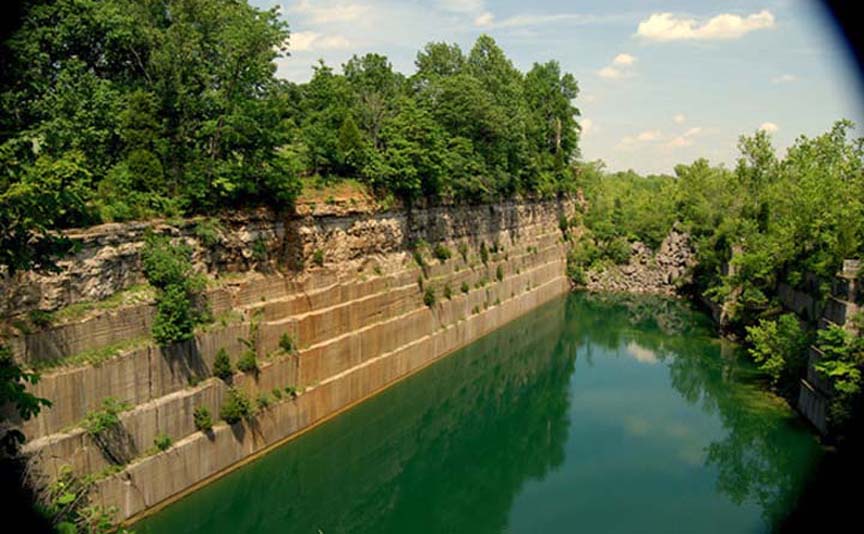 Quote:
Unfortunately, in the second half of the 20th century, stone masonry fell out of favor as preferences shifted to glass-and-metal skyscrapers that were cheaper to build and maintain. This dissolution of the limestone industry left many southern Indiana towns impoverished, as they are to this day. Their plight was fictionalized in the 1979 Dennis Quaid film "Breaking Away." Now all that remains of many of the limestone quarries are massive, eerie rectangles etched out of the earth and speckling the otherwise pastoral countryside.




Quote:

The most famous of these quarries is the Empire Quarry, which provided the 18,630 tons of stone needed to construct the Empire State Building. The quarry is so long and so deep, one can imagine the entire Empire State Building lying within it, refilling the 207,000 cubic feet of empty space now left vacant.

It's a shame how technology has left some communities and resources behind. But that's what they call progress.

---

Gravdigr Monday Apr 3 11:23 PM

I think someone has stolen our Bruce and replaced him with exact (well, almost

) replica!

---

SPUCK Tuesday Apr 4 12:53 AM

Um I think Methane is 82 times worse than CO2. (Not 30X)

Quick we need to tap into these things and burn the methane in our stoves and heaters!! Then we only spew CO2.

---

Clodfobble Tuesday Apr 4 07:54 AM

Quote:

Originally Posted by xoxoxoBruce

Apr 4th, 2017: Empire State Quarry

You got some threads mixed up there, my friend.



Quote:

Originally Posted by xoxoxBruce

Now all that remains of many of the limestone quarries are massive, eerie rectangles etched out of the earth and speckling the otherwise pastoral countryside.

And someday far in the future, archaeologists will marvel at how we ever could have made such precise cuts in the rock, and presume that the steps must have had some religious significance...

---

xoxoxoBruce Tuesday Apr 4 10:14 AM

Yeah, I was pretty drunk. I realized it was in the wrong place and had intended to correct it then come back here and clean it up, but when I woke up this morning and everything was on, even my printer, I had a bad feeling about this. Oh well, that's why we have mods, to clean up after us.

---

xoxoxoBruce Tuesday Apr 4 10:19 AMthis site

---
Your reply here?

The Cellar Image of the Day is just a section of a larger web community: a bunch of interesting folks talking about everything. Add your two cents to IotD by joining the Cellar.