xoxoxoBruce Tuesday Mar 28 11:59 PM

Mar 29th, 2017: Spinning Fire

I think this is a great picture, if you disagree, go to the next thread while you wait for a Cellar intern to come and chastise you.
Remember these are unpaid interns, and UT drives them really hard, so please tip well.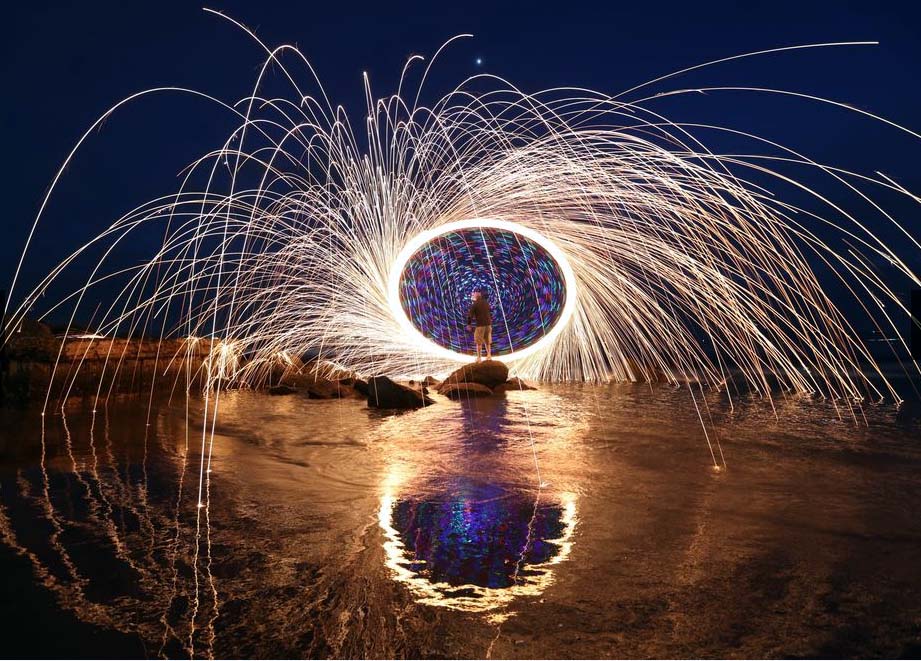 It's not a complicated shot, a three second exposure of pro photographer Chris Mathew Brady(I don't know) spinning a rig he made of
glow sticks with burning steel wool at the ends. He took a bunch of shots at different locations with this rig, and I stole chose this one.
You can see them all and a ton of great photography at this link. Check him out.

---

glatt Wednesday Mar 29 08:45 AM

Burning steel wool. Awesome.

---

Snakeadelic Wednesday Mar 29 09:10 AM

Igniting the steel wool has to be half the fun! I used to work for a steelsmith (weapons, mostly, but armor and occasionally non-edged-weapon type tools) and while we did a LOT of stupid shop stuff, steel was one of the things we never managed to set on fire.

GALVANIZED steel is a different matter. Bits and bobs were always ending up in the burn barrel, a metal trash can, and we could always tell because when the burn got hot enough the zinc would start sparking off the surface in showers of white like fireworks. I still have some of the melted aluminum, spiked with bits of steel wire & broken glass, that ran out the bottom of the can on occasion.

The boss was kind of a problem though. He always picked a good site & day--clear ground, no students hanging around to get in the way, preferably still drizzling after a big rain. Our neighbors weren't so kind...you never forget having to stay up all night in shifts, for 2 nights, because the (unladylike word here) on the next 5-acre plot over decided to BURN an 80-foot-tall dead tree in situ. But the boss had a different problem. He'd sweep out his quarters and dump everything in the burn barrel, but not every time, and he was really bad about telling anyone he'd done so.

The burn barrel tried to shoot the gardener. Twice.

We had this one dude, sucked with people & horses but great with dogs & gardens, and he often took over burn-watching duty because we were at least smart enough to know that an active burn should never go unsupervised on a place where kids and dogs roamed free--horses too but only if they busted the fence again. The boss's room tended to be littered with loose change and ammo, and I was witness to one of the ammo incidents when it all started going off in the barrel, leaving actual bullet holes in the sides that were later plugged by melted aluminum.

But steel wool? I know it's gotta be treated cuz of the blue suds that foam up when my neighbor uses it (I don't because I have thin skin and a strong aversion to spending 2 days picking steel shards out of it) but I'd have no idea what temps were required to BURN it.

---

glatt Wednesday Mar 29 09:21 AM

Steel wool burns easily.

---

HitTheLake Wednesday Mar 29 11:49 AM

No kidding. I did it by accident once. Stupid human trick. I twisted some into strands and attached them to an old 3" polishing/buffing wheel by going center to center and around the outside of the buffing wheel. I was attempting to polish some cast iron (as much as I could, and the answer to why is "it's a long story"). Anyways... After working it for a few minutes with a drill (even with light pressure to keep the steel wool from tearing) it started lighting up from the friction.

---

xoxoxoBruce Wednesday Mar 29 11:52 AM

Yes, just take a bit of steel wool and put it across the terminals on a 9 volt battery.
Oh, and wear wery wery heavy gloves.

---
Your reply here?

The Cellar Image of the Day is just a section of a larger web community: a bunch of interesting folks talking about everything. Add your two cents to IotD by joining the Cellar.