xoxoxoBruce Monday Mar 27 11:21 PM

Mar 28th, 2017: America: Itís Folklore

Quote:

During World War II, the painter, illustrator, and cartoonist William Gropper offered his services to the U.S. Treasury Department and the White House's Office of War Information. He received a "Citation in recognition of fine assistance" from the Treasury Department and personal thanks from Franklin Delano Roosevelt, for "giving pictorial form to specific war information objectives" through propaganda posters and paintings.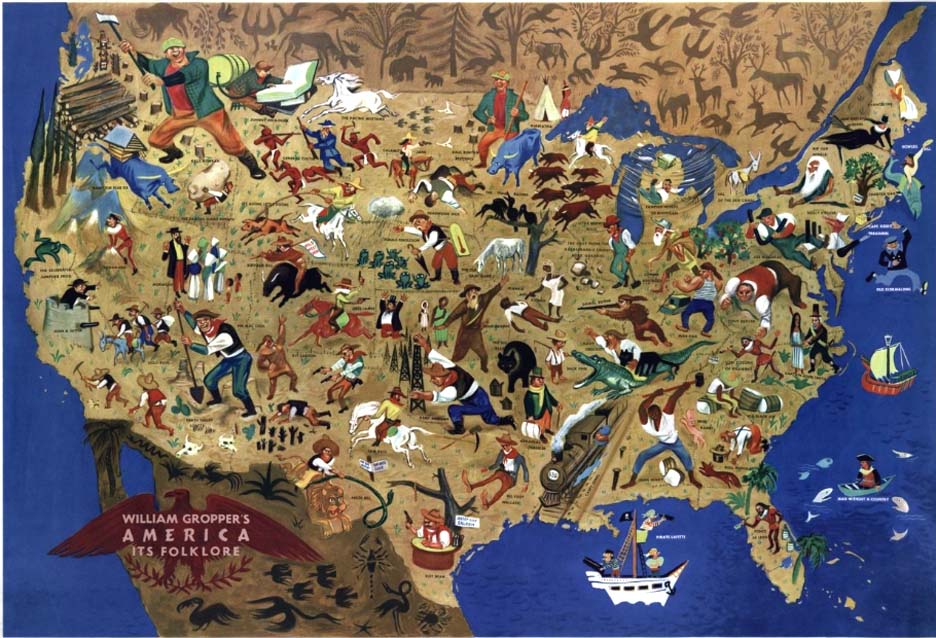 In 1945 Gropper painted, "America: It's Folklore", and between 1946 and 1953, the State Department's Overseas Library Program collected and distributed some 1,744 copies to disseminate "facts and solidly documented explanations of the United States."
The 34-by-23-inch pictorial map was published by Associated American Artists, and sold by mail for $5, in the NY Times, Life, and other popular publications.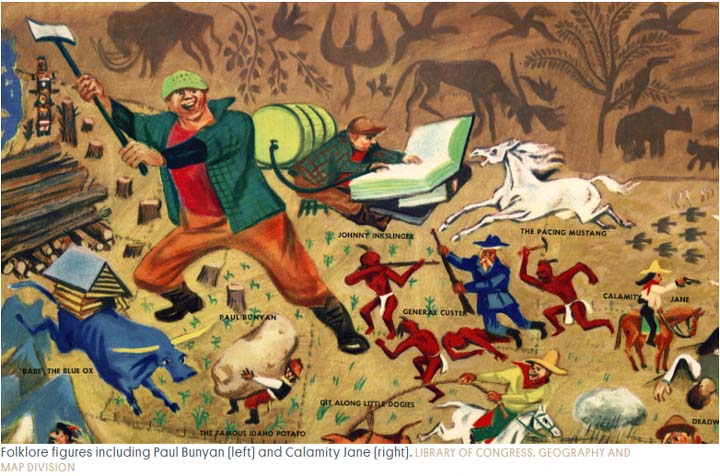 The State Dept loved it.
Teachers loved it.
Librarians loved it.
The people loved it.
Joe McCarthy didn't love it.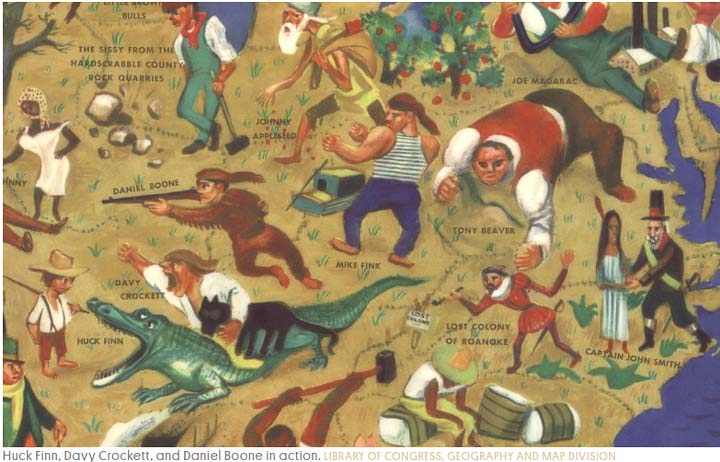 Quote:
Gropper was subpoenaed to appear before the Senate Permanent Subcommittee on Investigations

Chief counsel Cohn asking, "Are you a member of the Communist Party?" As far as Cohn and McCarthy were concerned,
they already knew the answer. But after the artist invoked the Fifth Amendment, refusing to answer so as not to bear
witness against himself, Cohn pressed:
Mr. Cohn: Are you the William Gropper who has prepared various maps?
Mr. Gropper: I don't understand that question. Prepared various maps?
Mr. Cohn: Did you prepare a map entitled "America, Its Folklore"?
Mr. Gropper: Have you got the map here?
Mr. Cohn: No; I don't have the map here. Did you prepare a map entitled "America, Its Folklore"?
Mr. Gropper: I painted a map on American folklore, yes.
Gropper explained that he had received an advance from Associated American Artists, but that "no royalties came in."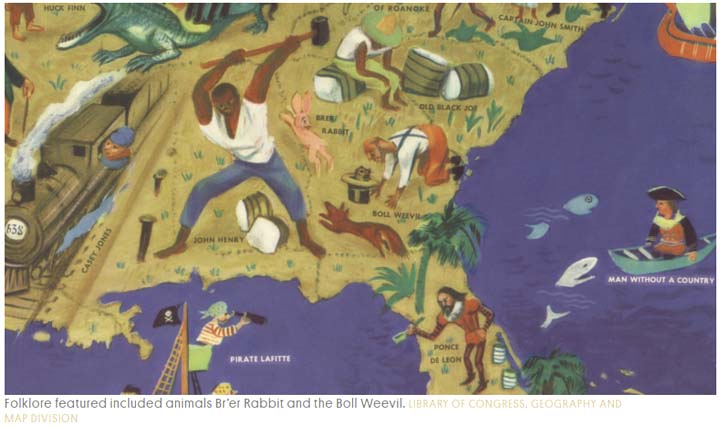 Gropper earned the dubious distinction of being among the first blacklisted artists in McCarthy-era America.
Joe McCarthy was a bad man, a very very bad man, a prototype for many later scumbag politicians.

link
---

Griff Tuesday Mar 28 07:16 AM

A straight up asshole whose tune is being sung today.

Cool map Mr Gropper.

---

glatt Tuesday Mar 28 08:53 AM

It's a fun map.

Growing up in Maine, I was taught that Paul Bunyan lived in the Maine woods. A French Canadian dude chopping trees in our north woods. I've since seen that states further west also claim him, but I certainly don't associate him with Idaho.

And John Henry raced the steam drill in West Virginia.

But I suppose the artist wasn't a folklore historian and didn't have the internet to fact check shit.

---

Snakeadelic Tuesday Mar 28 09:20 AM

It's a glorious map! I also grew up with Paul Bunyan stories, but where I spent my early childhood was the Willamette Valley in northwestern Oregon. Our Bunyan tales were set in the Coast Range and Cascades and even some in BC's boreal forests. I think he's one of those folklore icons (along with Babe, who skidded trees for him in place of a draft horse) whose area of origin is often tailored to where the story's told.

And the whole point of folklore is the tales aren't history, but they're there to teach a lesson or reveal a theme. I think if you asked 10 people who grew up in different places but all loved Johnny Appleseed stories, they'd all give his home town as somewhere in the state where they grew up. Locations and even names can be changed but the lessons remain

.

---

Snakeadelic Tuesday Mar 28 09:26 AM

I've even read the story of the Pacing Mustang, a visually white wild horse that used the lateral gait still found in harness racing horses (pace) rather than the vastly more typical diagonal gait (trot). He was regarded as a menace because he had a habit of breaking into government-run 'remount stations' where cavalry horses were bred for the Army and stealing all the best mares for his harem. I believe the story I remember best was by Earnest Thompson Seaton (spelling may be off), who wrote many stories of adventure, some based on the actions of real people. Dunno about the Pacer as far as real, though I've read that eyewitness accounts from the time claim he was real. The story I remember ended with the horse having to be "creased"--stunned by a shallow gunshot grazing the neck in the right place to knock it out without breaking bones--and refusing to eat or drink once he was confined.

Same author also wrote about real folks like Jim Corbett, one of the foremost explorers and big-game hunters of his day. Killed the Champawat tigress who had eaten something like 300 people, and was one of the first white men ever to find evidence of the existence of snow leopards.

---

xoxoxoBruce Tuesday Mar 28 12:32 PM

Quote:

There is another tradition that John Henry's famous race took place not in West Virginia, but rather near Leeds, Alabama. Professor Johnson in the late 1920s received letters saying that John Henry worked on the A.G.S. Railway's Cruzee or Curzey Mountain Tunnel in 1882, and a third letter saying it was at Oak Mountain in 1887, but he discounted these reports after the A.G.S. told him that the railway had no such tunnel.[3] Retired chemistry professor and folklorist John Garst, of the University of Georgia, has argued that the contest happened at the Coosa Mountain Tunnel or the Oak Mountain Tunnel of the Columbus and Western Railway (now part of Norfolk Southern Railway) near Leeds on September 20, 1887.[9]

Based on documentation that corresponds with the account of C. C. Spencer, who claimed in the 1920s to have witnessed the contest, Garst speculates that John Henry may have been a man named Henry who was born a slave to P.A.L. Dabney, the father of the chief engineer of that railroad, in 1850.[9] Since 2007, the city of Leeds has honored John Henry's legend during an annual September festival, held on the third weekend in September, called the Leeds Downtown Folk Festival & John Henry Celebration.[10]

Garst and Nelson have debated the merits of their divergent research conclusions.[11] Other claims have been made over the years that place Henry and his contest in Kentucky or Jamaica.[12]

Folklore, not factlore.

---

glatt Tuesday Mar 28 12:55 PM

Sure. Of course.


It's just that by putting it on a map, you are taking a casual oral tradition and claiming that it happened in a certain place. You are turning it into factlore. There is a responsibility to get the facts right.

Although your link touches on this issue and basically says it misses the point.



Quote:

But to quibble with the American scene that Gropper depicted would be scholarly inside-baseball indeed. What matters is that overnight—thanks to what he would later describe as the "American Inquisition"—his work became the most notorious pictorial map in history.



---

xoxoxoBruce Tuesday Mar 28 01:20 PM

That's why teachers and librarians loved it, the map stimulated imagination and inquisitiveness in children of all ages. McCarthy, setting the stage for Gingrich and Limbaugh, twisted the facts for personal gain.

---

Diaphone Jim Tuesday Mar 28 01:26 PM

Everybody knows Paul Bunyan worked the redwoods in Mendocino County, hence his "Days" annually in Fort Bragg as well as various sculptures of him and Babe in the area. I always liked the image of greasing the pancake griddle by skating with sides of bacon.
I think I need to do some reading about others on the map, having to admit some are new to me.
Cohn and McCarthy were assholes large enough to appear on some kind of epic map themselves.

BTW, it should be "America, Its Folklore," not "...It's..."

---

xoxoxoBruce Tuesday Mar 28 01:39 PM

You're right, my bad.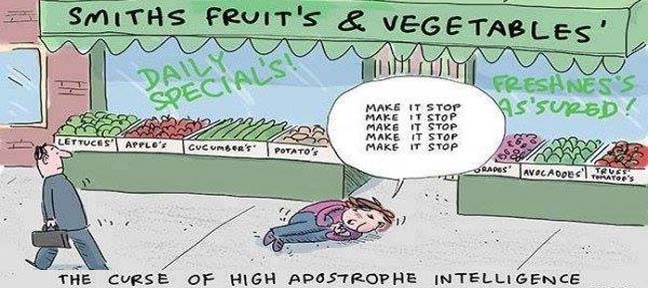 ---

Diaphone Jim Wednesday Mar 29 03:59 PM

This could take a while.
Found a little bit on Joe Magarac, a shanty song about the Little Brown Bulls but nada on the Sissy from Hardscrabble County.
Anyone else with successes or failures?

---

xoxoxoBruce Wednesday Mar 29 04:28 PM
---

xoxoxoBruce Wednesday Mar 29 04:33 PM

Quote:

Tony Beaver is a character in several tall tales, often in tandem with stories of Paul Bunyan. Beaver was a West Virginian woodsman located up Eel River, often described as a cousin of Paul Bunyan, and champion griddle skater of the southern United States. The stories appeared in print in the early 20th century and were later compiled by Mary E. Cober.



---

Diaphone Jim Wednesday Mar 29 05:43 PM

I found both of those.
There is not much about the sissy, except that the toughest of the miners got kicked out for being one.

---

xoxoxoBruce Wednesday Mar 29 09:31 PM

What more do you need? That's the Sissy legend told in several locations.
Like most folklore stories, they were an oral tradition, there was a beginning (name), middle (lesson), and end (result of lesson). Every time it was retold everything in between was ad libbed, embellished, and adjusted for the location.

---

Happy Monkey Thursday Mar 30 12:03 PM

Was there anything about the map that McCarthy didn't like which led him to accuse Gropper, or did he have other issues with Gropper, and was annoyed at seeing his map everywhere?

---

Diaphone Jim Thursday Mar 30 12:16 PM

"What more do you need?"
Page 232.

This is what I missed on my first searches:
http://www.vox.com/2015/3/20/8265497...n-folklore-map

---

xoxoxoBruce Thursday Mar 30 05:47 PM

Quote:

Originally Posted by

Happy Monkey

Was there anything about the map that McCarthy didn't like which led him to accuse Gropper, or did he have other issues with Gropper, and was annoyed at seeing his map everywhere?

As far as I can tell they were just using the map as a lead in.
You made the map - you got money for it - you gave the money to commies - why do you hate America?



---

Diaphone Jim Thursday Mar 30 07:58 PM

Nope, only looking for the page that is missing from your "Sissy" link above.
I think it probably contains a significant part of the "lone wolf's" story.
You insult me sometimes, Bruce.

---

xoxoxoBruce Thursday Mar 30 09:39 PM

You shouldn't be insulted, ever, by me. I never intentionally do that except in response to the same.


I do however say what I think, which I suppose insults some people.



The deal between Google books and the publishers is they leave out chunks of the book. That was people can read enough to perk their interest, verify it's what they're looking for, but not enough to not buy the book. I'm pretty sure you know that, but I'm not interested enough to spend $20 for the book, and not interested enough to pursue it passed the premise.

The main reason for pursuing it are in my last post about being lies and anything in writing is just a snippet in the legends history which I find frustrating, YMMV

---

Diaphone Jim Friday Mar 31 06:56 PM

Most tales and legends have a theme.
I guess the theme around the hardscrabble quarrymen is that they are so outrageously bad that the meanest, jaguar riding, rattlesnake whipping, bar chomping, canned good whole eating, eight foot guy you ever met is too soft to hang with them.
It seems that the legend comes mostly from one source.
I wonder if it is more widely known in Indiana (Mike Pence country)?
There were few stories on the map that I didn't have some familiarity with and even fewer I'd never heard of.
This one got me.

---

Diaphone Jim Monday Apr 3 12:57 PM

Here is a little bit that may be on the elusive Page 232, from "The Tennessean" Nashville, January 30, 1949.
I still wonder if this tale was not nearly as wide spread as the others on the map.

"He made for a shoe store and bought some brogans and then the hardware store to get a mess of tough roofing nails. He hammered the nails right through the soles of the shoes before putting them back on. "That's the way 1 like it," he explained, "it gives you a good grip and all you got to do when your foot itches is to wriggle it around a bit." His next errand was to the barber shop to get prettied up, but of course the barber had to go borrow the tinsmith's shears to cut his hair and the plumber's blowtorch to give him a shave. Then the saloon. The bartender knew enough to get down his strongest brand of fortyrod. Some of it sloshed over on the bar and ate through the varnish, but it failed to please our tough friend. "None of that bellywash for me. I'd as soon have a pinky, sticky ice cream soda with a cherry on it Gimme a prussic acid cocktail with a little sulphuric for a chaser." After tossing off a few the visitor got in a better humor and began amusing himself by spitting on the floor and burning holes right through to the ground underneath."

---

xoxoxoBruce Monday Apr 3 02:52 PM

No wonder they called him a sissy.

---

Diaphone Jim Wednesday Apr 5 07:26 PM

There are tough little bugs called Tardigrades (aka water bears and moss piglets), about the size of the printed dot on an I.
They can survive temperatures of near absolute zero and hundreds of degrees Fahrenheit. They can live at pressures greater than at the Marianas trench and on the highest mountains. They can go for years without food or water. Astronauts took some to the ISS and let them outside; they were fine after an extended stay in the cold, heat, vacuum and radiation.

I've heard that the Hardscrabble County Quarrymen keep tardigrades the size of St. Bernards for pets.

---

xoxoxoBruce Wednesday Apr 5 07:43 PM

That's a badass pet, ugly, tough, practically indestructible. I sure hope they're loyal.

---

SPUCK Monday Apr 10 02:49 AM

Think of the mess they leave... Must be like epoxy.

---

xoxoxoBruce Friday Apr 21 04:37 PM

Quote:

Originally Posted by

Diaphone Jim

Nope, only looking for the page that is missing from your "Sissy" link above.
I think it probably contains a significant part of the "lone wolf's" story.
You insult me sometimes, Bruce.

Jim I discovered why you can't find the elusive page 232, it's the US Department of Justice. It's a long but interesting read about Google, Authors Guild, and American Association of Publishers, worked out a win win win deal but the DOJ killed saying it was beyond the acceptable grounds of a class action suit. Damn shame.

---
Your reply here?

The Cellar Image of the Day is just a section of a larger web community: a bunch of interesting folks talking about everything. Add your two cents to IotD by joining the Cellar.