xoxoxoBruce Sunday Mar 19 10:58 PM

Mar 20th, 2017: Hellé Nice

Hellé Nice was a talented, bold, and beautiful race car driver, a true pioneer of the sport in her day.

She went to Paris at age 16, where she found work in some of the city's music halls. She became a very successful dancer under
the stage name Helene Nice which eventually became Hellé Nice. She built a solid reputation as a solo act but in 1926 decided to
partner with Robert Lisset and performed at cabarets around Europe. Her income from dancing as well as modeling became such
that she could afford to purchase a home and her own yacht. She was an avid downhill skier but an accident on the slopes
damaged her knee and ended her dancing career.





Being a fan of fast cars and motorcycles, she decided to try her hand at professional auto racing. In 1929, driving an Omega-Six,
she won an all-female Grand Prix race at Autodrome de Montlhery while setting a new world land speed record for women.

Ettore Bugatti thought Nice would be an ideal person to add to the male drivers of his line of racing cars. She achieved her goal
joining the Bugatti Team in 1931 and drove a Bugatti Type 35C in five major Grands Prix in France. She owned and raced a
Bugatti type 35 in the early 1930s, competing at prestigious international circuits like Le Mans, Reims and Monza. A fatal 1936
crash in Brazil put her off the team. For the next two years, she competed in rally racing while hoping to rejoin the Bugatti team.
But Hitler put an end to that.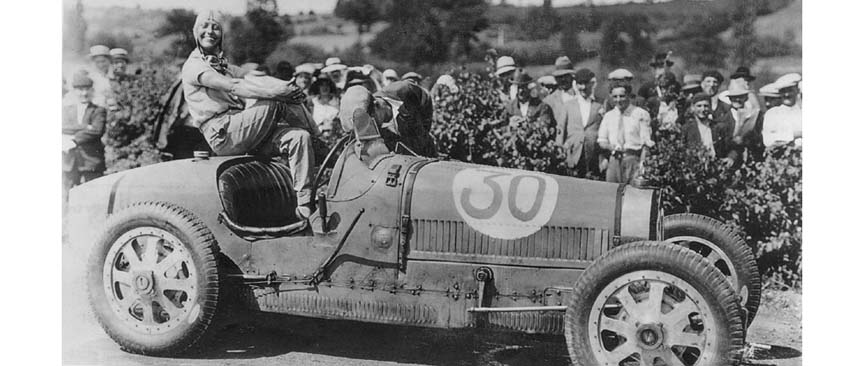 1949 was the first Monte Carlo Rally after the war and Nice was there to take part. At a large party organized to celebrate the
return to racing, Louis Chiron, a multiple Grand Prix champion and Monaco's favorite son, loudly accused her of being a spy
for the Gestapo. He, had been racing for the Nazi propaganda Mercedes Benz team. This was complete bullshit but it destroyed
her career. Why would he do that? Most likely he saw her talent and popularity as an obvious threat to his career.

She died in 1984, impoverished and largely forgotten after her boyfriend of 15 years took her money and ran. In the end, she
was to be found living alone in a small apartment in a run-down part of Nice, provided rent-free, by a sympathetic landlord.
Her only income were handouts from a charity organization called "La Roue Tourne", which helped former theatricals.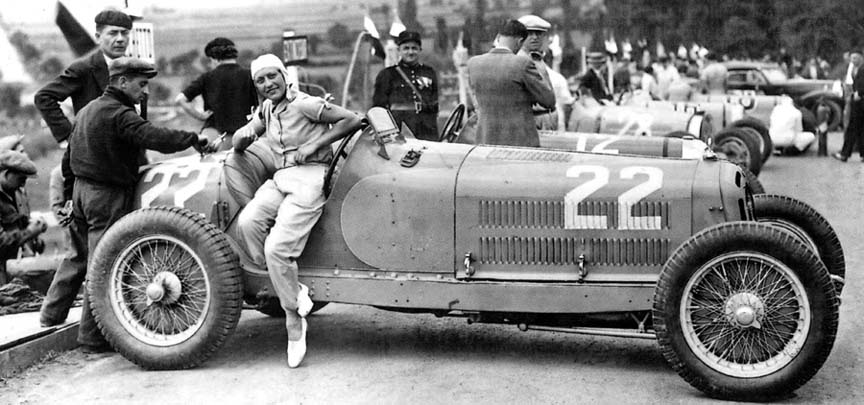 The Hellé Nice Foundation, Inc. A registered non profit in Georgia, and Federal 501(c) 3 status is being approved.
"The goals for the Hellé Nice Foundation is to educate the public about the history of women in motorsports, and as the
foundation grows financially, to be able to sponsor young women with an interest in pursuing a career that may not have all the
money they need."

Sheryl A. Greene, Founder, The Hellé Nice Foundation, Inc.
320 Knox Bridge Trail, Canton, GA 30114
hellenicefoundation@gmail.com
404-429-9600

About Ms Nice
https://www.youtube.com/watch?v=OU1B2YasIEM

---

Griff Monday Mar 20 07:22 AM

Hella Nice.

---

captainhook455 Monday Mar 20 08:12 AM

Good looking woman.

tarheel

---

Snakeadelic Monday Mar 20 08:34 AM

That center pic in the top group...

I've seen my mom look at people exactly like that. Those people did not enjoy the conversations that followed. She looks decidedly like the kind of woman who would listen to the "women can't do stuff" babble, nod, and then go do stuff.

---

xoxoxoBruce Monday Mar 20 09:28 AM

---

captainhook455 Monday Mar 20 11:49 AM

Quote:

Originally Posted by

xoxoxoBruce

Yes she was, there are nude pictures of her online, after all it was Paris in the '20s and quite acceptable.

We Americans are so backwards when it comes to our bodies. I don't believe I have met my quota of nude women yet even though I am married. Maybe the old lady will kick the bucket before I do and then I can continue my journey.



tarheel

---

Januar Monday Mar 20 12:46 PM

She was a nice legend. Nice story to read.

---

BigV Monday Mar 20 03:03 PM

When I read this story, the tune in my head was Anything you can do, *I* can do better..I can do anything better than you....

---
Your reply here?

The Cellar Image of the Day is just a section of a larger web community: a bunch of interesting folks talking about everything. Add your two cents to IotD by joining the Cellar.