xoxoxoBruce Saturday Mar 11 10:54 PM

Mar 11th, 2017: Das Boot

There was an old woman who lived in a shoe, if you move down to Texas you can too.
Yeah I know, it's not a shoe it's a boot. With a shoe you have to contend with laces,
but a Texas boot you have to check for snakes in the morning, so I call it a draw.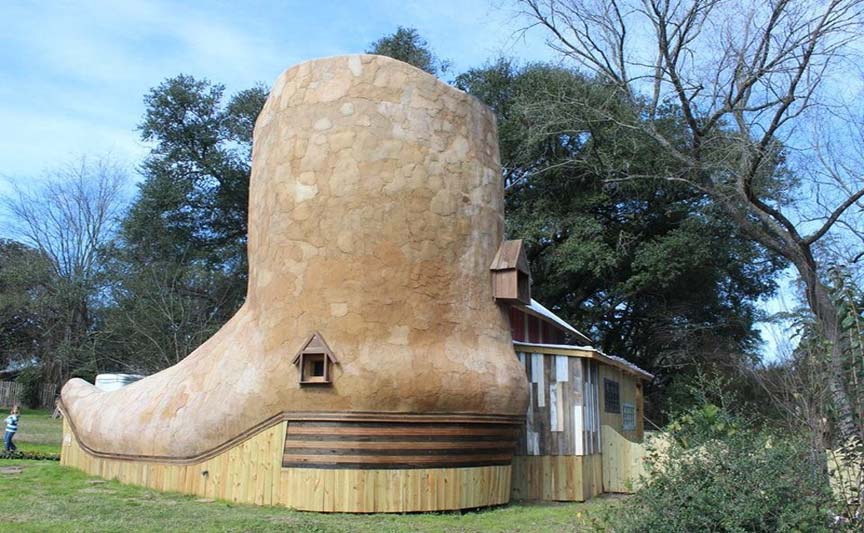 Of course living here you'd have to close the curtains unless you're an exhibitionist, it's going to draw tourists and gawkers.
The boot is in Huntsville Texas and it's a two-bedroom, one-bath, with granite floors, and a spiral staircase to a roof deck.
The company that built it focuses on recycled and salvaged materials, so I wonder if it smells like feet?
I hope not for $1200 a month.

link

---

footfootfoot Saturday Mar 11 11:19 PM

Everything's bigger in Texas.

---

Snakeadelic Sunday Mar 12 09:13 AM

"You're getting the boot."
"But I just got here! How did I get in trouble already?"
"Not THAT kind of boot. Here, lemme show you the guest room..."

---

Snakeadelic Sunday Mar 12 09:17 AM

There are buildings shaped like everyday items hidden all over the place. Tacoma has the Java Jive, a coffeeshop and bar in a building that's shaped like a giant teapot on the coffeeshop side, or at least it did when I lived there. In one of the small Idaho Panhandle towns, there's a realty office in a similar building to the Java Jive, except its "novelty" half is an old-fashioned miner's helmet & light (which, thank goodness, doesn't light up because it's like 8 feet wide and aimed right at I-90).

Someone interested in novelty buildings should start a thread about them. Those are the only other 2 I've seen with my own eyes.

---

xoxoxoBruce Sunday Mar 12 12:37 PM
---

MtnDsrt Sunday Mar 12 12:58 PM

Just Googled images of "odd houses". The results seem to go on forever. Some are pretty funny!

http://tinyurl.com/jbqyk5t

---

xoxoxoBruce Sunday Mar 12 02:20 PM

The upside down houses seems to be a recent fad in the last decade or so, but shoes, barrels, logs, and teapots have been around forever.

---

Happy Monkey Monday Mar 13 02:39 PM

The upcoming TV show "American Gods" is based on a book inspired by roadside attractions.

---

monster Monday Mar 13 06:57 PM

In a doubly-radical alternative kind of move, my house is built in a house shape.

---
Your reply here?

The Cellar Image of the Day is just a section of a larger web community: a bunch of interesting folks talking about everything. Add your two cents to IotD by joining the Cellar.