xoxoxoBruce Saturday Mar 11 12:27 AM

Mar 11th, 2017: Mima Mounds

No Mima is not an exotic dancer, this is a request from blueboy56 to see Mima Mounds.
It's like a field full of boobies so we know where he's at.



Wiki says...

Quote:
Mima mounds are low, flattened, circular to oval, domelike, natural mounds that are composed of loose, unstratified, often gravelly sediment that is an over thickened A Horizon. These mounds range in diameter from 3 to more than 50 m; in height 30 cm to greater than 2 m; and in density from several to greater than 50 mounds per hectare, at times forming conspicuous natural patterns. Mima mounds can be seen at the Mima Mounds Natural Area Preserve in Washington State.
Theories for the origin of Mima mounds include burrowing by pocket gophers; accumulation of wind-blown (aeolian) sediments around vegetation to form coppice dunes or nebkhas; seismic ground shaking by major earthquakes, though none have been observed to form Mima mounds; and shrinking and swelling of clays in hog-wallow or gilgai landforms.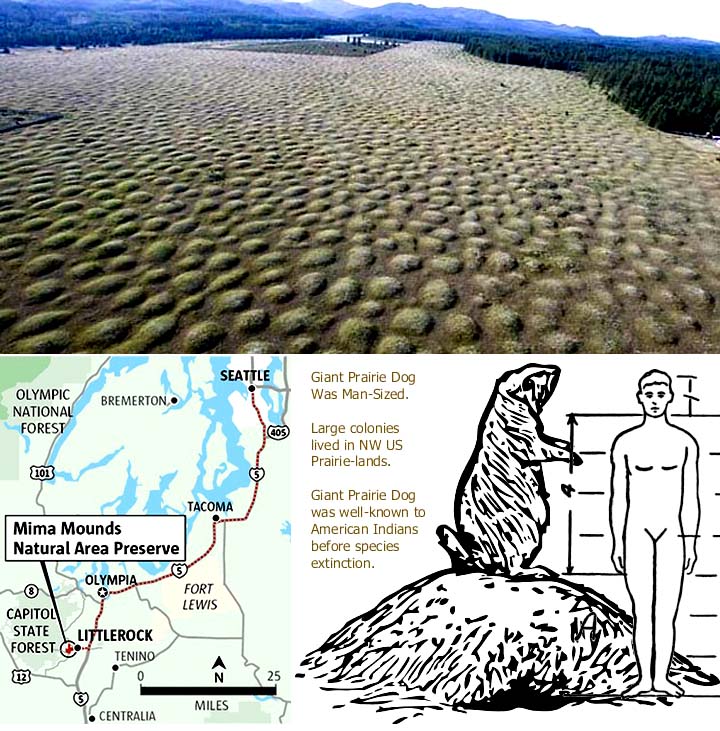 But Live Science dot com leads with the headline, "Mima Mound Mystery Solved" Click bait again.
The content reads...



Quote:

The model suggests that gophers start pushing soil toward any existing high spots, and these budding mounds continue to beckon later generations of builders. "There's a positive feedback where the gophers are somehow sensing where the high spots are," Gabet said.
Eventually, the burrowing mammals run out of soil and the Mima mounds are fully "developed" — which takes 500 to 700 years. "There's an end stage where the mounds don't grow any higher," Gabet said.
The size of each mature Mima mound roughly matches the territorial range of a single gopher, Gabet discovered.

Though the study isn't proof that gophers create Mima mounds, it does show that it's possible, said Ronald Sletten, a soil scientist at the University of Washington who has studied the state's Mima mounds.

That sounds hardly conclusive to me.


OK, blueboy?

---

Griff Saturday Mar 11 09:25 AM

Wait, it took me 52 years to see this?

---

Diaphone Jim Saturday Mar 11 12:01 PM

Looks that Grimes dude is having us on.
Or perhaps it is just that what goes up must come down, or vice versa.
Live Science more lately has tended more toward a vegetable rather than an animal origin.
I'm thinkin' big cats.

---

xoxoxoBruce Saturday Mar 11 12:03 PM

That's nothing Griff, "Them gals wear clothes that we ain't seen Beneath them gingham gowns".

---

BigV Saturday Mar 11 07:43 PM

I can see myself on the map, again!

I feel like Steve Martin in "The Jerk"



---

xoxoxoBruce Saturday Mar 11 07:51 PM

Are you the human or the prarie dog?

---

blueboy56 Saturday Mar 18 12:07 PM

oops, sorry for the delay. That is a great thread. Something about living in a basement house underneath a raincloud.


Thanks again.

---

blueboy56 Saturday Mar 18 12:26 PM

Once more for posterity. Considering what happens to wee men ( and oppositely for ladies) when it gets cold. Perhaps the Grimes area is masculine and suffers shrinkage and the mounds area is feminine and it, uh, expands and pokes out.

---

SPUCK Friday Mar 24 04:25 AM

HAHAHA I posted this pic in the 'other thread' then the next IoT I see is this one..
A day late and a dollar short - my personal motto.

---
Your reply here?

The Cellar Image of the Day is just a section of a larger web community: a bunch of interesting folks talking about everything. Add your two cents to IotD by joining the Cellar.