xoxoxoBruce Saturday Mar 4 11:27 PM

Mar 5th, 2017: El Kineno

Let's say you're a 7 term congressman, and you invite rich and influential people to your King Ranch, which
is 825,000 acres(333,866Hec) of Texas, for some BBQ, drinking, wild animal shooting, arm twisting, and
campaign donation extracting. Of course they're impressed with the food and hospitality but when it's time
to kill critters that's your weak link. You must pile them into a '46 Ford that's been jerry rigged to venture
into the great wide open. What to do? What can you do?
Miss Buxom, get Harley J. Earl on the line.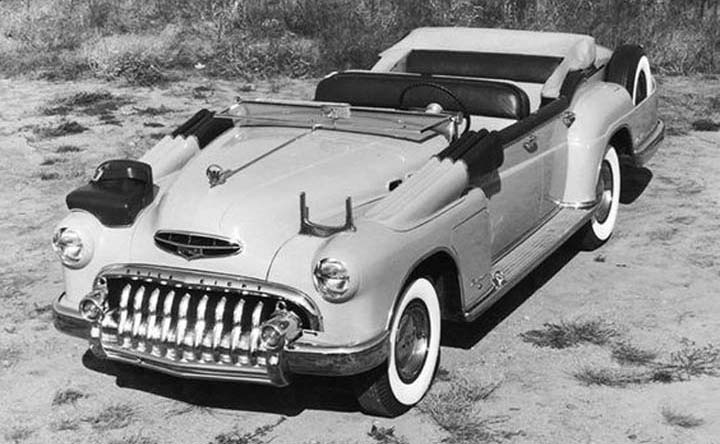 Harley sends his right hand man down to gather facts. They get in the Ford the and took off across the
mesquite, hog wallows and dry washes at 60 mph, where the GM man got beat up and his teeth rattled.
To get over sand dunes, deflate the tires, and reinflated them with a carbon monoxide fire extinguisher.
Enough facts, enough… please let me go back to Detroit!
So GM built this Buick, El Kineno, the Kings Men, the name being a tribute to the entire Mexican village
moved to the King Ranch for labor.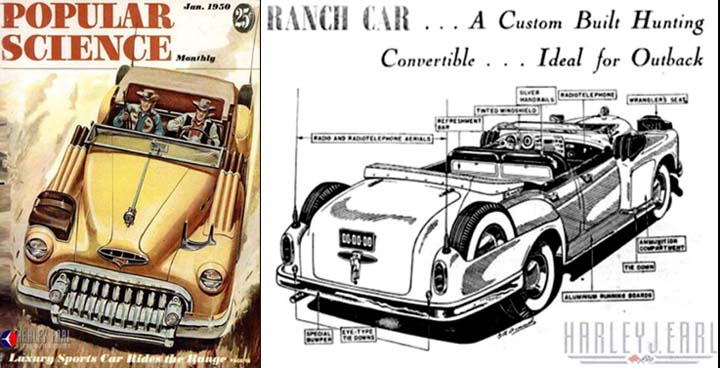 1949 Buick 152-hp Fireball straight eight and Dynaflow transmission, frame dropped 5.5 inches(14cm),
overall length grew 4 inches(10cm), height and ground clearance increased, and weight grew 900 lbs(408kg).
Nickel chrome moly shot-peened steel for power steering and suspension components, a 32 quart(30L)
cooling system, hood emblem air intake, 20-gauge steel rear quarters. The hood, doors and decklid were
.064 inch(1.63mm) aluminum(aluminium). Rugged 15x8.90 6 ply truck tires with 2 spares, and canvas top
with Plexiglas side curtains.





Outside - game forks for holding deer, chrome tiedowns on the bumpers and running boards, and 3 rifle
cases on each front fender. The windshield folded down to shoot from the front seat. A seat on the front
fender, the only seat with a belt. Each fender hid a spring-loaded lighted storage compartment, a first
aid kit with Band Aids to hypodermic needles.

Inside - chrome grab rails, adjustable air cushioned brown leather seats, painted pony-skin rug, compass,
altimeter and tachometer. The door panels and aluminum tumblers in the bar carried the Running W brand.
Under the dash is the winch control, pistol holster, and a radio-telephone.

I would believe this car cost GM over a million 1949 dollars to design and build.
But what the congressman/cowboy paid, nobody knows.
Well, nobody's saying… I'm just saying, you know the old saying, hear what I'm saying?

---

Snakeadelic Sunday Mar 5 08:18 AM

Dunno a thing about cars, machinery or politics...but I know the name King Ranch. There've actually been 2, which may or may not be related, one in Hawaii and one in Texas. Both are famous for raising some of the finest American Quarter Horses ever bred. The one in Texas may have been the home of Poco Bueno iirc, and PB was one of those stallions who started an equine dynasty that is still extremely popular to this day.

AWESOME rich-folk toy, that car! And if it actually could rip across the rough Texas back country while looking like that...wow.

As an aside...the info says "painted pony-skin rug". The one shot looking down on the interior shows said rug. If it's not a hair-on skin, whoever painted it did a great job of getting the pattern right...those are the kind of spots most often seen on "sabino" or Dominant White pinto horses, and horse-hide was in much more common use back then because we not only felt very differently about livestock as a culture back then, we didn't have NEARLY as many. Back in Poco Bueno's day (40s-early 50s I think) there had only ever been a few thousand registered American Quarter Horses. Now they're long past 500K and may have already registered their one millionth foal since the studbook was created. Cars n horses...American icons, American dreams

.

---

xoxoxoBruce Sunday Mar 5 10:05 AM

In the 1930s Humble oil co. discovered oil on the ranch. They have a total of 2730 oil wells on the whole ranch
The whole ranch in Texas has two thousand miles of fencing to keep in good repair. They needed 350 windmills to keep an adequate amount of water flowing. It took a crew of 20 men as full time workers to maintain these windmills.

In 1946 the ranch started buying land outside Unionville, Pennsylvania for a fattening farm for its Santa Gertrudis cattle. The fattened cattle were then shipped to slaughter houses in some eastern cities. This ranch farm was eventually expanded to where it encompassed 12,500 acres.
Each spring they would ship 5,000 young cattle to the farm from the Texas ranch to fatten them up for marketing. On the available grasses each head of cattle could put on up to two pounds each day. They would be shipped in at about 650 pounds, and by the time they left they would weigh up to 1000 pounds.

In the early 1940s they went heavy into horse breeding and in 1946 had a triple crown winner in Assault. Again in 1950 they won the Kentucky derby and the Belmont stakes with a horse named Middleground. By 1947 the ranch had 2900 quarter horses and 82 racehorses. Then in 1946 the ranch bought a 680 acre bluegrass farm for the racehorses in Kentucky.

They also have 30,000 acres in south Texas, that is being used for growing cotton. If you figure an average of 740 pounds of cotton per acre, this means the ranch gets over 22 million pounds of cotton yearly. Today the ranch is one of the largest cotton producers in the United States. Between the years 1999 and 2005, the ranch got 8.3 million in farm subsidies for raising cotton.

King ranch is a 78% owner of consolidated citrus lp, the largest orange juice producer in the United States. The total acreage for the groves was about forty thousand acres of citrus trees in Florida.
The ranch also has about 12,500 acres of sugar cane in southern Florida. From this sugarcane there is about 120,000 pounds of sugar produced annually. They also make about 3.5 million gallons of molasses annually from this sugar cane.
King ranch sod operations in Florida is one of the top ten sod producers in Florida. It has three sod farms that total about 3,700 acres in southern Florida.

King ranch also purchased the Young pecan company one of the worlds largest shellers of pecans. Then bought the assets and operations of Southwest nut company. Southwest and Young are combined to be the largest processor of pecans in the world.

---

Griff Sunday Mar 5 10:16 AM

They had baseball.
http://www.expressnews.com/sports/co...sh-6126387.php

---

xoxoxoBruce Sunday Mar 5 11:41 AM

Base-a-ball been berry berry good to me.

---
Your reply here?

The Cellar Image of the Day is just a section of a larger web community: a bunch of interesting folks talking about everything. Add your two cents to IotD by joining the Cellar.