xoxoxoBruce Tuesday Feb 28 11:21 PM

Mar 1st, 2017: ISA LAKE

I SA LAKE. You are SA Lake? No, IS A LAKE. I know you is a Lake, the water and lily pads give it away.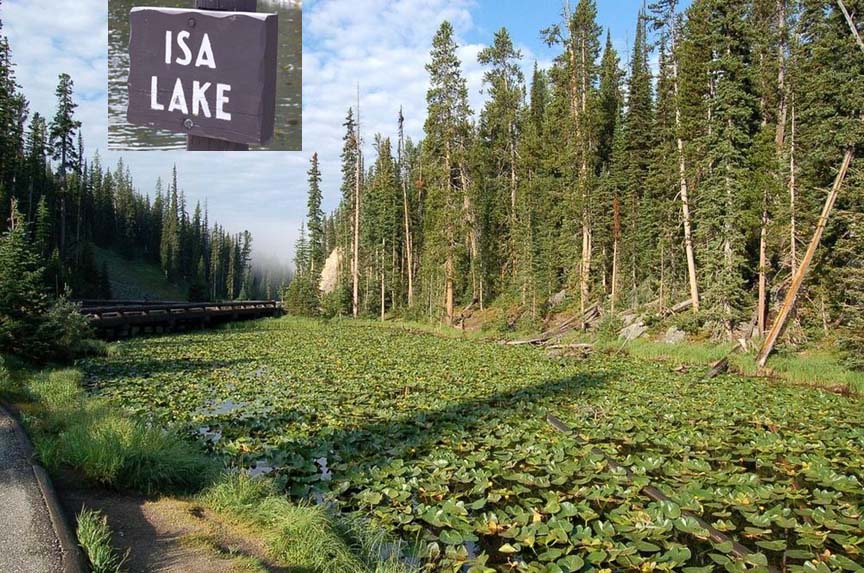 ISA Lake is special although it doesnít look like it. Itís high in the mountains, but so are many others. It has no inlet and is fed
by snow melt and maybe a few springs, but thatís not uncommon either. It has two exits, but so do others around the world.
Itís in Yellowstone National Park, but Yellowstone has a lot of lakes.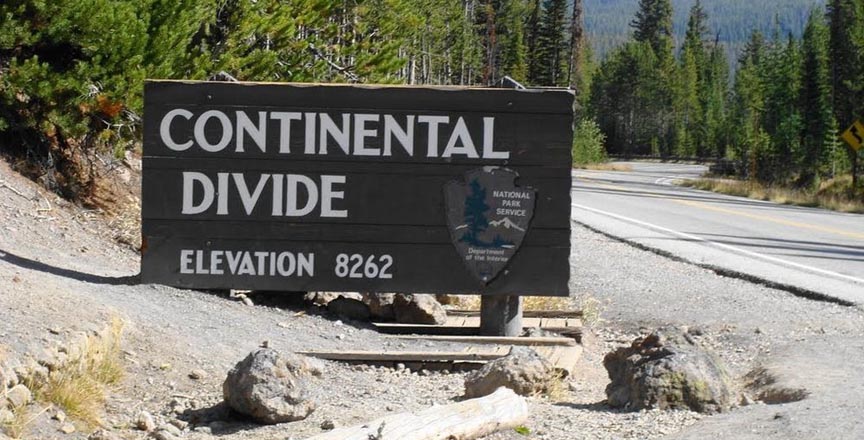 At 8200 ft(2.5km), ISA Lake straddles the North American Continental divide.
The east outlet leads into the Lewis River to the Snake and Columbia Rivers and then into the Pacific Ocean.
The west outlet leads to the Firehole River then the Missouri and Mississippi Rivers and into the Gulf of Mexico/Atlantic Ocean.

Wait a damn minute now, the EAST outlet goes to the Pacific, and the WEST outlet goes to the Atlantic?
Yes, the lakeís outflow is counterintuitive. Some call it the Two-Ocean Lake.
What make ISA Lake special is itís the only natural lake in the world to drain to two different oceans.

I've seen it and without knowing how unique it is, it's not much to look at.



link

---

BigV Tuesday Feb 28 11:54 PM

I am no lake, but I've drained my, *ahem*, South outlet to two different oceans from within a few car lengths from the sign in second photo.

---

xoxoxoBruce Wednesday Mar 1 12:31 AM

So you're the one that pissed off the rangers.

---

BigV Wednesday Mar 1 12:35 AM

:whistles innocently:

---

Griff Wednesday Mar 1 06:59 AM

Quote:

Originally Posted by

BigV

I am no lake, but I've drained my, *ahem*, South outlet to two different oceans from within a few car lengths from the sign in second photo.

Also a PIHP.

---

Snakeadelic Wednesday Mar 1 08:48 AM

I actually saw this place on EPoD, but I think they had different photos of it! Not more than a month or so back.

Never been to Yellowstone (or Glacier) and maybe never will on our budget & with assorted health problems, but they do have some amazing sights!

A different section of the Divide runs less than an hour south of me, in the area of Chief Joseph & Lost Trail Passes. One of the scariest things I've personally seen Montana do was at the Chief Joseph Pass/Continental Divide sign. One year--in late JUNE--we decided to try to get to Crystal Park, a few hours east of us and over 8,000 feet above sea level in the Pioneer Mountains.

I was so glad no one stopped to take pictures of my temper tantrum...the snow that hadn't melted started half a road mile from the gate, and because of the snowplow used to keep the road clear for the lower-down Maverick Mountain Ski Area driveway, there was a four. Foot. Wall. Of. Snow. I yelled, I cried, I even kicked the 4-foot wall of snow. We got a motel room for the night down to the south in Dillon (which is upside I-15) and drove home the next morning.

The thing about the pass sign is that when we hopped the pass, only half of it was visible (can't remember but I think it says Chief Joseph Pass on the top half). 24 hours later, on our way home, ALL the lettering was visible. That was like...nine inches of snowmelt overnight. We had crazy river flooding that summer!

If there's a moral, it's not "don't piss off nature" and it's not "don't piss ON nature"...it's "don't forget to check your destination elevation when planning early-summer trips along the Continental Divide, or you might end up with way more snowball fight in your vacation than you thought"! Personally, I say as long as it's not on my boots, piss wherever y'all want.

Just watch out for bears if you're in my neighborhood, cuz we got bears. My neighbor almost (sadly, literally) rode his Harley straight up the ass of a grizzly as he was dodging the fresh poop on the highway. He chose the wrong side and the bear was deep in a blackberry thicket. He still says "yeah, the mirror says 'objects may be closer than they appear', and you do not want that 'object' to be an angry 600-pound bear."

I guess I'm not surprised when urbanites and the terminally urbanized don't understand why I love the country and can't get along in the city without loads of tranquilizers.

---

Carruthers Wednesday Mar 1 10:12 AM

I stopped off there in 2004 on my last visit to the US.
I was so intrigued by the site that I took a photo of the information board.

Attachment 59606

Sorry about the picture quality. It's from a scanned print which has been cropped to fit.

---

glatt Wednesday Mar 1 10:28 AM

Thanks for posting that picture!

---

xoxoxoBruce Wednesday Mar 1 10:37 AM

No problem Carruthers, it's quite readable, thank you.

---

Carruthers Wednesday Mar 1 10:40 AM

I was on my way to see Old Faithful at the time.
I did the usual touristy things, stopped at the Fishing Bridge, watched Old Faithful do her stuff and just stood around gawping at the natural splendour of the place.
However, I did let myself down somewhat, but I don't think anyone noticed.
I went into the visitor centre cinema to watch a video about the geology of Yellowstone complete with sound effects of volcanic activity that must have been almost as loud as the real thing.
Such was the state of my poor battered body clock that I fell asleep during one of the explosions.


It was dark in there, so I think I got away with it.

---

xoxoxoBruce Wednesday Mar 1 10:45 AM

I don't think that's unusual, a lot of Yellowstone's visitors arrive exhausted. Vacations are for maximum effort to log experiences, even if it kills you.

---

footfootfoot Wednesday Mar 1 10:18 PM

Definitely peed there on my bike trip through the park.

---

blueboy56 Saturday Mar 4 09:58 PM

I grew up ~90 miles south of the park but now live on the west coast. I can testify that unless you take 2-3 weeks to acclimate, it is exceedingly easy to overdo yourself at >8000 ft altitude. The first day is fine but then your body can't find enough oxygen to keep going.

---

xoxoxoBruce Saturday Mar 4 10:49 PM

I know what you mean, my house is at about 50 ft above sea level and every year I'd vacation in mountains, Tetons, Rockies, or Alaska. About the time I could walk any distance it was time to go home.

---

Gravdigr Monday Mar 6 04:26 PM

We're roughly 700 feet or so above sea level.

Went to Pike's Peak when I was five. I jumped down off the horse after the trail ride. Kinda knocked the breath outta me. One of the old guides grabbed me by the arm, and even after I got my breath back, told Mom&Popdigr to keep a close eye on me for the next few minutes, as he'd seen kids have their breath knocked out of them, and then a few minutes later they pass out.

I got my breath back, then, about five minutes later, my lips turned blue, and I passed out.

The old guy said 'Go down the big hill, he'll be fine.'

I was.

---

Carruthers Tuesday Mar 7 05:26 AM

I didn't have too much trouble with altitude on my US trips, which all started from Denver, except when I went up into Rocky Mountain National Park from Boulder and passed the 10,000' mark.
Distinct shortness of breath was evident. (We're about 450' asl here).

The real problem was the upheaval experienced by my internal clock.
On my first night, on one trip, I was wide awake at 0200 with my stomach telling me that it was 0900 and where the hell was breakfast?
As a diversion, I switched on the TV to fill in an hour or two and watched an episode of Dad's Army in the middle of the night on Public TV.

---

BigV Tuesday Mar 7 10:34 AM

That sounds.... filling.

---
Your reply here?

The Cellar Image of the Day is just a section of a larger web community: a bunch of interesting folks talking about everything. Add your two cents to IotD by joining the Cellar.