xoxoxoBruce Sunday Feb 26 11:38 PM

Feb 27th, 2017: Paper Dollys

Patty and Allen Eckman make highly detailed sculptures of people, animals, flowers, and commissions. They're very beautiful,
although I think they belong under glass because they'd be a bitch to dust, and no smoking, because they're made of paper.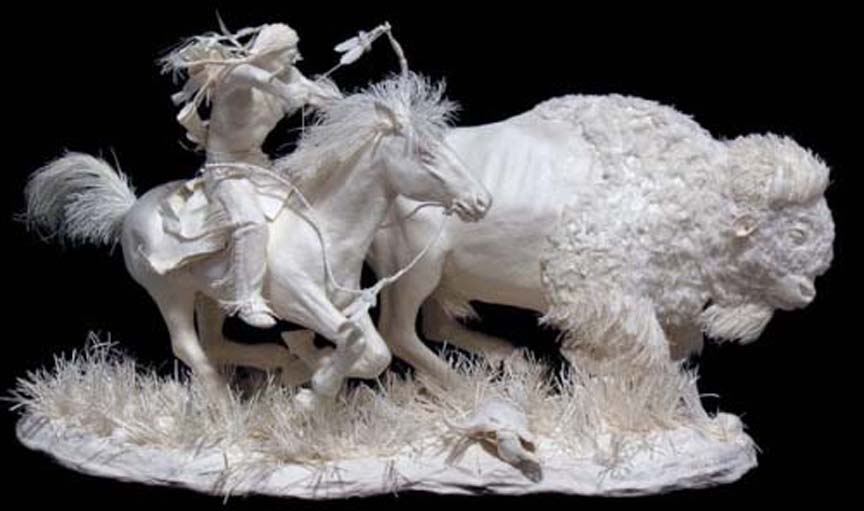 Allen and Patty met in college where each studied art. After working in advertising for a number of years, they moved from
California to the Black Hills of South Dakota where they have focused on a process Allen developed of molding acid-free paper
under pressure.





They've have been creating large-scale masterpieces using just handmade, acid-free paper since 1988. Cast paper sculptures
sound like something very difficult to do, and that is what makes their results all the more amazing.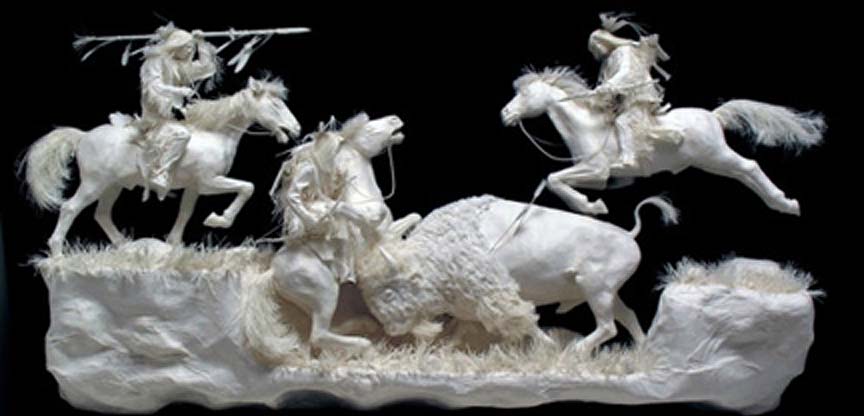 Much of their work features Native American Indian history which is of great interest to Allen, whose great-great grandmother
was a Cherokee. Patty is especially interested in wildlife, birds, and flowers.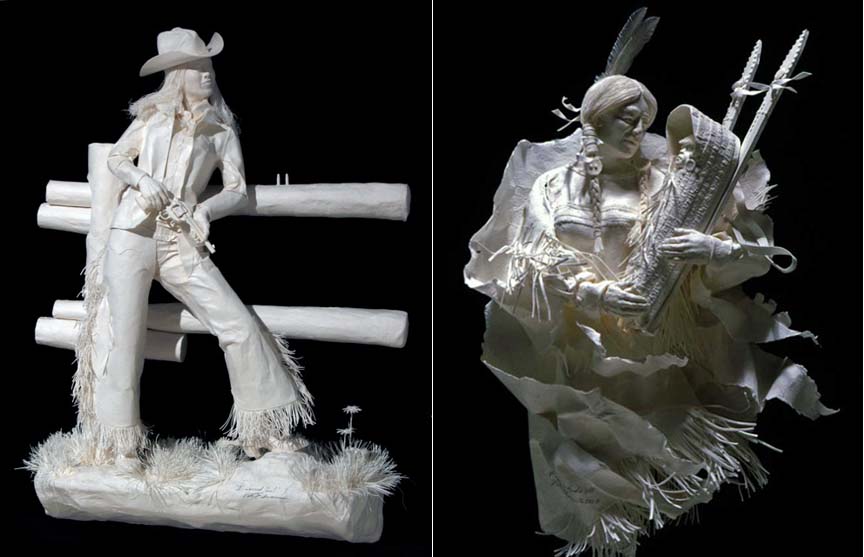 To me, this is one of those how it hell do-dey-do-dat things. On their website they sell DVDs showing the process, but I suspect
they're not giving up all their secrets and it would be a steep learning curve.

link

---

Snakeadelic Monday Feb 27 08:51 AM

In my lifetime, I have had the chance to try MANY art media and techniques. That list includes just about everything but high explosives (there used to be a guy who used det-cord and shaped charges to not only force shapes into sheet metal but to weld different metals together AND stamp textures into them). My list includes:
Pencil drawing (good at a couple of subject types)
Acrylic on canvas (I suck)
Linoleum block cutting (do not let the cutting tools slip--it was 7th grade and I still have the scar on my stupid hand)
Screen printing (so long ago that not only were high school sophomores allowed to play with both paint and lacquer thinner, we didn't get gloves, MSDS sheets, or supervision, and I had a scar on one wrist for years from getting a blend caught under my watch for an hour)
Intaglio etching (zinc plates, assorted petroleum by-products, and nitric acid plus aforementioned sophomores, what could go wrong?)
Pottery (wheel and hand-built, wish I could get back into it but it's not great with arthritic hands and bum spines)
Watercolor on canvas (I super suck)
Polymer clay miniature sculpting (For 19 years I made tiny animals out of Super Sculpey and hand-painted them in acrylics, and at that I was good until 4 of my fingers went numb and I could no longer hold onto the sculpture or the tools)
Lost-wax casting (mostly for jewelry, but the principles extend from a pinkie ring to a life-size bronze animal)
Scrapbooking (did not hold my attention well)
Drawing with charcoal (To this day the feel of a charcoal pencil on any paper surface makes my body respond the way most people do to fingernails on a chalkboard)
Basic origami (cute, but again, not an attention-holder for me)

From all that I can distill a single sentence. "I would not try something like this until I had studied cold-casting, lost-wax casting, scrapbooking, AND origami just to begin with."

These are unbelievably detailed and beautiful. You can bet that every strip of fringe on that cowgirl is hand-cut, and so are the grass and flowers at her feet. Just thinking about what must have been involved in the Buffalo Jump sculpture makes my head swim--casting is not a clean process, and yet they have all that action, detail, and subject physically separated from background, and it's all in pristine white!

---

Diaphone Jim Monday Feb 27 11:49 AM

If anyone else is curious about scale, the second one down on the right ("Prairie Edge Hunt") is five feet tall and seven feet wide, 1/6 life size.
Another kind of scale: it is priced at $55,000.

---

xoxoxoBruce Monday Feb 27 12:00 PM

Yes, that's the highest I saw that had the price on it. You can get a Buffalo head for $450, Wolf, Bear, Moose, Bighorn, and some other heads are $2100 because they're more detailed. The lead picture in the OP is 36"x22"x14", costs about $9,000, and a bronze copy is $11,000. But when I saw it, looked at the incredible detail, I figured a million.

---
Your reply here?

The Cellar Image of the Day is just a section of a larger web community: a bunch of interesting folks talking about everything. Add your two cents to IotD by joining the Cellar.