xoxoxoBruce Wednesday Feb 22 09:53 PM

Feb 23rd, 2017: Glory Hole

No you pervert, not that kind.



♫ Seems it never rains in northern California
Seems I've often heard that kind of talk before ♪
♫ It never rains in California, but girl, don't they warn ya?
It pours, man, it pours. ♪

Lately a lot, causing mud slides, floods, and havoc, after a long drought.
This is the Lake Berryessa spillway(Glory Hole) on October 10, 2009 when the water was 32.24 feet (9.83 m) below the crest.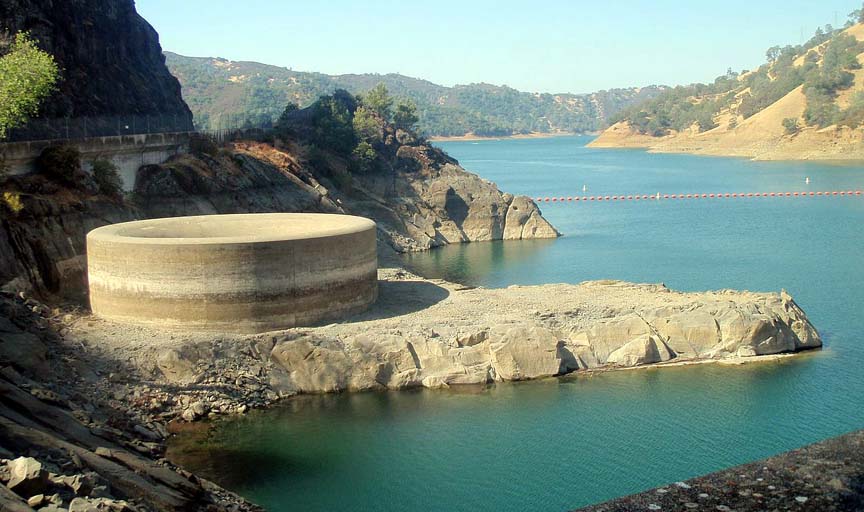 This is the 72 foot(22 m) wide Glory Hole dumping about two million gallons a minute February 19, 2017.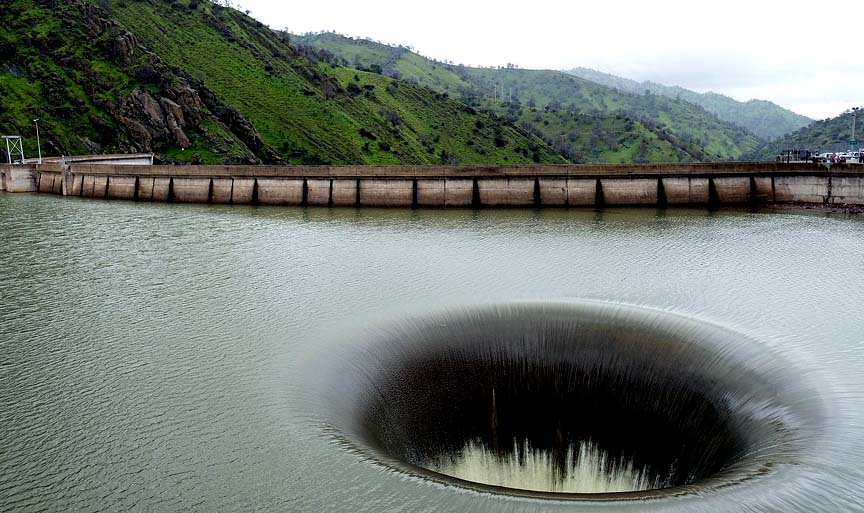 Quote:
Last week, after torrential rains, the water level got high enough to reach the Glory Hole for the first time in ten years -
and this time, we have drones to record it.
Miss Cellania has the drone video showing the inlet and outlet… with an AC/DC soundtrack.
---

Clodfobble Wednesday Feb 22 10:04 PM

Quote:

Originally Posted by xoxoxoBruce

No you pervert, not that kind.

I dunno, if you go watch the video it looks distinctly like a sphincter from above.

---

xoxoxoBruce Wednesday Feb 22 11:03 PM

From wiki

Quote:

A glory hole (also spelled gloryhole and glory-hole) is a hole in a wall, or other partition, often between public lavatory stalls or adult video arcade booths, for people to engage in sexual activity or observe the person in the next cubicle while one or both parties masturbate.[1] In addition to the penis, fingers or the tongue may be inserted into the hole.

Glory holes are especially associated with gay male culture, and anal or oral sex,[1][2] but may also be used by bisexual or heterosexual men, or by men who do not identify as gay, bisexual, or heterosexual. The partition maintains anonymity. Some gay websites offer directories of glory holes, and people sometimes install private glory holes within their residences.



---

Snakeadelic Thursday Feb 23 09:20 AM

Most of the western US seems to have a pretty antagonistic relationship with the local water tables...not nearly enough or way, way too much.

If the Oroville Dam goes, or drought-ending downpours flood the San Joaquin Valley, maybe the SJV floor will recover some of the many feet of subsidence recorded since agriculture started taking a serious toll on the aquifer below it.

We're not anywhere near drought conditions where I live, but we've pulled too much water out of our own aquifers in this valley and as a consequence hundreds of our 5-story-tall or so cottonwood trees are dying. Their taproots are no longer reaching water and can't grow fast enough to find the lowered levels. Cottonwoods are already problematic because they're the rock stars of big deciduous trees--live fast, die young. Their speedy growth makes them vulnerable to dry rot and major limb breakage, resulting in like 6 of the partly-live trees closest to me (including the ones in which I photographed bald eagles and a peregrine falcon) being cut down. A line of about half a dozen on the county fairgrounds were taken down a few years back after a limb fell and not just hit a car...it dropped at an angle, harpooned a small sedan right in between the driver and her passenger, and still hit the pavement so hard it nailed the car in place. I'm not much of a disaster rubbernecker, but if I'd known about that before it was cleaned up I'd definitely have walked the 6 blocks for a photo! No on in the car was injured; the branch impaled the car in between the two adult occupants.

Water, man. Weird stuff. Makes the whole planet do strange things.

---

BigV Thursday Feb 23 11:12 AM

The image of the overflow pipe with water pouring into it has been featured on IotD before...

Right?

---

Diaphone Jim Thursday Feb 23 12:15 PM

The last time we worked this subject over was almost exactly ten years ago ("Big-ass drain hole" 2/14/07).
Lake Berryessa is quite near me and I have seen the drain in both conditions.
Flowing, it is indeed awesome.
News articles usually portray it as a "big bathtub drain," which is exactly what it is not.

http://cellar.org/showthread.php?t=1...ght=glory+hole

---

xoxoxoBruce Thursday Feb 23 12:55 PM

That 2007 post labels the picture on the left as the drain hole. It's not, that's the normal discharge from the dam.
The Glory Hole discharge is the arrow in the picture on the right.





Like so...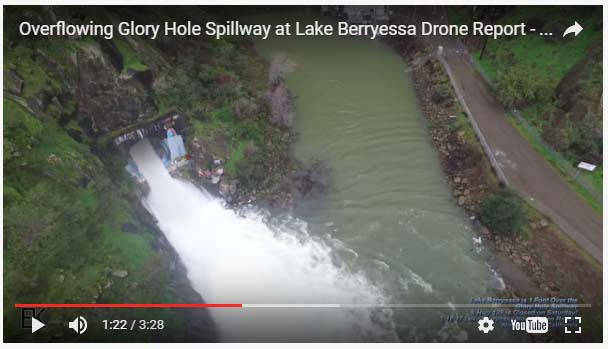 ---

glatt Thursday Feb 23 01:16 PM

I fell down a glory hole of sorts, looking at youtube videos of skateboarders and bikers playing in the discharge pipe. It's huge.

---

Gravdigr Thursday Feb 23 03:16 PM

Fell down a glory hole...

Sounds like the x-rated Alice in Wonderland.

---

SPUCK Wednesday Mar 1 11:54 PM

I've seen that a few times. It always gives me the creeps. I keep imagining some hapless idiot crossing the measly float rope and getting sucked in.

I always thought the water coming out the bottom was from the G-hole, I didn't realize that water came out a different hole.

---

xoxoxoBruce Thursday Mar 2 12:17 AM

Yes the dam has a steady discharge if it's generating hydro power. Intermittent if they're just maintaining level. The Glory Hole is just for, oh shit gotta get rid of the excess water before we lose the dam. If the water goes over the top and creates a continuous flow to the base, so it looks like Niagara Falls, there's a good chance it can pull the dam over.

---

SPUCK Tuesday Mar 7 05:17 AM

Amazing they don't have trees going down the hole and bloxing the works.

Last time I drove by there I had to fjord water crossing the road about every hundred yards. (In a feakin Renault)

---
Your reply here?

The Cellar Image of the Day is just a section of a larger web community: a bunch of interesting folks talking about everything. Add your two cents to IotD by joining the Cellar.