xoxoxoBruce Wednesday Feb 8 10:51 PM

Feb 9th, 2017: Peking to Paris

Not what you think of as an automobile race, more an endurance challenge that was held in 1907,
from June 10th to August 10th. First one to Paris wins. Starting in 1990 the challenge has been
rerun a half dozen times. The 2016, 6th edition, Peking to Paris Motor Challenge started from the
Great Wall outside Beijing on June 12th and finished 36 days later with a drive into Paris.

Two guys from Washington state, keeping with the spirit of the challenge, and knowing bigger is
better, built custom bodied speedsters from a 1915 and a 1925 American LaFrance fire trucks.
Two years to build these monsters. 20 ft long, 9.5 ft tall, 40 in tall tires and 900 cu/in engines.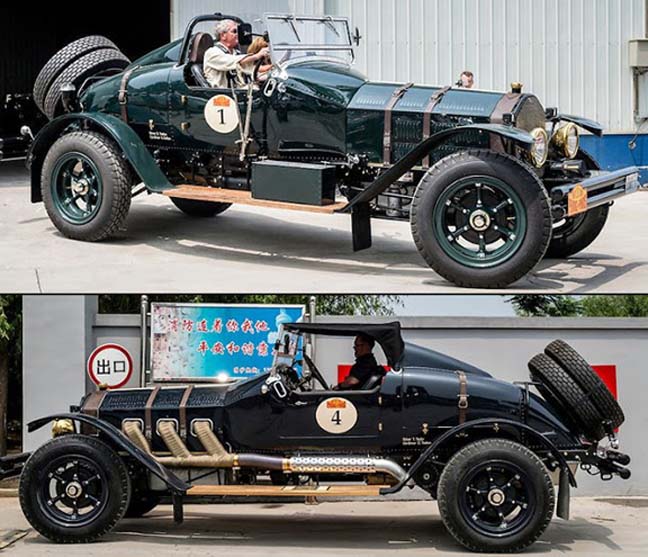 Quote:
The cars are divided into two age categories.... either in the Vintageant category for pre 1941
model types or the Classic category for models of a type in production before 1975. The route
includes driving some of the worlds toughest terrain with participants required to maintain a
demanding rally time-schedule.

The Classics Category does not allow trucks, pick-up trucks, ambulances, estate-cars, or what
is generally regarded to be a commercial-vehicle, such as a van. This is a sporting event.
Carrying heavy spares and kit is not in the spirit of the challenge.

Cars must be prepared in a period-style. No alloy-boxes on the back, no modern-looking
ski-boxes or roof-top boxes. Appearance matters. Ratchet straps come in black and are
preferable to bright blue, but leather straps do the job just as well and are more in keeping with
the spirit of the event.... the devil is the detail.





Quote:

Cars should be prepared with high ground clearance and be capable of running on low grade
petrol. A compression ratio any higher than 8:1 can lead to piston failure. Substantial underbody
protection with a sump guard, tank guard, and skid plates to all vulnerable items and ideally brake
pipes and petrol lines either well plated or running inside the car is strongly advised.

These two Guys spent a ton of money to build these cars, getting four people and two cars to China.
Then $54,000 entry fee and fuel(PER CAR), and probably $10,000 on incidentals like postcards.
Neither one finished but I hope they had fun... I'll bet they did.

link
---

BigV Wednesday Feb 8 11:54 PM

those races are sexy as hell!

---

Snakeadelic Thursday Feb 9 08:42 AM

http://tinyurl.com/hkzbth7

My entire search string for those images is "stuck on Russian road". Note that some photos are winter, while most are what happens during the few weeks winter takes a break. The "roads" through the taiga forest are usually casual suggestions kept mostly clear with chainsaws, and without canopy cover to distribute the water the "roads" muddy up SO FAST. Not sure they have a "dry season" either.

High ground clearance, minimal supplies and repair gear, and several thousand miles of taiga? I really, really hope those guys were allowed to bring like ALL the guns--not just for hunting their own food, but for convincing the (many, many) local 600+ pound brown bears that not ALL food is bear food. At least you can eat a bear if you're hungry enough and a good enough shot, right?

---

Snakeadelic Thursday Feb 9 08:53 AM

Seriously, those hand-built cars are super-sexy, but scroll down the link I posted far enough and you will see a tank failing at being used to tow another tank out of a mud pit.

---

glatt Thursday Feb 9 09:07 AM

great set of pictures of that race.

Car 32 has a lot of repair shots. It got worked on a lot.

---

glatt Thursday Feb 9 10:37 AM

Even with the thick tread truck style tires, that's a rough road. Those rocks are sharp and everywhere.

Attachment 59353

---

Griff Thursday Feb 9 11:09 AM

Beautiful machines.

---

xoxoxoBruce Thursday Feb 9 11:45 AM

This is a super organized event, run in stages, so they camp together. They have to carry their tent, sleeping bags, and spare parts, but food is catered. Hot breakfast and supper, box lunch.

---
Your reply here?

The Cellar Image of the Day is just a section of a larger web community: a bunch of interesting folks talking about everything. Add your two cents to IotD by joining the Cellar.