xoxoxoBruce Thursday Feb 2 10:33 PM

Feb 3rd, 2017: Honeybee Pain

When kids go off to college they're moldable raw material. Higher education does strange things to some, and
the higher they go, more the chance of them running away screaming or developing strange behavior.
Case in point, Michael L. Smith, PhD Candidate, Department of Neurobiology and Behavior at Cornell University.

Since 1990 the Schmidt Sting Pain Index has been the standard for measuring pain from stinging critters.
The index goes from 0 (I fart in your direction) to 4 (son-of-a-bitch) and Schmidt used the honeybee sting
as the standard at 2, because more people worldwide are familiar with it.

But Mr Smith said, but all Schmidt's stings were on the forearm, is it the same all over?


He made up a chart of 25 spots to test.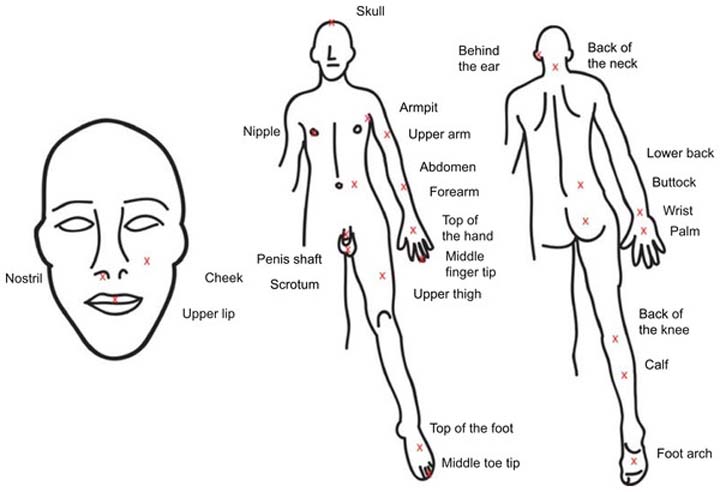 He got 5 stings a day for three months prior to the experiment, to eliminate any allergic reactions.
He caught a bunch of hive guard Honeybees in a cage, grabbed them with forceps, and pressed them to flesh.
When he felt the sting he held the bee there for 5 seconds, pulled the bee off, and left the stinger in
for 1 minute. He did this 3 times, in each of the 25 locations, over 38 days.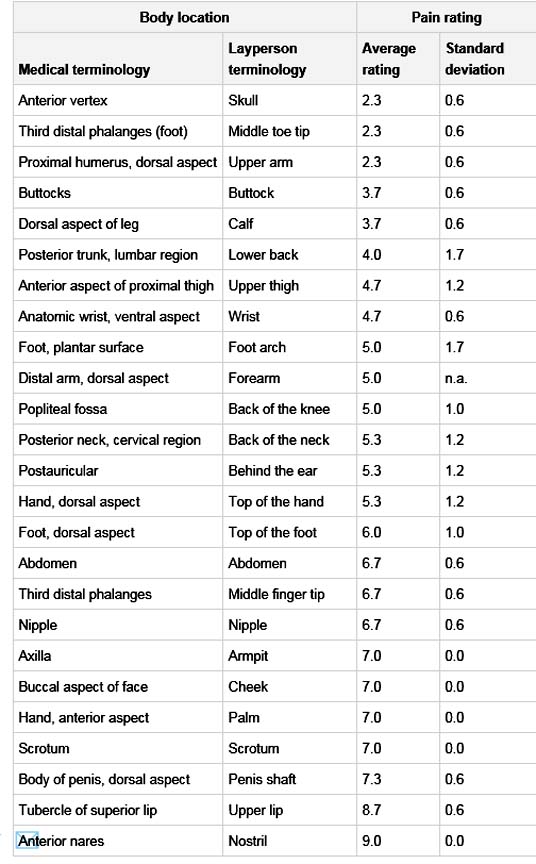 As long as only he was involved in his experiment, he avoided a bunch of legal, ethical, and
political obstacles, but with just one subject the results aren't taken seriously by the medical community.


Personally, I feel it should earn him his PhD* though.

*Personal hell Deliberately

Link

---

sexobon Thursday Feb 2 10:43 PM

He has a job waiting for him at Gitmo.

---

Flint Friday Feb 3 04:24 PM

9.0 on a scale of 1 to 4?

---

footfootfoot Friday Feb 3 06:49 PM

So if a bee sting rates 2 and a nostril bee sting rates 9, then what do a scorpion sting and a nostril scorpion sting rate?

---

Pi Saturday Feb 4 05:33 AM

I would like to see pictures of the stinged areas

Sent from my SM-G930F using Tapatalk

---

classicman Saturday Feb 4 01:16 PM

stinged ... or ... stung. I still struggle with this ... that.

---

Gravdigr Saturday Feb 4 01:37 PM

Quote:

Originally Posted by

footfootfoot

So if a bee sting rates 2 and a nostril bee sting rates 9, then what do a scorpion sting and a nostril scorpion sting rate?

Scorpion & bee nostrils are too small for such research.

---

footfootfoot Saturday Feb 4 05:42 PM

Au contraire! Behold butterfly proboscis, for your night terror pleasure.

---

xoxoxoBruce Saturday Feb 4 06:01 PM

That must be why so many Butterflies become colonoscopy techs.

---

SPUCK Monday Feb 6 03:17 AM

Research smeesearch, the guy was just a sadomasochist.

---
Your reply here?

The Cellar Image of the Day is just a section of a larger web community: a bunch of interesting folks talking about everything. Add your two cents to IotD by joining the Cellar.