xoxoxoBruce Saturday Jan 28 09:11 PM

Jan 29th, 2017: Solar Analemma

The Solar Analemma sounds like an energy efficient enema, but it's not.



Quote:

Analemma photographs are made by taking a picture of the sun from the same place at the same time of day once or twice a week, generating 30 to 50 frames.

Easier said than done, photographing the Sun requires careful prep and the right equipment, plus it takes a full year, making it the most difficult phenomenon to capture. Only 20 people have done it successfully.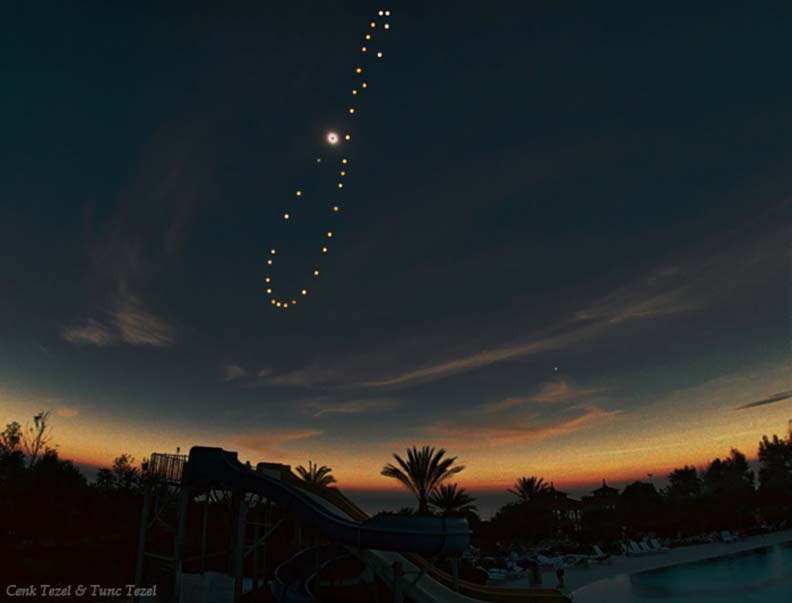 Quote:

The sun makes this shape over a year because Earth rotates on a slightly different axis than the sun, and our planet also travels on an elliptical orbit. As one hemisphere of Earth tilts farther from the sun, the arc of the sun's daily path seen from that location lowers toward the horizon. The sun's arc then gets higher in the sky as the tilt reverses. The sun's highest point in the sky, seen in this analemma, occurs during the summer solstice, while its lowest point is during winter solstice.

This description is from National Geographic, but the picture is not from their site.

---

lumberjim Sunday Jan 29 12:29 AM

That's groovy baby

---

classicman Sunday Jan 29 12:56 AM

Win!

---

Snakeadelic Sunday Jan 29 09:14 AM

http://epod.usra.edu/ has 9 pages of search results for analemma in their own archives! They LOVE those things

. The one shown here appears to have a single extremely exceptional detail--on the left, just near where the crossover that makes it a "figure 8" shape, appears to be a solar eclipse.

The kind of full-year-to-set-up photo that blows me away most is one I've seen just 2 or 3 times on EPoD...someone takes a photo from the same angle at the same time every day, and at the end of the year they process it so a single vertical line of pixels from each frame (hence the need for extreme camera-location stability) is used to assemble a full-year landscape. I wish I could remember the name of the technique...

---

Diaphone Jim Sunday Jan 29 12:41 PM

Not buying the only 20 people claim.
It has been 40 years since the first one.

---

xoxoxoBruce Sunday Jan 29 12:55 PM

Why not, Jim? If 20 people have been proven to have done it, and it's so difficult to do, why would you go to the trouble and expense to do it yourself? Because it's there? It's also on the net. It's much easier to do the Moon, that only takes a month, and less equipment.


You're right Snake, there is an eclipse in there.

---

Diaphone Jim Sunday Jan 29 01:29 PM

Could climbing Mount Everest be any easier, safer or cheaper?
Around six thousand have done that.
I guess because it's there.

---

xoxoxoBruce Sunday Jan 29 01:53 PM

But you don't need a camera to climb Everest.

---

Gravdigr Monday Feb 6 05:19 PM

I am disappoint in this thread.

When I read "Anal Emma", I was expecting porn.

And/or Emma.

---

Gravdigr Monday Feb 6 05:22 PM

Also, not buying the "only 20 people" bit.

Out of 7,000,000,000+ ppl?

---

xoxoxoBruce Monday Feb 6 09:31 PM

Have you done it? Do you know anyone who's done it? Have you heard of anyone who's done it? Have you ever heard of anyone who would want to do it? If you do, ask them why the fuck they would even contemplate it?

---

footfootfoot Tuesday Feb 7 08:11 AM

I believe it. Even if you can dedicate gear to sit there all year long, or you have the precision of a Swiss watchmaker to get your gear set up exactly the same way each time, and the weather cooperates with you, the likelihood is that it won't work out properly. Well, there's always next year...

---

glatt Tuesday Feb 7 08:17 AM

Thinking about it, it's a pain in the ass to do. There's the technical aspect of it and the time aspect. the technical aspect would be fun for a week. But the time aspect...

It's like a prison sentence. Forget about taking a vacation that year, or visiting family. Sorry. Gotta stay home and tend my camera.

Actually, reminds me of being a farmer who is tied to the land. Gotta milk those cows. Every. single. day.

---

xoxoxoBruce Tuesday Feb 7 10:46 AM

And for what? No fame or fortune, show it to someone and they ask if those were the same drones they used at the superbowl.

---

Gravdigr Thursday Feb 9 04:42 PM

Or ya could set up your computer controlled camera set to take a pic at 2:30 every afternoon.

For a year.

And hope the cat doesn't knock it over.

And hope for a lot of clear days.

And hope the electricity doesn't go out.

And hope.

And hope.

---
Your reply here?

The Cellar Image of the Day is just a section of a larger web community: a bunch of interesting folks talking about everything. Add your two cents to IotD by joining the Cellar.