xoxoxoBruce Sunday Jan 22 09:12 PM

Jan 23rd, 2017: Pet Pot

Quote:

Even for a puppy, Kat Donatello's black lab, Austin, was hyperactive. After experimenting with natural supplements on her older dog, Brady, Donatello slipped the puppy a special biscuit. "It just kind of took the edge off of him," she recalled.

The treat contained Cannabidiol, better known as CBD, a chemical compound extracted from the marijuana plant.

The CBD supplements were expensive, and options for pet treats were limited, Donatello said. "So I started spending my winters baking dog biscuits." She tinkered with the recipe before launching her CBD-laced biscuit company, Austin + Kat, earlier this year.
Along with Therabis and Treatibles, Austin + Kat is one of several Cannabidiol-for-dogs businesses that have popped up in the last two years, a time period during which CBD pet product sales nationwide doubled, according to data kept by cannabis industry analytics firm MJ Freeway. It's the newest trend in America's booming half-billion dollar animal supplements market, which is expected to grow by more than $150 million in the next four years.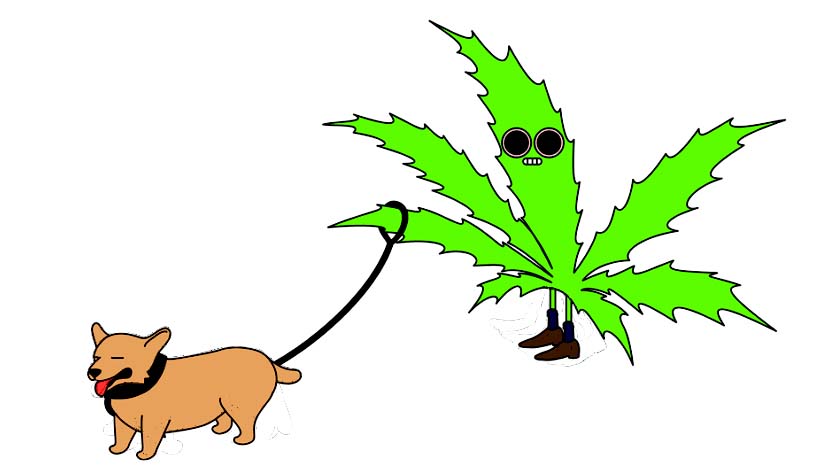 I noticed years ago pets would shy away from cigarette smoke.
But blow pot smoke at then and the close their eyes and breath deep.



Quote:

CBD is one of over 80 active cannabinoid chemicals in marijuana, according to the National Institute on Drug Abuse. Unlike tetrahydrocannabinol (THC), CBD doesn't create a euphoric sensation. In other words, these biscuits won't get your dog high. But there's some debate as to what effect the compound has on our furry friends and whether they should be consuming it at all.

Academic research about CBD's affect on animals is nearly nonexistent, and the Food and Drug Administration has not approved marijuana use in animals. Despite this, some veterinarians recommend their use, and producers say pet stores are increasingly beginning to carry CBD treats. Treatibles is even in talks to be sold at a big box pet store, though an executive wouldn't reveal which one, as the deal is still pending.

Link

---

lumberjim Sunday Jan 22 09:40 PM

Bunyip was a stoner. Amanda won't let me corrupt her boys. I know Chase would love it, but hey. Her cat, her rules.

---

xoxoxoBruce Sunday Jan 22 10:33 PM

Why not let the cats decide? If it annoys them they'll split.

---

lumberjim Sunday Jan 22 10:52 PM

I'm smart enough to know better. Amanda is enjoying the benefits of jinx's time spent training me.

---

xoxoxoBruce Monday Jan 23 12:01 AM

My buddy used to put one of his cats(the 22 lb one) in a grocery bag and blow smoke into it. After a month the cat would drag a grocery bag into the living room.

---

Snakeadelic Monday Jan 23 08:58 AM

Way back when (like 18 years ago) I lived in a very pot-friendly household. Number of members varied, but the core group was The Big Chick (who was 6'4" barefoot and drove long-haul at the time), The Perpetual Student (nicknamed the Technicolor Hippie because he had everything one could possibly get tie-dyed, including a top hat, a lab coat, and underwear), The Nut Check (I saw his diagnostics paperwork from his SSI hearing findings--all SIX pages), The Auntie (6'2", queer as can be, even owned a miniature poodle), myself, and The Sociopath (my 2nd husband). Friends in need, girlfriends, etc kind of rotated through the mess. Only The Big Chick refrained from recreational usage, as she had found that she had a powerful resistance to most drugs including those meant to help control her type 2 diabetes--and she was both insulin-resistant AND low-production.

And of course we had pets. 2 cats. Arthur, the older cat, belonged to The Big Chick and The Auntie. He was a blue-point mitted Ragdoll with way more brains and 'tude than even a cat needed, and he had ZERO use for anything smoke-based. But then there was the other cat, Morpheus, who belonged to The Sociopath. The Perpetual Student thought it would be hilarious to see what happened if he "hot-boxed" Morpheus in a backpack, which he accomplished by dumping Morpheus into the backpack, zipping it almost shut, and blowing in smoke through a maybe 2" gap of un-done zipper.

We never let him forget the first time he came home after spending a couple of weeknights with his latest girlfriend because she lived closer to the college...and ten seconds after he shut the front door behind him, there was Morpheus. Sitting next to the backpack. Howling. As time went on, Morpheus learned how to mess with the zipper enough to let himself into the backpack, and The Perpetual Student would let himself in the front door to walk the six steps into the living room only to find Morpheus in the backpack howling to be hot-boxed.

I have SO MANY crazy stories from the like 18 months I was part of that group...

---
Your reply here?

The Cellar Image of the Day is just a section of a larger web community: a bunch of interesting folks talking about everything. Add your two cents to IotD by joining the Cellar.