xoxoxoBruce Friday Jan 13 08:49 PM

Jan 14th, 2017: Crows

Hundreds of Crows roosting on fresh fallen snow.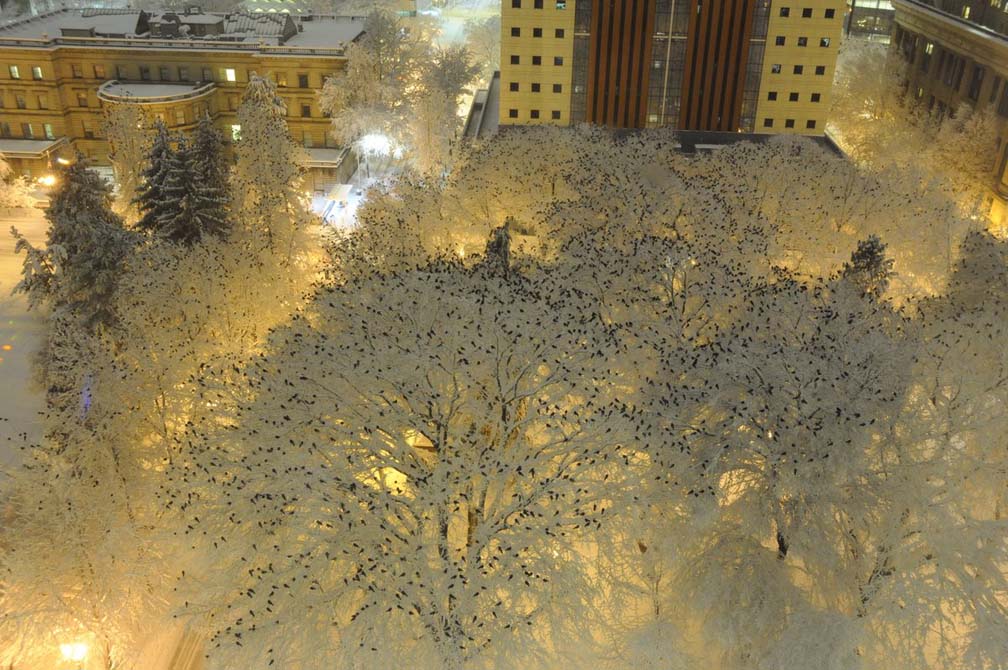 ---

BigV Friday Jan 13 08:50 PM

Redrum REDRUM!

---

Clodfobble Friday Jan 13 10:05 PM

Crows, and not grackles? That's the kind of mass-swarming black bird we have down here.

---

Snakeadelic Saturday Jan 14 08:11 AM

Most grackle species prefer the neotropics, though the Common Grackle does live year-round as far north as the Great Lakes and well up the eastern seaboard.

Based on the apparent size of these birds, though, I'm going with crow/raven. Most grackles are quite a bit smaller than crows and have MUCH longer tails. Any info on where the pic was taken?

I'd hate living in that neighborhood. Crows annoy the holy living daylights out of me--I can't concentrate when there's any kind of loud, unmelodic, repetitive noise in my immediate environment. Exactly the kind of noise crows make ALL DAY LONG barking at each other about territory and calling friends in when they find food (like the garbage can some stupid monkey around here keeps leaving open because they don't think there are BEARS in Montana...). Luckily for me, the local crow population doesn't like cameras, so when they try to set up a territorial calling post right across the street or two trees down the block, I just put a camera lens on them until they go away. It used to take half an hour or more, but nowadays they'll swing by a couple of times in the spring and about 10 minutes does the trick. They are VERY smart and show every sign of recognizing me with or without my camera, coat, hat, etc. I have gotten some lovely action shots over the years

.

---

Griff Sunday Jan 15 10:50 AM

Any more info? It seems familiar...

---

lumberjim Sunday Jan 15 11:53 AM

Winter is coming

---

Gravdigr Sunday Jan 15 05:36 PM

Crows is smrt.

---

Diaphone Jim Sunday Jan 15 06:32 PM

Portland, Oregon, 12th floor of Justice Center.

---

monster Sunday Jan 15 06:36 PM

Looks like the trees have fleas

---

xoxoxoBruce Sunday Jan 15 10:28 PM

---

Griff Monday Jan 16 09:52 AM


Quote:

Originally Posted by

xoxoxoBruce

Nope, just saw the picture on the net and thought it was cool.

DJ got it.

---
Your reply here?

The Cellar Image of the Day is just a section of a larger web community: a bunch of interesting folks talking about everything. Add your two cents to IotD by joining the Cellar.