xoxoxoBruce Wednesday Jan 4 10:09 PM

Jan 5th, 2017: Low Tide

We've been hearing about Venice Italy spending €5.4 billion on the MOSE tide gates, battling high tides
flooding the city for years. But for the 2nd year they have a problem of abnormally low tides.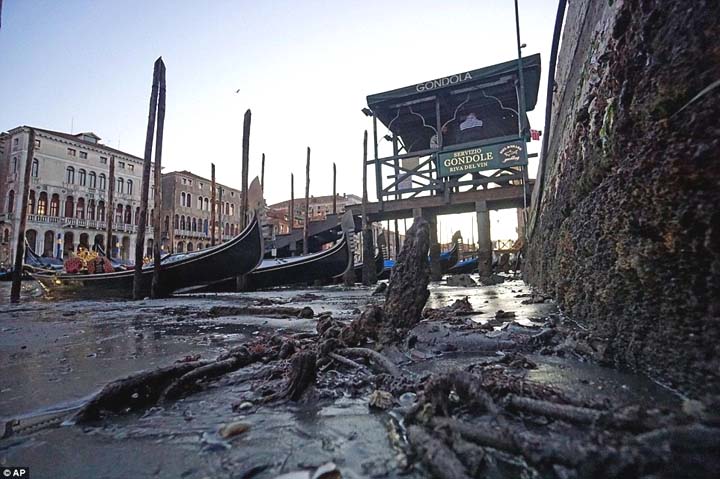 Quote:
The exceptionally low water levels have been caused by abnormal tides this year, combined with drastically
reduced rainfall across northeastern Italy. Although low tides are common around this time of the year,
this year the water levels have gone down some 70 cm(27.5") below average. The phenomenon is surprising
given that Venice is slowly sinking and floods are a more common feature of the city today than low tides.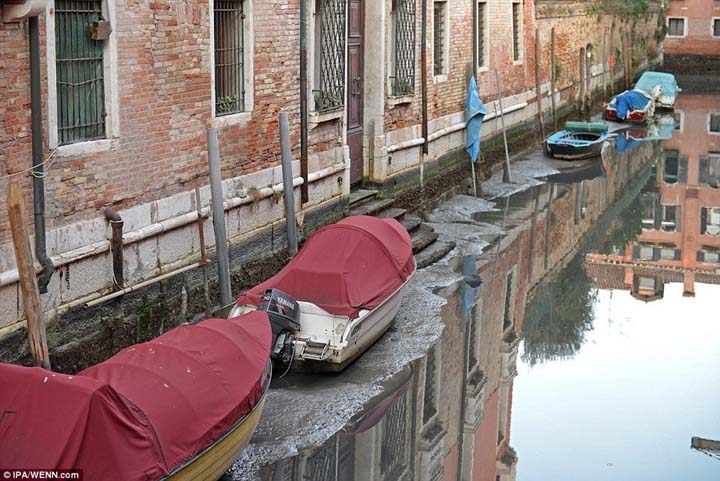 Quote:
The low water levels have exposed the city's filth. Years of poor maintenance on the city's waterways is
showing through the buildup of large banks of mud and silt around the canals' edges, drastically reducing
the canals' depth and increasing the likelihood of propellers snagging on floating junk. The lower than
normal water levels have also exposed the crumbling brickwork at the base of historic buildings.
Link
---

BigV Wednesday Jan 4 11:53 PM

That's gross. Mike Rowe wouldn't even take on that job.

---

Snakeadelic Thursday Jan 5 09:02 AM

I shudder to think what their mold, mildew, and fungus counts must be like...not to mention what it would cost to even start cleaning out the sludge and the decades of "name this object that fell off a tourist/out of a boat" embedded in what looks like some exceptionally silty, gooey, smelly mud! Knowing human nature, I'm kinda surprised no one's out there with metal detectors looking for lost jewelry or antiquities.

---

glatt Thursday Jan 5 09:51 AM

I like Venice, but the last time I was there, about 12 years ago, it was pretty smelly. And there was dog shit everywhere. They didn't pick up after their dogs. It made me realize how good Americans are on that issue.

---

footfootfoot Thursday Jan 5 09:59 AM

David Sedaris talks about, in one of his books, a bunch of French people speculating about the contents of a small plastic bag being carried by Jennifer Aniston as seen in a paparazzi photo of her walking her dog. When Sedaris explains that it has her dog's shit in it, they completely disbelieve him, because why on earth would anyone do that?

Venice is really over-rated. As are most cities in the world.

---

xoxoxoBruce Thursday Jan 5 11:33 AM

Also, centuries of sewage.

---

Diaphone Jim Thursday Jan 5 12:56 PM

They don't even know how to spell "gondola."

---

Gravdigr Thursday Jan 5 02:13 PM

Yeah, and I bet they don't even have the common courtesy of speaking English.

---

Diaphone Jim Thursday Jan 5 08:24 PM

Whoops, it is spelled two ways in the top pic.
Is that like a thousand years of crap buildup?

---

footfootfoot Friday Jan 6 12:52 PM

Even a broken clock is right two times a day.

---

Clodfobble Friday Jan 6 05:58 PM

Not in 24-hour military time.

---

monster Friday Jan 6 06:37 PM

not many clocks of the breaking type are 24-hour-clocks

---

Gravdigr Saturday Jan 7 05:38 PM

That's what the Marines told me.

---
Your reply here?

The Cellar Image of the Day is just a section of a larger web community: a bunch of interesting folks talking about everything. Add your two cents to IotD by joining the Cellar.