What's IotD?

The interesting, amazing, or mind-boggling images of our days.
xoxoxoBruce Saturday Dec 24 08:32 PM

Dec 25th, 2016: FGM

Image of the day? Hey, because it's Christmas nobody will see it anyway, so I'm going to jump up on my soapbox.

The World Health Organization says...


Quote:

Female genital mutilation (FGM) includes procedures that intentionally alter or cause injury to the female genital organs for non-medical reasons.
The procedure has no health benefits for girls and women.
Procedures can cause severe bleeding and problems urinating, and later cysts, infections, as well as complications in childbirth and increased risk of newborn deaths.
More than 200 million girls and women alive today have been cut in 30 countries in Africa, the Middle East and Asia where FGM is concentrated1.
FGM is mostly carried out on young girls between infancy and age 15.
FGM is a violation of the human rights of girls and women.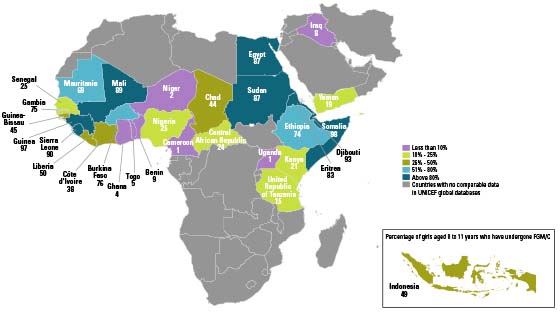 I'm sure you've read/heard about how those filthy heathen savages butcher little girls. Thank heavens that can't happen here in good God fearing Midwestern Christian communities. Amirite?

Wrong, bible breath.


Quote:

In 1947, when I was just three years old a doctor removed my clitoris. Female genital mutilation is mostly associated with African cultures, and non-Christian religions, but my FGM happened in white, midwest America. It took place in a church clinic that used a scalpel on girls who masturbated.

I remember the excruciating pain and feeling betrayed. I was told not to talk about it, but keeping the secret meant I was alone with my questions as I grew into puberty: what was missing? What would it be like to be "whole"?

At 15 I consulted a doctor regarding a tugging sensation from my scar tissue. Unknowingly, I went to the same clinic where the clitoridectomy was performed and the doctor shamed me with a booklet entitled The Sin of Self-Pleasuring.

Dr Bergstrom has been working on helping women deal with the dangers of childbirth to women who have been butchered, and telling her story to all.



Quote:

FGM is not my shame, it is my story. I witnessed Christian religions declaring masturbation a sin, "some Christian leaders and doctors" recommending circumcision to prevent it, physicians carrying out the practice and our American culture first accepting this form of sexual abuse and then denying it ever occurred.

Here's some video of her(nothing bad) taken from a documentary called The Cut: Exposing FGM Worldwide.

OK, off my soapbox. I know, thinking be hard, so I promise to return to inane amusement in the future.

---

Snakeadelic Sunday Dec 25 09:23 AM

As I recall, the supermodel Iman, who was born in Africa and who is now David Bowie's widow, is an outspoken campaigner against all FGM practices (whether it's removing bits or sewing them nearly shut). (sarcasm)Wanna guess why?(/end sarcasm) Doesn't matter where it happens or who does the cutting/sewing/etc, I'd personally love to live in a world where I knew not one more girl or woman would be subjected to that kind of identity-invasive mutilation.

---

Pamela Monday Dec 26 02:01 AM

Amen

---

BigV Tuesday Dec 27 10:36 PM

Amen

---

Griff Wednesday Dec 28 09:57 AM

I'm with you

---

fargon Thursday Dec 29 10:07 AM

Me too.

---
Your reply here?

The Cellar Image of the Day is just a section of a larger web community: a bunch of interesting folks talking about everything. Add your two cents to IotD by joining the Cellar.