What's IotD?

The interesting, amazing, or mind-boggling images of our days.
xoxoxoBruce Wednesday Dec 14 08:29 PM

Dec 15th, 2016: Clones

Do these six horses look similar? They should, they're all clones of the same mare.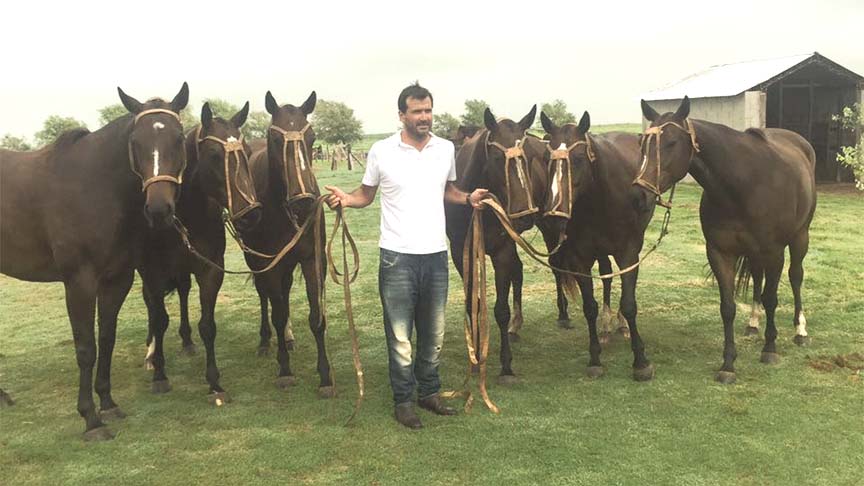 Quote:

Last Saturday, at a prestigious match in the Buenos Aires neighborhood of Palermo, polo player Adolfo Cambiaso rode six
different horses to help his team win. That in itself is not remarkable: Cambiaso is widely considered the world's best polo player.
What is noteworthy is that all six horses were clones of the same mare—they're named Cuartetera 01 through 06—and that
Cambiaso did it at such a high-profile event.

Polo players usually use several horses during a match, but using clones of a favorite pony is new.



Quote:

Though cloning itself can't improve a line, it does offer some advantages to the original donor horse, Hinrichs says. "If you start
with a genetic mix that can really do this, then with cloning you know you have the ability to make sure a filly gets the best
environment and care to go forward and you have the potential for the fillies to be better than the originals." (Polo players
prefer females to males as they have a better temperament and owners also can sell their foals.) She further notes that if you
had foals from the same genetic background and trained them in the same ways, "you wouldn't have to adjust your riding
technique with each one." Meeker says his team has "narrowed as much as humanly possible the [difference] between original
and the clone," even making sure the barn blankets and dogs are the same colors as the ones the original donor knew.

link

---

elSicomoro Thursday Dec 15 01:42 AM

Whatever...they clearly didn't see Multiplicity!

---

Snakeadelic Thursday Dec 15 09:21 AM

So far in the US, equine cloning has primarily been used in Arabians (whose registry states that the clone must accompany its original EVERYWHERE) and Quarter Horses--where there is considerable discord over the cloning of a horse named Smart Little Lena. One of the all-time great cutting horses, yes. But he carried (the original has passed away of old age) a recessive genetic disease known by the acronym HERDA. HERDA is a horrible, horrible thing...it affects the collagens that keep the skin working properly, with the result that an affected horse (which does require 2 copies of the gene) scars horribly from even the least scrape or tear. When HERDA horses are first saddled, any wrinkle in their skin becomes a tear; most do not live past the age of 4. If they do they're at high risk of literally having huge areas of their skin just...peel off. I see it over and over lurking on horse forums--"I don't have any ethical objection to breeding to a clone, but I wouldn't use one that carried HERDA!" I guess the moral is: horse people are okay with the concept of cloning but a lot of 'em wish it would only be used on horses that don't carry well-identified lethal disease recessives.

---
Your reply here?

The Cellar Image of the Day is just a section of a larger web community: a bunch of interesting folks talking about everything. Add your two cents to IotD by joining the Cellar.