xoxoxoBruce Saturday Dec 3 08:23 PM

Dec 4th, 2016: Tumgluttons

Quote:

During the 1960s while working in Newfoundland, Helen Devereux came across this pair of knitted trigger mittens or "tumgluttons" on
a deserted piece of land. She picked them up and kept them for over 40 years before offering them to the Textile Museum of Canada.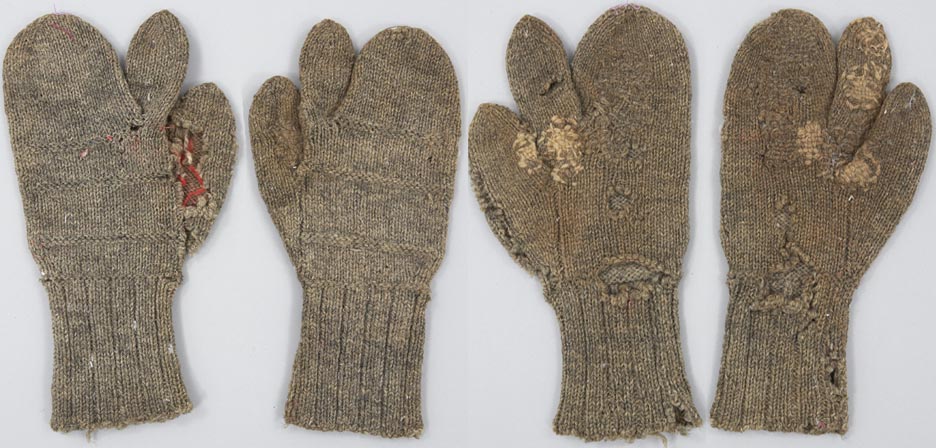 Quote:
Sheep were raised in many parts of Newfoundland, and women often spun wool and knitted garments, including this type of mittens
for their families. They are a cross between a mitt and a glove, constructed with a separate compartment for the index finger in addition to the usual thumb and remaining fingers. They were used by men while fishing or sealing, and allowed the movement of a glove with much of the warmth of a mitt. A man would wear out a pair in a single winter, so very few have survived.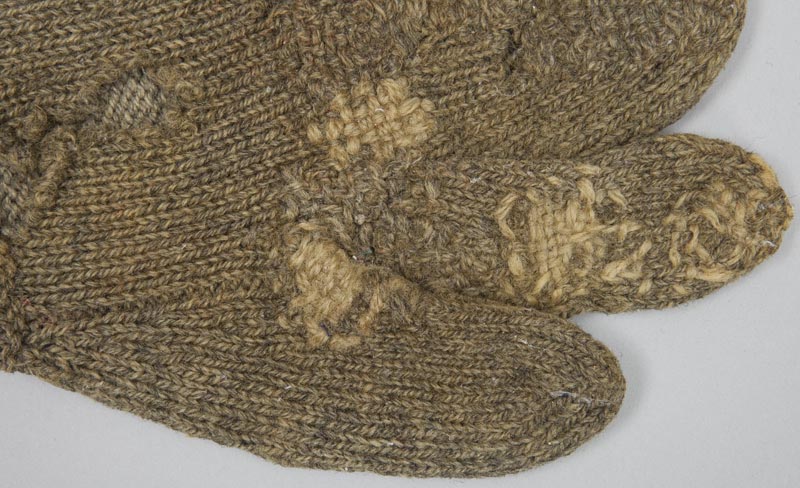 Quote:

This pair had been mended and lost in a field where Devereux found them, and they provide a glimpse into the harsh way of life lived
by fishing communities in Newfoundland. She explains that "often, if out in a boat fishing, the 'gloves' or mittens, with the hands inside are first dipped in the salt water. This is done to keep the hands warmer than dry mittens."

Whenever I get my gloves wet, my hands get colder? Mine aren't knitted raw wool though. Wet gloves are less slippery too.

Being Canadians they didn't need the ability to give anyone the finger.

link
---

sexobon Saturday Dec 3 10:54 PM

I have a pair of military trigger finger mittens.

They're a fine weave NYCO (50/50-nylon/cotton) with leather palms and fingers to provide grip and break the wind.

Attachment 58726
The liners are a wool blend (75/25-wool/nylon) which provide the insulation. Wool, unlike some other natural and many synthetic fibers, still insulates well even when wet. The nylon increases durability to reduce frequency of repairs. I'm guessing that the practice of dipping the wool mittens in salt water was to increase grip and form a layer of ice crystals in freezing weather to break the wind reducing the wind chill factor. I found that new surplus liners can now be bought at 2 pair for $5.

Attachment 58727

I also have white trigger finger mitten covers for snow camouflage.

Attachment 58728

Amazing what people were able to come up with before the advent of Gore-Tex laminates.

---

limey Sunday Dec 4 05:27 AM

Wool is magic "because it has tiny pores that draw in the moisture vapor to the center of the fiber where it's absorbed by a chemical process. The hydrogen bond of water, H2O, is actually broken, creating a chemical reaction with the wool fiber molecules to generate heat when it has taken on a lot of moisture."

---

xoxoxoBruce Sunday Dec 4 09:13 AM

So if you leave your sheep out in the rain it might combust.

---

Griff Sunday Dec 4 09:41 AM

if you apply too much friction...



---

xoxoxoBruce Sunday Dec 4 10:49 AM

So when the poor little kittens lost their mittens, it was a good thing.

---

footfootfoot Sunday Dec 4 02:51 PM

When I was sailing the inside passage, in the winter, we had Dachstein mittens

Beyond a doubt they are the best mittens made. They wore like canvas, and they were so warm your hands would sweat when working even when the mittens were wet and it was sleeting.

And remember, when you're wearing wool, if it's cold and wet, you're warm and dry. Or as one fishing boat captain I met said, "If you're cold and wet, then you're warm and dry."

---
Your reply here?

The Cellar Image of the Day is just a section of a larger web community: a bunch of interesting folks talking about everything. Add your two cents to IotD by joining the Cellar.